My level of fitness and healthy eating has always been a struggle throughout my life. There are days, weeks, months where I am just on it all the time. Then there are days, weeks, months where I ride the struggle bus and fall off the wagon hard. It is something that I constantly have to work at.
Of course, I know the basics. Eat right and exercise. It isn't mind blowing. There are no magic pills or fad diet that is going to get the weight off and keep it off. It is about lifestyle and commitment.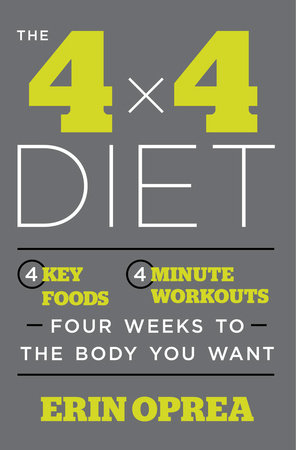 The 4×4 Diet by Erin Oprea is a wonderful book, no matter your fitness level or knowledge of nutrition. Are there mind blowing secrets in this book? If you know a good deal about health and fitness, then no. But what the book does provide is not only a simple plan to follow, but the why behind everything that she is telling you to do.
What I really liked about the book is that she talks to two groups of people, those who are completely inactive and unhealthy, and those who are giving some effort but could make some improvements.
Erin sets up a meal plan, tells you how to grocery shop and prep foods. She tells you what you need to cut back on, when to eat certain foods, and has a work out plan that fits in to anyone's schedule. I MEAN ANYONE. You have four minute a day, right? Yes, yes you do!
There are recipes and detailed pictures of the high intensity four minute work outs. At the end of the book, there is a four week plan to follow to make these adjustments in your life to come out on the other side lean and healthy. All of the changes are lifestyle changes that you can carry with you forever, not just for four weeks.
Did I mention that Erin Oprea is the woman behind Carrie Underwood's legs? Do I even need to say anything else?!
Basically, I cant say enough good things about this book so check it out!
To learn more about the book, go here.
To learn more about Erin Oprea, go here.
I received a copy of this book from Blogging for Books for my honest review. The opinions expressed here are my own.