Hello there! The rain has finally cleared on out of here, and it was pretty dry this weekend. Well, I take that back. It was hot as SHIT this weekend thanks to the humidity, so it wasn't exactly dry. I kicked off Friday with a free donut at DD for National Donut Day! That is a holiday I can get behind.
Saturday morning I did a little work around the house, and decided to take Zoe outside after breakfast. It was around 8:45am when we went out there. Here was what the weather station reported.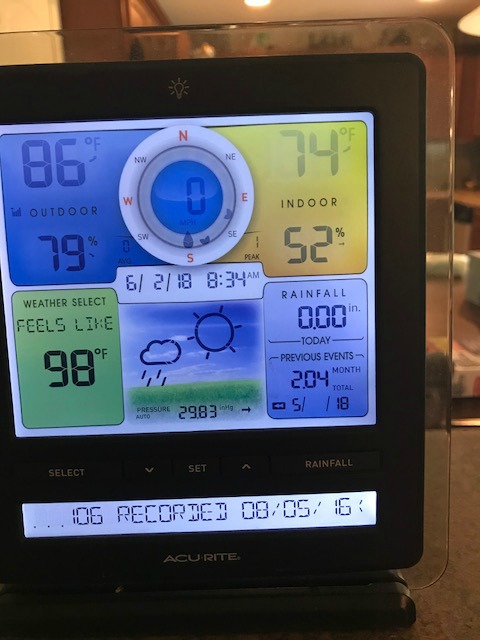 It was already 86 degrees, feels like 98. Sweet Baby Jesus it was hot out there!!!! I think I lasted about 25 minutes with us blowing bubbles, drawing with side walk chalk, and taking her for a few rides in the wagon. I was soaked in sweat when we came back in, and we both downed entire glasses of water. Woof.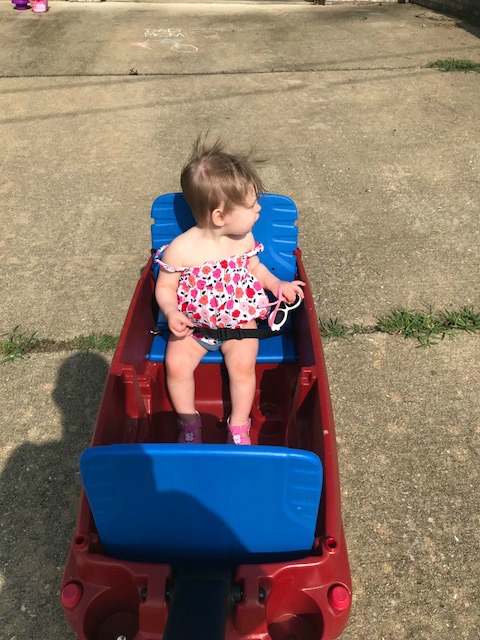 Despite the horrid temperatures, Zoe did not want to come back inside. She loves hanging out there. I had to bribe her with some coloring and painting. These are Zoe Originals, people! Beautiful work!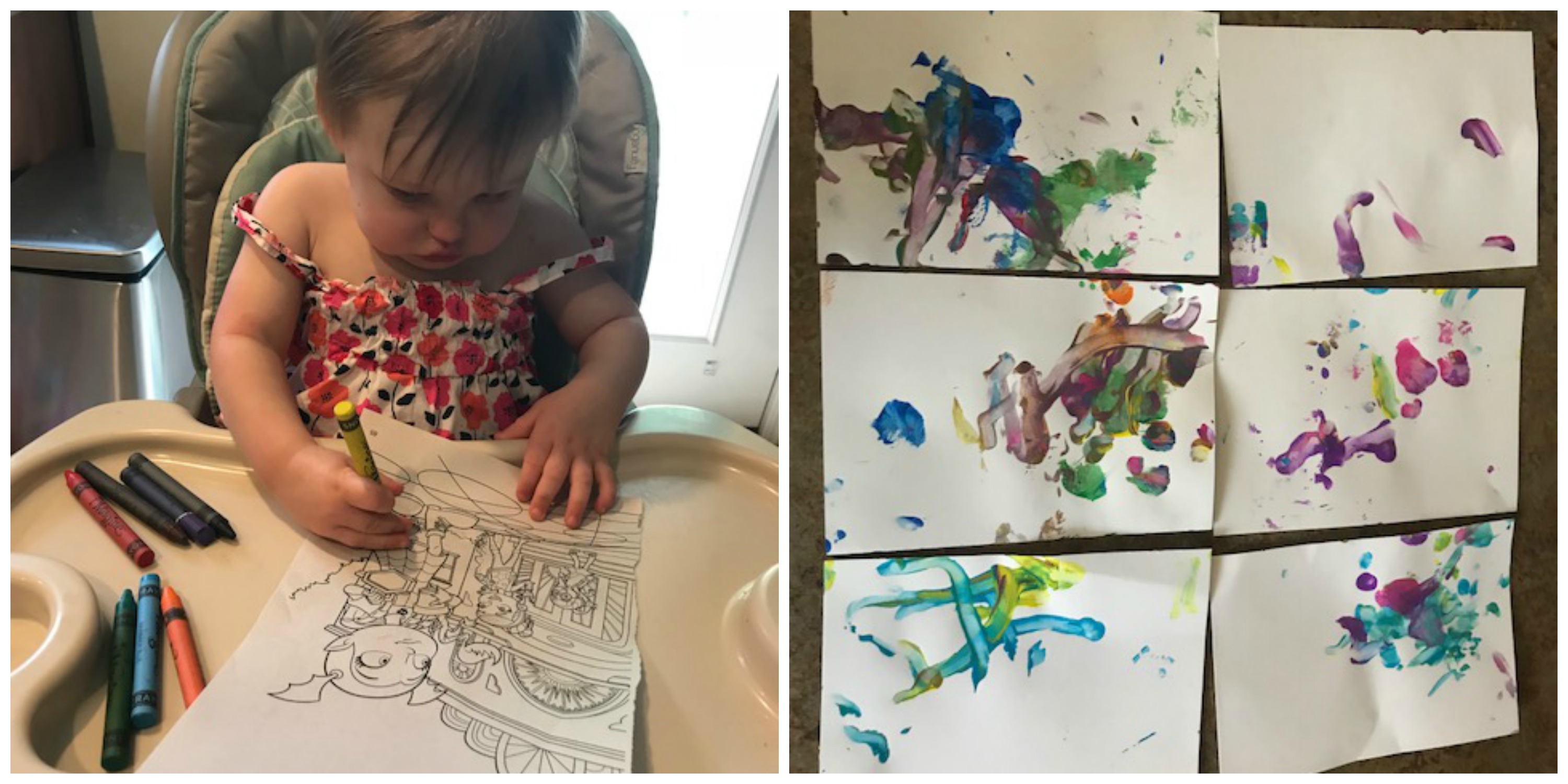 After nap time, we all headed out to run some errands and grab an early dinner at Village Tavern. Chris was craving some crab dip, and Zoe and I split the burger and fries. After dinner, we went to Nordstrom Rack in search of shoes for Chris. While I waited in line to pay, Chris and Zoe had a blast running around the store. She was so much fun and didn't fuss one bit while we were out.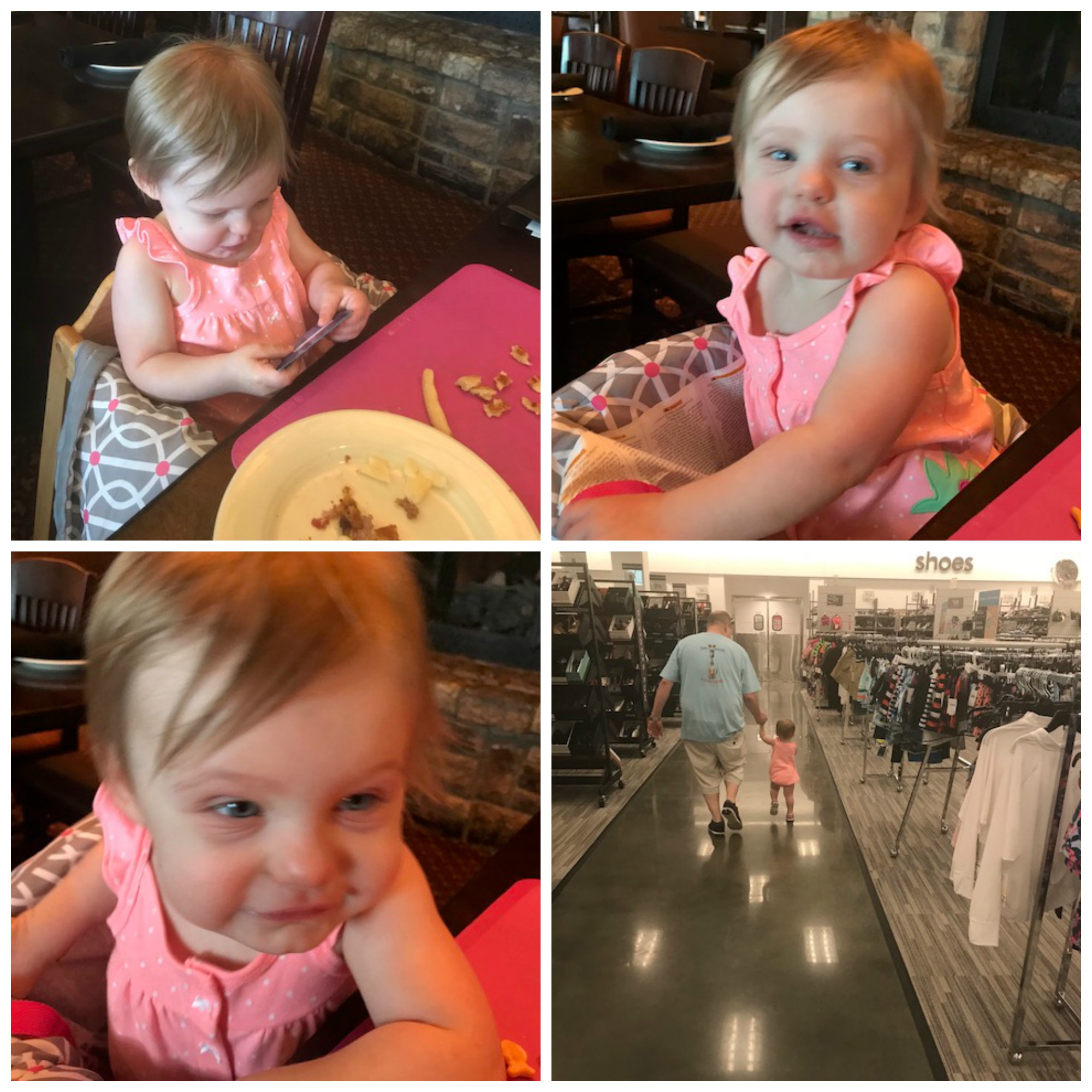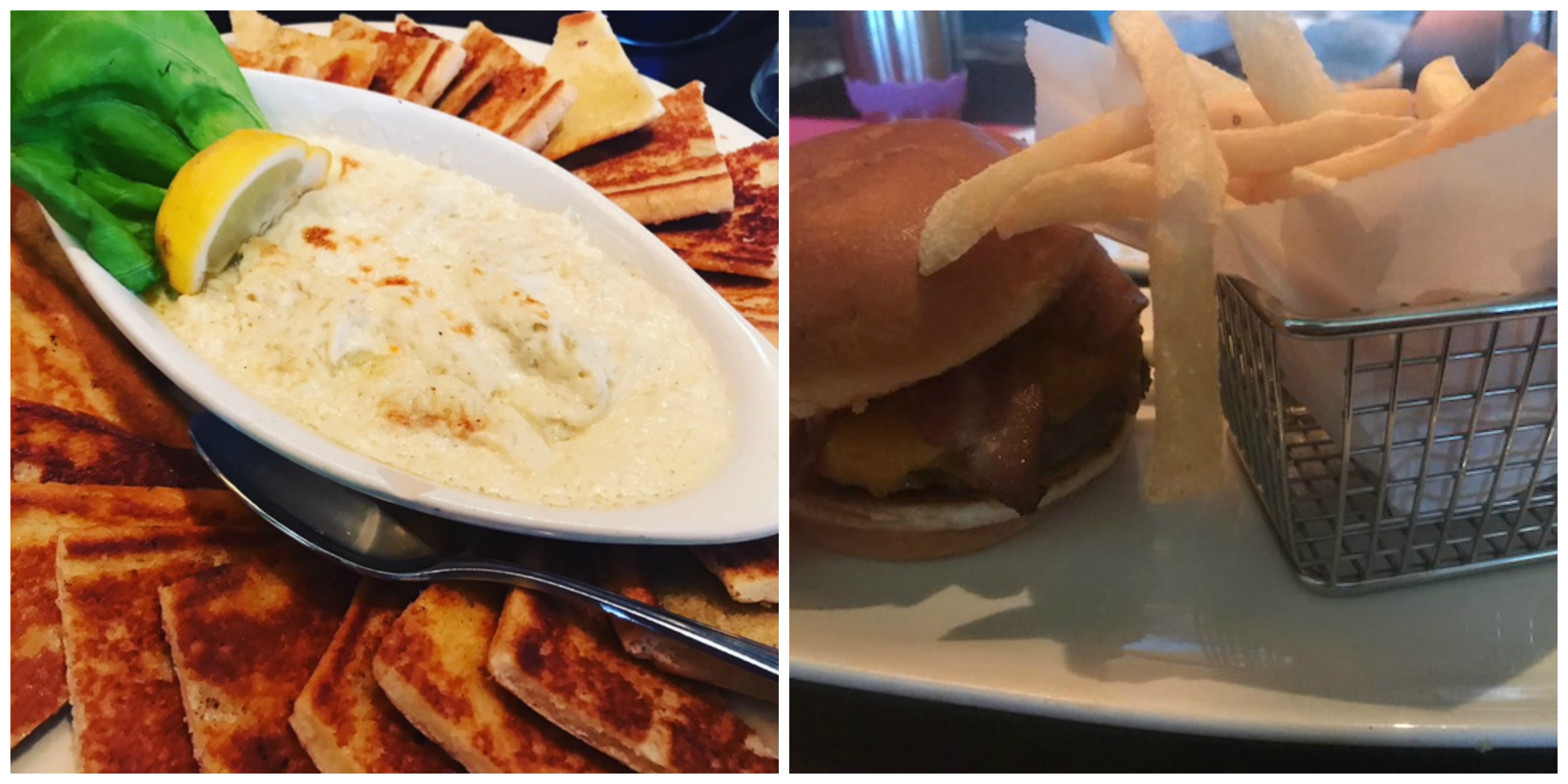 Sunday morning we headed out to do some grocery shopping. We also hit up Sam's and Home Depot while we were out, and ate at Kemp's for lunch. I think I know why big box retailers are having such a hard time competing with the internet. We were at Home Depot to get a gate for the top of our stairs. Chris knew the exact one we needed and had it already picked out. After walking around the store for a few minutes, I finally spotted an employee and asked him where the gates were. He told me they were clear across the store in Building Materials, and acted bothered that I dare ask him anything. He didn't bother to walk me over there or anything, he told me I would know when I was there. Well let me tell you, they were NOT over there. Chris looked online and discovered they were in aisle 32 bay 1. So clearly, that man's job is no longer needed in the store if he cant be bothered. We hiked it back across to the other side of the store and there were the gates where the internet said they would be. They didn't have the one we needed though, but online said they had them in stock. We went back to the front of the store to customer service because there were no other employees to be found where we were. Showed them what we were looking for, the woman called someone. We stood there for 15 minutes and no one ever came. Chris got online, ordered it and told them never mind and we left.  This is why big box stores are in trouble!!! I expect shitty service from Lowe's, and we quit going there because of it. Now Home Depot too????
After that frustrating experience, we went to Kemp's Kitchen for lunch. It is new and I had been wanting to try it. Another frustrating experience. Our server was friendly and quick to refill our drinks, but that is where it ended. My chicken tenders came out luke warm, and my fries were cold and disgusting. Chris's philly steak sandwich was cold and  his fries were also cold and disgusting. I have never not eaten my fries before. Never. Zoe seems to like her side of mac n cheese that she ate. Probably because she didn't have to wait for it to cool down LOL Even she wouldn't eat the fry I gave her, nor the chicken tenders. It sucks because I love supporting little local places like that, but we would have had a better meal at Sonic for a lot less. The fried green tomatoes we ordered for an app were alright. At least they were hot. Chris got on Yelp, and apparently lots of people complained about the cold food. So it wasn't just our server not getting it out in time.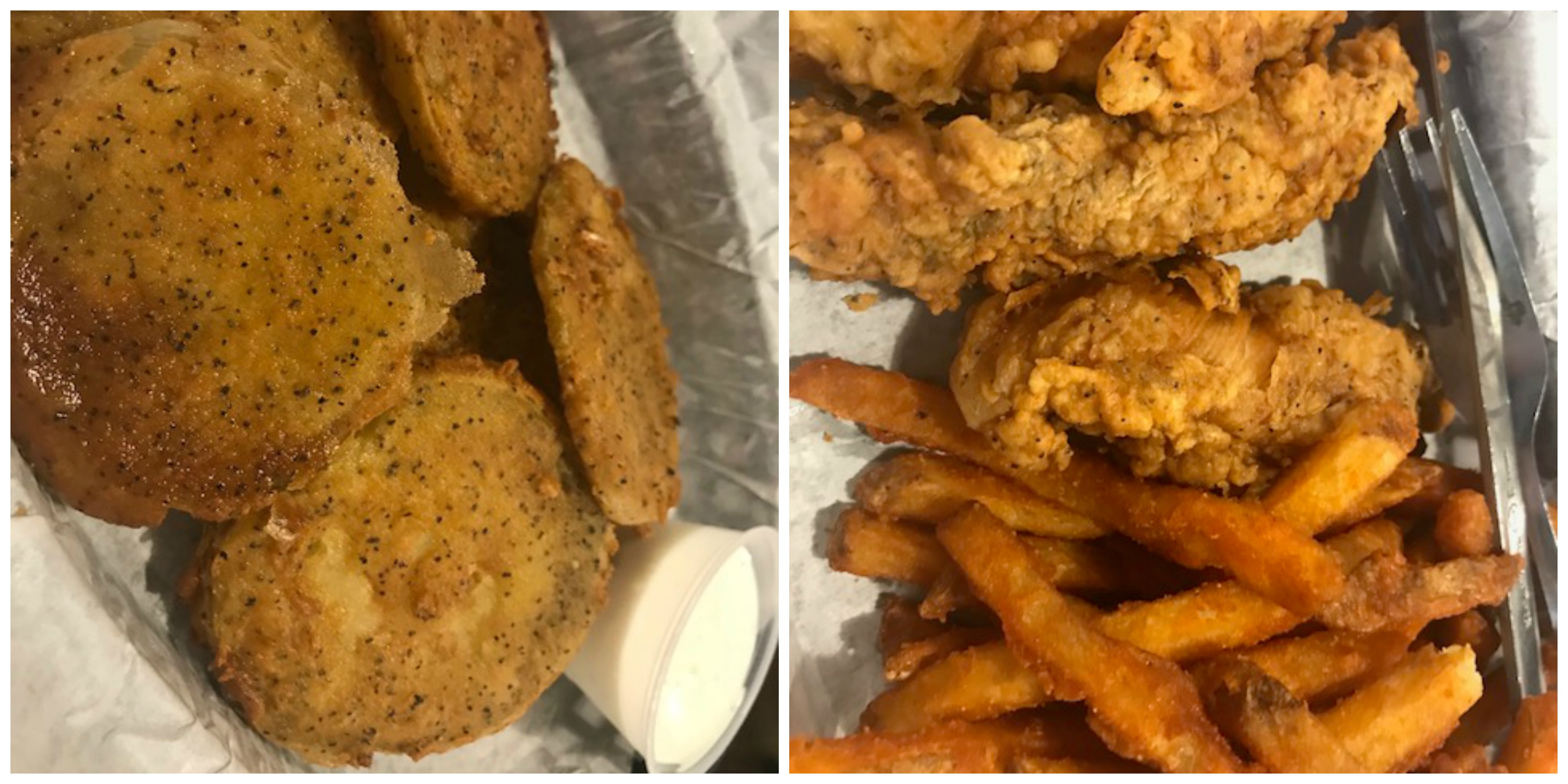 When we got home, I got Zoe down for her nap. She ended up getting her foot caught in her crib rails, and there was no napping after that. She had SO much energy the rest of the day….and we had no down time since she didn't nap. I was exhausted come bath and bedtime! We made homemade pizzas for dinner and caught up on The Originals and called it a night.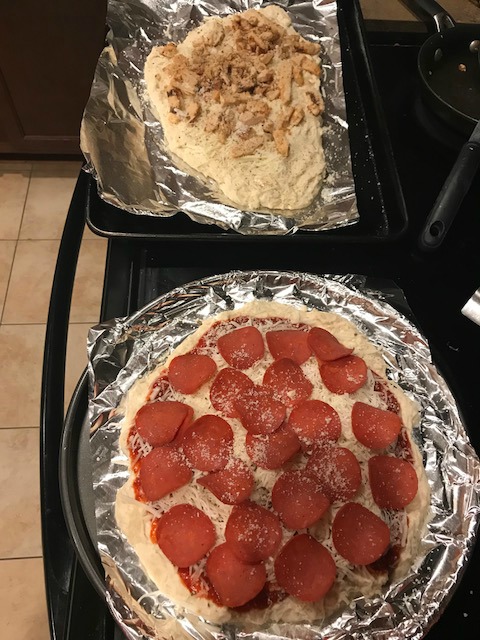 I am linking up with
Biana
for Weekending and
Andrea
and TBB for TBB Asks. This month is all about summer!!!
1. Walk or Bike Ride?
I haven't rode a bike in so long!!! I think the idea of it is fun, but my neighborhood suckkkkks. So not set up for bike riding. Maybe when we  move, we can get more in to it. Birmingham isn't exactly a bike-able or walk-able city. I do walk when I can.
2. Favorite Picnic Food?
Crackers and cheese or fruit.
3. Pool or Lake?
Pool. I don't get in lake water.
4. Favorite Flavor of ice cream?
Mint Chocolate Chip or Cookie Dough
5. Ice Cream Cone or in a Dish?
I do love ice cream cones!!!
6. Flip Flops or Slides?
Both! I love that slides have really come back in the last year or so.
7. Jean Shorts or Jean Capris?
Neither. I wear dresses or jeans. There are no shorts to be seen here!!
8. Favorite summer Fruit?
Strawberries
9. Corn on the Cob or Cut Off the Cob?
Corn on the cob is life!!! Especially fresh off the grill!!!
10. Favorite summertime song?
AWOLNATION Sail
11. Favorite summertime activity?
Going to the beach!
12. Favorite Berry? Strawberry, Blueberry, Raspberry or Blackberry?
I love all berries, but strawberries are my favorite!
13. Bikini's, tankini's or one pieces?
I prefer tankini's. You wont find this girl sporting a bikini. Probably never again. I like tankini's because they tend to conceal things better than one pieces. One pieces are highly functional when you have a toddler though, as long as there is chest support. I find most swimsuits lack chest support. Sigh.
14. Dresses or Skirts?
Dresses all the way!!!
15. One Word to describe Summer?
HOT!