1. What is your favorite thing about Spring?
I am going to be real honest, my favorite thing about Spring is breaking out my flip flops! My feet are tired of being crammed in uncomfortable shoes all Winter and rejoice that I live in the South now and they can be in flip flops for the next several months (at least until October!)
2. What is your favorite kind of flower to grow or receive. 
I love tulips. I think they are so cute! I also like orchids, hydrangeas and white or pink roses.
3. What is your favorite nail polish color?
Call me old school, but I love pink. Neon pink, barbie pink, pinkish/purple…any pink will do for me! My toes are usually some form of pink pretty much all spring and summer. Late summer I paint them a mint or teal color, and then fall and winter they are gray. I do not do much finger nail painting because I type way too much to keep my nails nice for longer than a day. Ain't no one got time for dat!
4. What is your favorite outdoor activity?
I love sitting outside in the spring, and on summer nights when it isn't too miserably hot and humid. Chris and I usually hit up all our favorite restaurants and bars that offer outdoor seating. Nothing screams fun like sitting on a patio, snacking on some food and drinking an ice cold craft beer.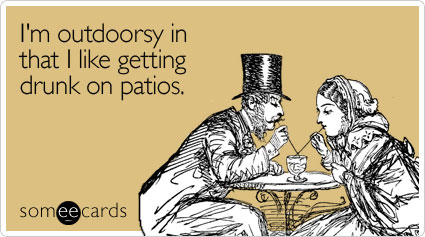 5. Do you have any fun Spring plans?
I am hoping that Chris and I can make it down to the beach condo in Gulf Shores, AL sometime soon. Very soon. There is nothing more relaxing than sitting in the hot tub outside by the ocean sipping on a Pina Colada with no where to be! (Note that most of my fun is sitting outdoors consuming beverages of some kind.) The food down there is amazing, and I love hearing the ocean waves crash at night. Why am I not there right now!?!
I will leave you with a picture from last time we were at the beach!