This book you guys. This book. It was so sweet!! I fell in love instantly with this book and got invested in all the characters and life in Ashford, Connecticut!
Lucy and her mother Crystal are bit of nomads, bouncing around from town to town until Lucy's mother falls ill with ALS. Now Lucy must work double shifts at the diner to just barely scrape by and spend all of her spare time by her mother's side trying to care for her.
Lucy's mom makes her promise to take a year for herself. To jump on the first bus that leaves out of town and go discover herself and invest time in her passion, art.
Lucy ends up in Ashford, Connecticut and lands a job at the Maple Syrup Farm after coaxing stubborn, yet oh so hot Clay into giving her a chance to be a farmer's assistant. Of course, this is after Lucy walks in on him on a ladder singing and grinding to Genuine's Pony. A guy after my heart.
Lucy quickly learns that life in a small town is everything she was missing. The people are all in each other's business, but certainly care and do everything they can to help each other out. You get to meet Lil and CeeCee who work at the Gingerbread Cafe. Turns out…there is a series by the author about the Gingerbread Cafe that I can't wait to sink my teeth in to!!!
Clay is very much a recluse, and Lucy has to work very hard to chisel away at his ice. They both have secrets from their past and feel at home at the Maple Syrup Farm under the maple trees who lend them comfort. Lucy's passion for art and her eye for the beauty in nature are described just beautifully in this book!
While this is considered romance, I would classify closer to maybe chick lit? You didn't have the super steamy scenes like some romance books and more of just a good love story.  The relationship between Lucy and her mom was so sweet. It reminds me very much of the relationship that I have with my mom. I highly recommend this book!!! I was hooked instantly and could barely put it down because I needed to know what happened.
I was provided a copy of this book by the publisher and author via NetGalley in exchange for an honest review.

Also, today is the check in for the Literary Ladies book challenge!!! I have highlighted in green which books I have read so far.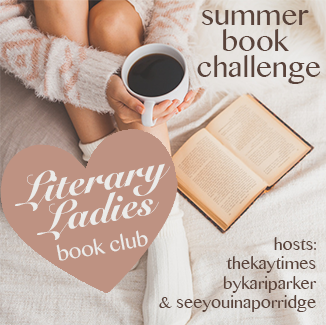 1. A YA Book – LA Candy by Lauren Conrad
2. Non US Author – Big Little Lies by Liane Moriarty
3. A book that was recommended by a blogger (or instagrammer/you-tuber/goodreads-er) –The Storied Life of A. J. Fikry by Gabrielle Zevin was recommended to me by Kristen and probably other bloggers too!
4. A book that has been on your TBR list for a year or more – The Husband's Secret by Liane Moriarty
5. A book with a kickass female character – The Sea of Tranquility by Katja Millay. This book was #18 on the Goodread's list of "Unmistakably Strong Female Characters!!" so I say that is a kickass female character book, wouldn't you? Plus I have heard amazing things about it.
6. A book that is or will be a movie or TV show – The Martian by Andy Weir
7. A book written by a comedian or celebrity – or even a memior – Bossypants by Tina Fey
8. A book with a one word title – Hasfrau by Jill Alexander Essbaum
9. A suspenseful book – a mystery, thriller, a book about revenge! – You by Caroline Keeps
10. A book about summer, with Summer in the title, or any way related to summer. –Second Chance Summer by Morgan Matson
It appears I have a lot more to read!!! I may end up switching a few of these out based on books that are available to me right now. We shall see. Where are you in the challenge??