This post contains affiliate links, the links will be listed below each of the graphics.
Before I get started, I want to mention that Lindsay and I are working on the sale dupes post together, and she will be sharing different dupes along with her wish list on her blog, so be sure to stop by and check them out! We both spent a lot of time finding the best deals.
There is a lot of hate about the Nordstrom Anniversary Sale over the last few years. I totally get it. It is so frustrating how the tiers work and that they allow big influencers to buy everything up the first few days before normal card holders and the public get to shop. And you know those influencers are just going to return half the stuff after they shoot their looks for their content. You never see them in those pieces again.
The thing is, the N Sale is a good sale if there are things that you want/need for the upcoming fall season. Despite it being frustrating, I still get excited for the sale and love getting to preview everything a week before shopping opens. It reminds me of when I was younger, going back to school shopping with my mom. I have shopped this sale for years before it became "the sale."
This is how I go into it to remain mostly happy and unbothered by the shit storm. I always preview it before I see any posts go out about it. I want to see what I am naturally gravitating towards. Items that I see and immediately add to my wish list are the ones that I actually wear later on. A lot of times, I will see the same sweaters and jackets getting pushed everywhere and it makes me think I want them, when I really don't. I look through my closet and see what I have a lot of, and see where the holes are and use that as my guide.
Looks For Less
Nsale Frame Jeans / Nordstrom Rack Frame Jeans
Frame jeans are a really good quality, but they are $$$. Even on sale at Nordstrom they will run you $145.97. I found the exact same cut in a slightly different wash with less distressing for less than half the sales price! Rack also has them in a trouser cut, which look really cute as well as a straight leg. Such a great price to try out the different types without making a huge commitment.
If Kut from the Kloth is more the price range you are looking for, they have several styles at Rack for around the $35 mark. They have the boyfriend cut, the toothpick, the skinny, and a bootcut.
Nsale Barefoot Dreams / Nordstrom Rack Barefoot Dreams
The Barefoot Dreams cardigans always sell out. They are so soft and definitely worth the splurge if you spend a lot of time at home or like to be cozy. So basically all of us, right? They are already out of many of them before the cardholders can even shop. Nordstrom Rack has some in stock, and for less than the Nsale price! SCORE!
Nsale Barefoot Dreams Blanket / Nordstrom Rack Barefoot Dreams Blanket
Nordstrom Rack almost always has some Barefoot Dreams blankets in stock. I know they don't usually have the same prints and stuff as Nordstrom, but they are still a nice quality and a fraction of the cost.
Nsale Free People / Saks Free People
Free People items tend to go really fast too! I know these two sweaters aren't exactly the same, but you can find Free People on clearance at other retailers right now for even less that gives you a similar look without sacrificing the quality.
Nsale Graphic Band Tee / Abercrombie & Fitch Graphic Band Tee
There are a lot of graphic band tshirts in the Nsale. Abercrombie has some amazing feeling ones for less than $20 right now! I have the Aerosmith one, and it is one of the softest t-shirts I have ever had. I really love Queen and wish I would have grabbed this one too. I sized up one in Abercrombie to give me the oversized fit. I would say it is probably true to size if you want a regular fitted tee, more like how the Target ones fit. Abercrombie will give you the higher quality of the Nsale ones over Target.
Nsale Champion Sweatshirt / Walmart Champion Sweatshirt
Walmart carries a lot of Champion brand items for less than anywhere else. Definitely worth checking out if you are looking for something.
My Nordstrom Anniversary Sale Wish List
I purged some of my old sweaters that have lost their shape or are looking as old as they actually are. There are a few in the sale that will fill my holes with those. I really want to get a good quality black blazer. They are perfect for work, weekend and date nights…so versatile! The raw edge cami has been on my wish list and I am so happy to see it as part of the sale. I want the black and the white. The 1 State cami is a good one too. These are staples that need replacing. I love the shape of the Madewell dress, a great color for fall and love that it is short sleeve since it is still hot here until like November.
Spanx has their panties on sale, and I have heard nothing but good things about this style and want to try them. There are two necklaces in the sale that I am really loving and would like to get my hands on. And beauty items are always something that I truly feel is a great value if there is anything you need or want to try.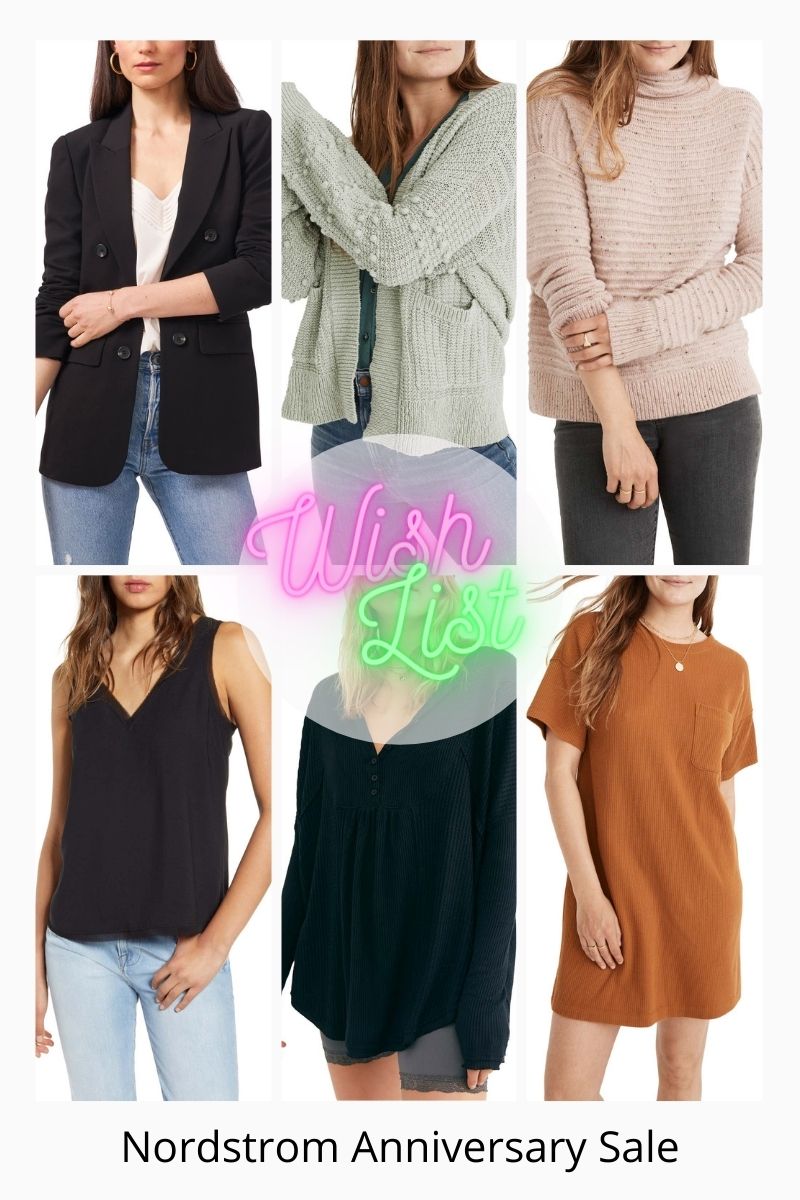 Blazer / Bobble Sleeve Sweater / Mock Neck Sweater
Raw Edge Cami / Henley / Dress
Cami / Sports Bra / Panties
Crescent Necklace / Body Wash/Lotion / Chain Necklace
Just a few tips to leave you with. Add items to your wish list and check back often to see if they have restocked. Yesterday morning, I had 5 items on my list that were out of stock and they have all come back but one.
I don't share the Z by Zella brand from Nordstrom Rack as a Zella leggings dupe, because they are no where near the same quality and fit. (Which isn't amazing to start with.) I hate everything I have purchased in the Z by Zella brand, but I love my Zella leggings I have gotten from Nordstrom sales in the past.
Also, I do not know if this will be true for this year, but in 2020 Spanx price matched the Nordstrom sale prices at some point during the sale. So if they go out of stock, you may want to check there. I don't see it happening yet, but they may start tomorrow or when the sale opens to the public.
If you miss out on something during the sale, it may come on sale again later in the season. Or like a lot of stuff from last year, you will see it at Nordstrom Rack. This is our first taste of fall, there will be plenty of opportunities to find cute fall pieces as we get closer to the season and the retail stores change over their inventory.
Happy shopping friends!!!