Do you remember the episode of the Brady Bunch when the boys are playing with a basketball and one of them ends up breaking one of Mrs. Brady's vases. Then of course the inevitable happens. Someone kindly reminds you "Mom always said don't play ball in the house." They just don't make TV like they did back in the Brady Bunch and I Dream of Jeanie days do they?
Moving right along….
This is a story of the time that my sweet loving sister blames ME for sending her to the emergency room. I kindly remind her every time she points the finger at me that mom always said not to run in the house!!! Humph!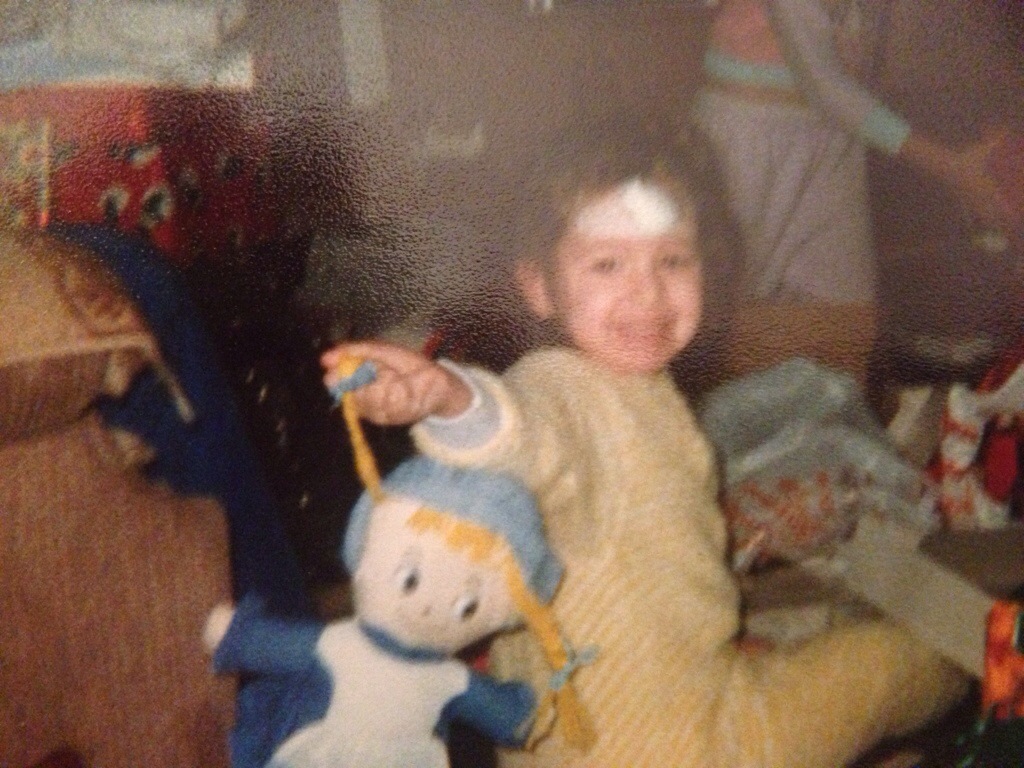 It was a cold December day in Pennsylvania. I was about 7 and Tracy was about 2. At the time, we were living with my Grandma Jerry in her house while our house was being renovated. (My parents had bought a really cool old farm house that was 100 years old and it needed some work…to say the least!) Anywhoodles. My Grandma and I were snuggled up in my bed reading and my sister came into the room. I had a hankering for some apple slices and I asked her if she minded bringing me some. She kindly obliged then took off running downstairs to get me said apple. Apparently she was trying to make a delivery in 5 minutes or less because she came running right back upstairs at full speed and tearing down the hall.
She entered into my room, tripped over her untied shoe and went flying onto the floor. At first there was no noise, for about 5 full seconds. Then? Blood curdling screams and crying. She wasn't moving and she was face planted on the floor. My grandma and I were unwrapping ourselves from under the covers to check her out, and my mom came running upstairs. She had been down in the kitchen talking with her best friend, Casi.
My mom picked Tracy up and there was blood. Everywhere. You couldn't tell where the blood was coming from, there was so much of it all over her little face!! She ran her into the bathroom and starting wiping her off and realized she had a huge gash in her head. My mom started freaking out and panicking, as any worried mother would do. Luckily her best friend was there to save the day and drove them to the emergency room. Apparently, Tracy caught her forehead on the night stand drawer pull. My grandma had some pretty antique furniture in that room, and the drawer pulls were these sharp hook like things that had a VERY pointy end on them.
I was afraid that my sister was going to die or something. I started pacing around the house and crying on my grandmas shoulder. I mean I was 7, it was pretty traumatic. My grandma assured me that everything was going to be ok. Several stitches later and Tracy was home. With a nice huge bandage on her forehead. Apparently kids are resilient. Casi told me that Tracy was playing in the Christmas house in the lobby of the hospital. Go figure. Here I was at home worried about the little twerp!
To this day, Tracy has a huge scar on her head that has faded over the years from the incident. And would you believe that little brat blames ME for the whole thing because I wanted an apple. I believe she was the one running through the house like a crazy person with her shoes untied. My mom told her REPEADILY not to run through the house!!!!
I am just glad she was fine.