Coming at you today with this low carb version of chicken enchiladas! All the flavor, no flour wraps. This comes together pretty quickly, and you can always add some fun toppings like avocado, sour cream, etc. I always make homemade guac and top with that and cojita cheese. Because everything is better with cojita. It is science.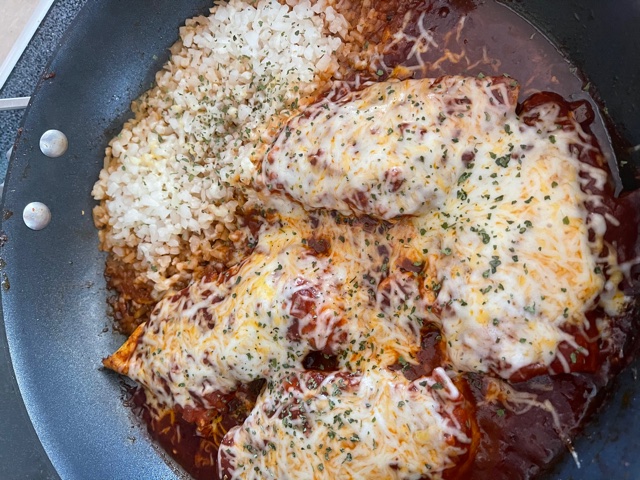 What You Need
Chicken Breasts (I had about a pound, I sliced them thin for even cooking)
1 TBSP Olive Oil
2 TSP Chili Powder
3/4 TSP Sea Salt
1/4 TSP Garlic Powder
1 TBSP Butter
1 TSP Minced Garlic
1/4 Cup chopped onion
1/2 TSP Cumin
1/2 TSP Oregano
1/2 TSP Paprika
1 8-ounce can tomato sauce
1/3 Cup Water
1 TSP Apple Cider Vinegar
Shredded Cheddar or Mexican Mix Cheese
Cilantro
1/2 Bag Frozen Cauliflower Rice
What You Do
Preheat oven to 350 degrees
Heat olive oil in pan over medium high heat, season chicken breasts with salt, garlic powder and chili powder and sear in the pan for 2-3 minutes on each side.
In a small pot or skillet, heat butter over medium heat. Sauté onion and garlic until the onion begins to soften.
Stir in the remaining seasonings to the pan (chili powder, cumin, oregano, paprika and salt)
Add the tomato sauce, water and apple cider vinegar, bring to a boil, then reduce heat and simmer for 5 minutes.
Move the chicken the to the side of the large pan you seared it in, pour sauce over top. Next to the chicken, add cauliflower rice. Place pan in oven for 15 minutes.
Sprinkle the chicken with as much cheddar/Mexican mix cheese as you like, and sprinkle entire skillet including the rice with either cilantro spice or fresh chopped cilantro. Place back in oven for an additional 3 minutes until the cheese melts.
Enjoy!!!!