Another month of awesome products with the July 2015  Allure Beauty Box!!!
What's the Deal: For $15 a month, Allure sends you 5 deluxe size beauty samples, a mini magazine about the samples and usually some type of coupon. I figured that was a decent deal for 5 deluxe samples!  I pay for this on my own, and all opinions are my own. This is not a sponsored post, a girl just likes to talk beauty sometimes, ok?! You can see last month's box here.
I would like to make a note that this is the SECOND month that they have double charged my card. WTF Allure??? I know it is only $15 but that is not ok. This is only my forth box which means half the time they have double charged me. They put the money back on their own, but that is not a good ratio.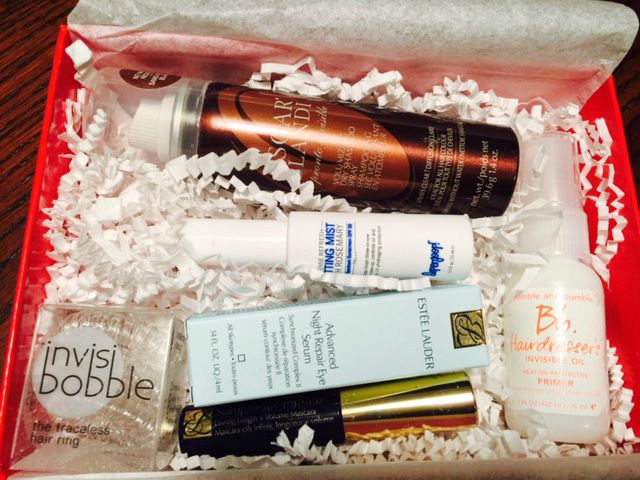 Bumble & Bumble Hairdresser's Invisible Oil Primer (full size $27)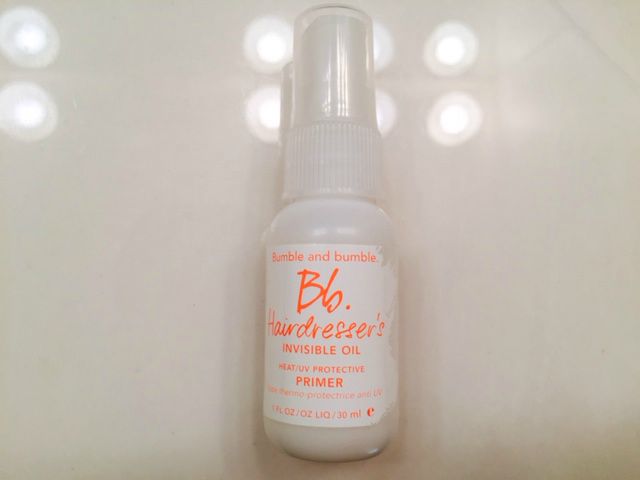 What it is: A multitasking protective spray that you use before your heating tools to protect, condition and smooth hair. You all know that I have baby fine hair, and this stuff makes my hair look awesome without weighing it down! I feel like it feels smoother, has a little bit of a shine and it smells good! Did I mention it is probate free?
My Thoughts: I love this stuff!!!!!! I was pretty loyal to Chi's heat protective spray for the last several years but this stuff is a whole new level of awesome! I highly recommend this and will be using this from now on!
Oscar Blandi olumizing Dry Shampoo (full size $25)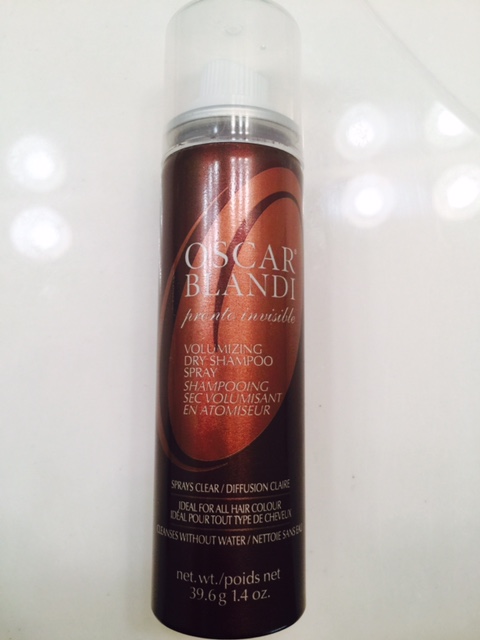 What it is: This is a dry shampoo that is supposed to boost volume without a trace. The smell is sort of lemony and the spray consistency is great. I will say, I could not see the white overcast that you usually get with dry shampoos in the least bit, so that is huge!!! I don't really know about volume though? My hair is so flat and fine not much helps me in that department.
My Thoughts: I have tried so many dry shampoos out there. SO MANY!!!  My favorite is hands down Batiste. It just works the best as far as keeping my hair looking clean and I like it's scents the best also. If you have a serious issue getting rid of the white overcast  from other dry shampoos, I highly recommend this Oscar Blandi one…otherwise…I like Batiste better and it is way cheaper.
Supergoop! Defense Refresh Setting Mist SPF 50 (full size $28)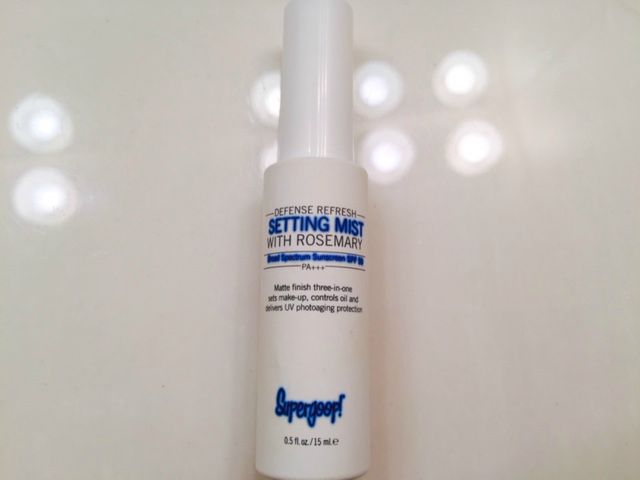 What it is: This is a three-in-one mist that is to set makeup, helps control oil and shine, and protect against the sun with SPF 50. It has a rosemary and mint scent to it, which much reminds me of something you would smell at a spa and I find that uplifting and enjoyable. I will say that there is a little sting in the spray, which I guess is the mint? It only stings for a second. This is paraben and sulfate free.
My Thoughts: Other than a weird name…Supergoop?? My skin is super oily in the summer, and right now down here if you walk outside for more than a second you start sweating. So it is under harsh conditions that I am testing this. I think that as far as make up setting goes, it works just as well as other sprays that I have had in the past. I do really appreciate the SPF 50 for my fair, easily burnt skin!!! That is a major selling point with me! I am on the fence as to whether I will repurchase, but I think it is worth a try for those in the market.
Invisibobble Traceless Hair Ring(full price $16)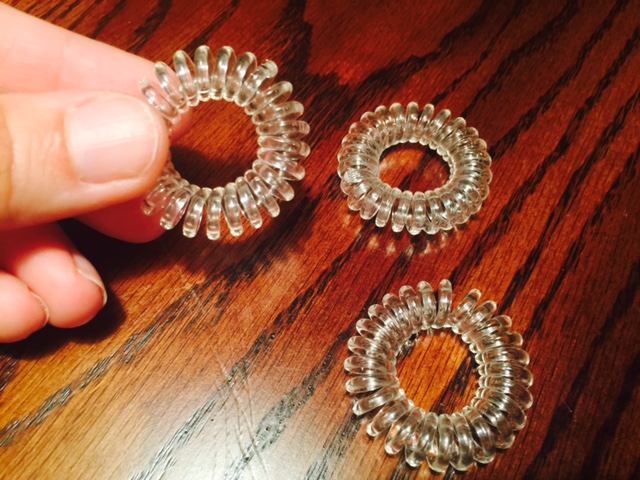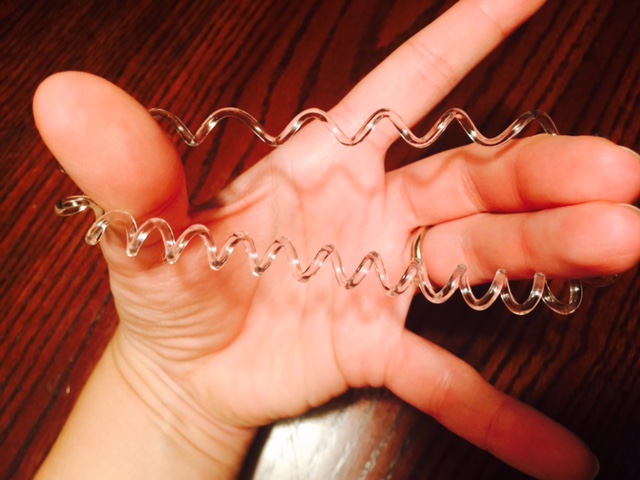 What it is: This is supposed to be a unique band that does not leave a crease in your hair after being in a pony tail, and claims to not drag or pull on scalp. It has a smooth metal free, soldered finish will not snag, cause breakage or hair loss.
My Thoughts:Well, it holds my hair well, but I am not sure I really like the look of these in my hair. A plastic slinky looking thing? It makes me feel like a child. Plus, my hair is super thin so everything leaves a crease. EVERYTHING. These are no different. I might see if my 11 year old niece wants them. Also, $16???? Sorry…there are so many things I would rather spend $16 on than some hair ties that I will either lose or they will stretch out or break eventually. You know?!
Estee Lauder Sumptuous Infinite Daring Length Mascara (full size $26)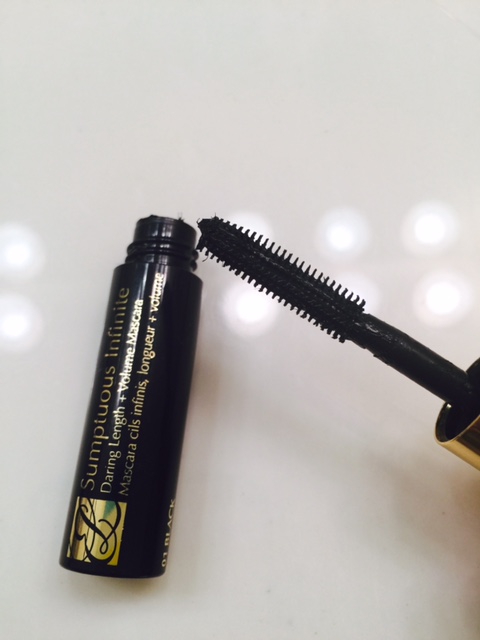 What it is: Mascara that stretches lashes for maximum length and volume.
My thoughts: This mascara is a great option for those who have a difficult time with clumping. The brush is so short and small that you really have to work to build….which is both good and bad. Bad because it takes longer, but good because there is absolutely no clumping. It has great reviews on Sephora and other websites and is worth a try if you are in the market for mascara. I liked this one and would consider purchasing it again.
Here is a blurry picture of the length it creates for my nearly non-existent lashes! This is before I put on any concealer or foundation…so pay no attention to the dark circles and uneven skin tone.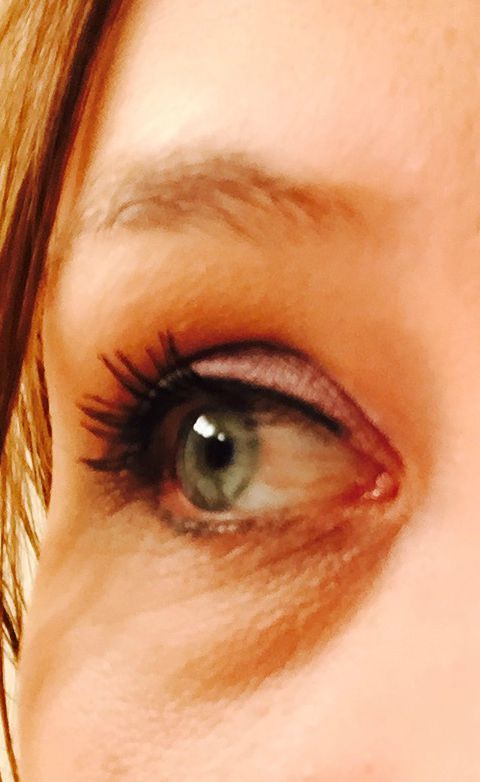 Estée Lauder Advanced Night Repair Eye Serum Synchronized Complex II(full size $65)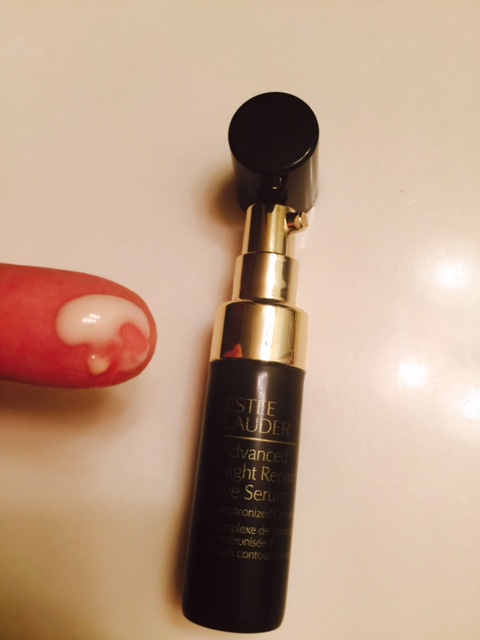 What it is: This is an eye serum that you can use up to two times per day to to reduce the look of  visible signs of eye aging: fine lines, wrinkles, puffiness, dark circles, dryness and uneven skintone. It also claims to be intensely hydrating, which it is not. Not even a little. I will say that my skin seemed a little brighter and smoother around my eyes though.
My Thoughts:While this eye serum wasn't horrible and did have a few benefits, I didn't love it. Certainly not for the full price!!! Plus, I had to make sure I used extra moisturizer around my eyes because I felt like this was drying.
Do you have an eye serum you love?? Still looking for my holy grail.