It's  book day! Yay! I feel like I am slowly getting back in to some kind of reading groove. I read some decent ones this month, and a few that were sort of meh. A balanced month I suppose!! Linking up with Steph and Jana.
After I Do by Tara Jenkins Reid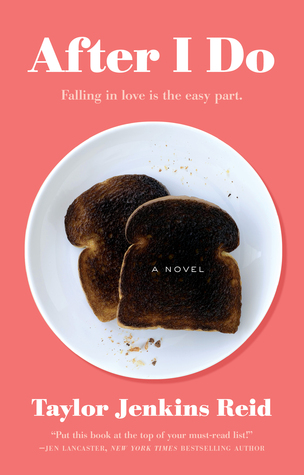 Love love love this book!!! I think that anyone who has ever been in a relationship can relate to some of the issues that this couple had. I felt like I could really relate to the characters, as TJR builds them so well. This book reminds you to not take your relationship, partner or family for granted. I found myself reaching for this as often I could and flew through it. Which is quite the task with a newborn, let me assure you.
Bottom Line: Read it! Such a great read.
Rating: 5/5
I really liked Bitter is the New Black and Pretty Fat, but this one fell a little short for me. I sort of got bored several times throughout the book. I guess right now my expectations from a book are really high since I dont have near the time to read as I used to and something has to be really good to keep my attention for long.
Bottom Line: If you are a really big fan of Lancaster's, you may enjoy this book. I got bored with it.
Rating: 2.5/5
I really enjoyed this book. It is about an American woman who is married to an English man and they live together in Paris. She mainly observes French parenting in this book and I found it all very interesting. To be honest, I have some similar views and instincts of parenting that is common for the French. Which, in reality, is the way that the older generations and our parents raised us.
The way I got Zoe to "do her nights" is very similar to the way all the French do it, which is pausing when they start to cry to see if they really need you or if they will self sooth. It isn't quite the same as cry it out, which is more aggressive. It had Zoe sleeping 5-6 hour stretches by week 7 without me changing anything. The food section is really what drew me in. I don't want to have a picky eater and it seems that the French follow more of the "baby lead weaning" which is what I plan to try. We shall see how that goes!
Bottom Line: If you are a parent or soon to be parent, I would recommend this book. Otherwise, you probably wouldn't care.
Rating: 4/5
This is the forth book in the Naked Men series. Honestly, after reading the last three books I have realized there is very much a formula that they all follow and so I got a little bored. It is still a good series, but I wish the author would  have changed it up some and not been so predictable. This book follows Riley, who is a control freak and Summer who is a live in the moment kind of girl. It is fun to watch the banter with all the guys of the blog/podcast and see all the girls interact from the previous books. I will still read the next one about Josh.
Bottom Line: If you are invested in this series, this book has its good moments. Just a little predictable at this point.
Rating: 3/5
**I received a copy of Trying It All from Netgalley in exchange for my honest review. All opinions are of my own.**
Flipping through this book, I started to realize that a lot of these projects are very basic and easy. Honestly, that is all the time I have for a crafting project these days anyways. I was a little underwhelmed by them, but they are fun ideas. I think this book would be great to work on with my daughter when she gets a little older. Or as a gift for someone who is just starting out in DIY and has no clue where to start or what to do. This may help boost their confidence. I appreciate that the books spells everything out and makes it easy to understand what to do.
Bottom Line: Would be great for the beginner crafter who is looking for basic ideas. Probably not for the Martha Stewart type person who has a higher level of crafting skills.
Rating: 3.5/5
**I received a copy of Make It Yours from Blogging for Books in exchange for my honest review. All opinions are of my own.**
Did Not Finish
I am not sure what it is about this book, but I just couldn't get in to it or care about it. I think maybe I just disliked all the characters? Honestly, because I couldn't get in to this book, I went about a month without reading anything and when I decided I wanted to read again I didn't grab this one. this was a did not finish for me, so I suppose you can take my review with a grain of salt. The premise of it sounded great, maybe I just wasn't in the mood? I refuse to force a book on myself.
**I received a copy of Evelyn, After from Netgalley in exchange for my honest review. All opinions are of my own.**
Currently Reading