Hey there, Friday! Some of you have off today. How lucky!!! Our office closes at 2pm today, so I will take it! I am not sure what we have in store for this weekend, but for Easter Chris and I made it a tradition to go to Waffle House for breakfast and then his parents house for family festivities and lunch. This year will be our first year playing Easter bunny, and I am really excited! Last year, Easter is when we announced to our families that we were pregnant! So this time of year will forever be extra special to me.
I did some shopping this week. I was in desperate need of some spring attire. Which for me, is dresses and a good pair of comfy sandals. I found some really great pieces that I wanted to share with you!
First up is this amazingly comfortable pink denim jacket I picked up from Target a few weeks ago. I got it 30% off with Cartwheel making it around $20. I live in my regular denim jacket all spring and summer so I am glad to mix this one in to change it up! (Don't mind the Loft fitting room selfie!)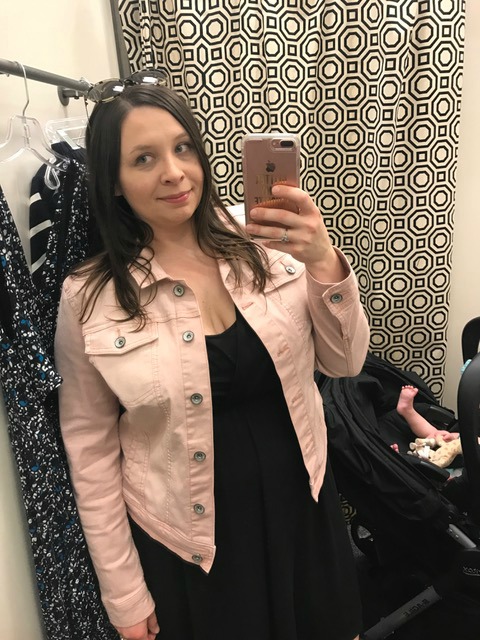 I also purchased that black/white/blue dress behind me. It is a fit and flare one that I cant find online anywhere. It was 40% off! I spy Zoe's adorable feet in this picture too! Swoon.
Next up is this super comfy (you seeing a pattern???) striped swing dress from Old Navy. On Wednesday it was 50% off. I assume it still is? I mean, less than $15?!?! Sign me up for more, please! After wearing it yesterday, I think I want to go back and get the all black one too. You can never have too many black dresses, am I right??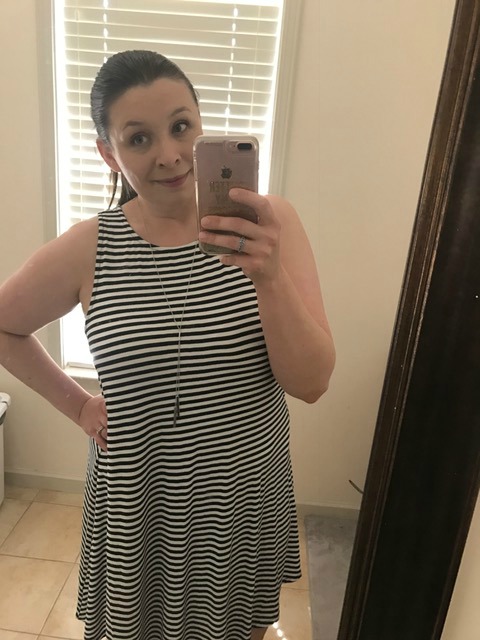 I also scooped up this little black off the shoulder number while I was there for 30% off. Again, so comfy, but so cute too! And ladies, if I can pull these off with my deflated water balloon postpartum belly…you can too.
I still have my eye on this dress from Loft, but I refuse to buy anything there full price.
Then, thanks to Emily, I was on the search for these LC sandals at Kohls. They were on sale and they had an extra 20% off coupon! Major score! I was afraid my feet would look fat weird in them, or they wouldn't be comfortable, but they are a perfect fit and I basically want all the colors!!! I grabbed nude, but I would love to have the rose gold and black as well. I can see them being a summer staple.
While I was at Kohls, I spotted these LC Sandals as well. I really wanted them, but they didn't have my size. They had a half a size smaller and I can tell by trying them on they would be a great fit. I liked that they dont cover your entire ankle. Most gladiator type sandals kill my ankle bone by the end of the day but these would be much better! I will be keeping my eye out for them in my size. How gorgeous are they???
What do you have your eyes on right now? Do you have any Easter traditions? This year we are sticking with our regular ones, but I think next year I want to add in some fun activities to do with Zoe when she is a little older. My mom always took extra measures to make sure our holidays were super fun growing up. I want to do the same! I hope you all have a wonderful weekend! Happy Easter!
Linking up with Amanda. Here are some Friday funnies!