I wanted to share some of the things that I am loving this Friday!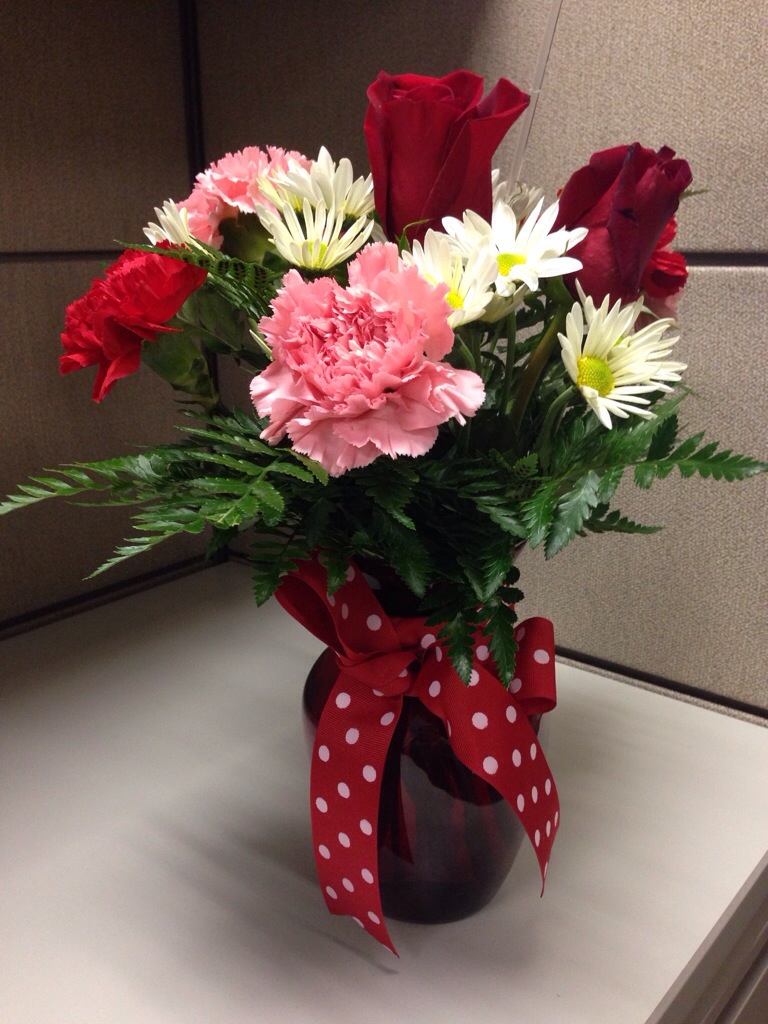 1. Flowers – Chris sent flowers to my office on Wednesday. So sweet! I normally don't really care about getting flowers, I would rather spend the money else where but these sure did bring a smile to my face Wednesday afternoon! Fresh flowers really do brighten up any space and the thought just warms my heart. An added bonus? I loved the face and red and white polka dotted ribbon and can totally use it for Valentines Day decor!
2. Lotions – Seriously, my skin gets SOOOOOO dry in the winter time. I have been lucky and only had one spot on my hand crack so far this entire winter. (And to be honest it was when I was dehydrated and had pneumonia.) A freaking miracle in my book. I have been able to keep the dryness under control with Body Shop's Vitamin E Butter (thanks Stephanie!!!) and Nivea Extended Moisture Hand Crème. I love both of these products big time and if you are suffering from dry, chapped skin I HIGHLY recommend both!
I bought Coconut Oil (recommendations thanks to Kathy!) and I haven't tried it on my skin yet but I found a lip scrub to make with it and I might try that out this weekend! I haven't tried cooking with it yet either, but I found some recipes on Pinterest that I might play with soon.
3. Mario Wii U 3D –   This game is so much fun!!! Chris and I have been playing it on our Wii U and seriously, I love it! You can play at the same time and work together as a team to get through each level. You get to choose your character, Chris is usually Mario and I am usually Peach. The graphics are great for a Mario game and what can be better than an acorn that turns you into a freaking cat!
All around winning if you ask me!
4.Harry Potter and the Half Blood Prince – I know I am about 10 years late aboard the Harry Potter train, but my goodness! I just finished the 6th book at lunch yesterday and am speechless. So much happened in this book! I wont say anymore incase anyone else has climbed out from under a rock recently and hasn't read the books or seen the movies either! I used to be one of the nay-sayers and always dissed the books and movies and called it lame. I was wrong. So very, very wrong!
5. I don't have a food processor, but I really want to get one. What do you guys recommend? There are so many brands and options out there and I honestly get overwhelmed when trying to decide! I don't want to spend a fortune, but I want something that works great and will last so quality is more important to me than anything!