I am extremely ready for this three day weekend. Extremely. Not to mention that tomorrow kicks off football season for Alabama! The game doesn't start until 7pm. Don't they know it is going to go past my bedtime? Hopefully I can hang in there! I have plans to get some stuff done around the house this weekend as well, so hopefully that happens.
Favorite Song: I hadn't heard this song in forever and I think it came on One Tree Hill or something last week. Anyways, love and had to immediately add it to one of my Spotify lists. One of the best things about watching One Tree Hill now is a reminder of all the awesome music. Boston by Augustana.

Favorite Recipe: This Mexican Street Corn Soup looks so good!!! I know a lot of people consider the fall and winter to be soup season, but its soup season all year in my house. I just love soup, what can I say?
Favorite Moment: Chris made an August mix and posted it to Soundcloud. He didn't even really promote it or share it on Twitter or anything and it has had over 1 million plays in a week!!! That is insanity!!! Here it is if you want to check it out. He has had two internet radio stations reaching out to him to play it already.
Favorite Purchase: I tried to go the drugstore route with my foundation the last two times I purchased some. I wanted to save money and thought I would give them a try. You guys? I just cant. I loved the Loreal Lumi Cushion one that I got but at $15.99 it only lasted a month. Ummmm I can get about a half a year out of some of the higher end brands so while they cost more upfront, when you break it down to monthly they look a whole lot better! I also tried Maybelline Dream Liquid Foundation and it would be ok if I didn't have combination skin. Or it wasn't hot as balls down here. Or I didn't want a whole lot of coverage. So I am back to an old friend. Estee Lauder Double Wear. You cannot beat the coverage of this one! Plus, Macy's is doing a free gift with purchase right now and it is an awesome free gift!!!
This was the free gift. I chose the eye shadow, liner and mascara (over the lipstick, gloss and blush) and the elephant zipper charm. How gorgeous is that bag?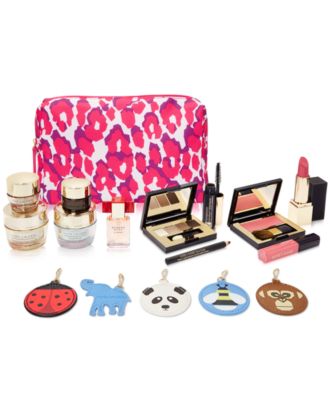 Favorite Lust: I have been wanting to try the Too Faced Melted Lipsticks. Anyone else out there have them/love them? Let me know.
I have been on the hunt for a tiered tray for our bathroom counter for all our lotions and potions that drive me nuts. I keep looking at TJ Maxx and HomeGoods and of course since I am in the market I never see any. Eventually I will find one! Something like this or this would be great!
Favorite Links:
–Kate Spade is launching a line of fitness trackers. We are all in trouble!!!
–Sadly, I have to agree with this article on Macy's. When I am walking around their stores, I don't feel like I am in an "upper class" department store. In fact, some Kohl's look better! I hope they can turn things around because I love the INC brand and the Macy's Day Parade and everything.
Favorite Funnies:
When someone orders the last of something you really wanted…
How I feel about life lately…
Sometimes people do things out in public that I just cant even comprehend because it is so rude or ridiculous. I just want to be like…
What I say to Netflix and Hulu when I walk in the door….
I hope everyone has a wonderful weekend!!! Linking up with Amanda.