Favorite Song – Mad by Ne-Yo – I just love this song. "I don't want you to go to bed mad at me. I dont want to go to bed mad at you". Isn't that the truth?

Favorite Moment – Our group finally got together for happy hour last night at Southern Kitchen! Some of the girls had to leave early and we didn't get a group shot. Fail. Laura, Erin and I stayed a bit longer and remembered that we were bloggers and needed a picture. Even if it is a grainy selfie.
Favorite Recipe Pin – The picture will take you to the site. There are nine different mason jar salad recipes that look and sound amazing. Sometimes you need to switch things up at lunch!
Favorite Deal- I had to stop at Walgreens after work one evening because I forgot I needed eye make up remover and face wipes. Of course, I just had to walk past the nail polishes because they are on the way. They had so many on clearance for $1.99!!!! I picked up these two and made myself put back a few others….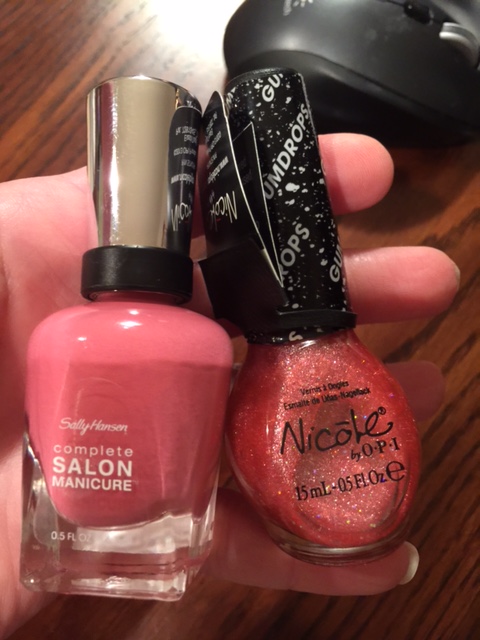 Both pink. Issues people, issues.
I also texted Joey immediately to admit my guilt. She justified it for me by saying she would have been all over that!
Favorite Work Out – I have been doing mostly Pop Sugar Fitness work outs this week. One of my new favorites it the fat burning one. I really like the ones with Astrid McGuire in them. She remind me of a friend of mine that lives in Georgia.
Favorite Funnies 
Whoa, am I the only one that just caught on to these shenanigans?!?!
When you friend says something hilarious and keeps on…
How I am going to be at  5 PM today…
 Have a great weekend everyone!!
If you are a local, come on out to the Pride of Dixie event at World of Beer! It is going to be awesome!!! All the local brewers are going to be there and there are 40 local taps! Starts at 5 PM.