I started this post for last Friday and it didn't happen. I am coming at you live at 5:15 am Friday while I am waiting for some work files to download. You guys…it has been a week. Work has been crazy, it is great for business and I am glad to see things greatly improving from last year, but also I feel like I am under water. I have woken up at 4am every day this week, worked all day long and even worked a few nights after Zoe went to bed.
We haven't had a single lesson all week. Yesterday it was absolutely gorgeous and 70 degrees. The only reason why I know, is because Mac has to go out a few times a day. It killed me to miss such a great day for outside play. Zoe has been amazing all week all things considering, but also, we have had some major meltdowns. And I am not just talking about her. We both cried yesterday.
I can't believe that next week it will have been a year of living in a pandemic. Remember when we thought we were all going to be home for two or three weeks? We were so cute.
I did manage to throw together a quick table spread on Tuesday for Dr Seuss Day! Luckily I had thought in advanced and ordered some new books for Zoe, and used our decor from last year. I failed to come up with a themed meal, but made some chocolate croissants that were received very well.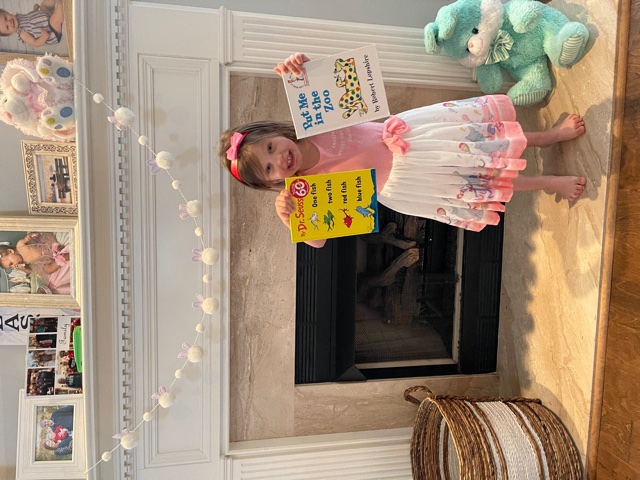 My mom had bought Zoe this gorgeous dress from Target last month. It instantly became one of her favorites, and she was so excited to wear it and match the table.
Favorite Purchase: I am obsessed with these studded sandals from Target. I really love both colors, but grabbed the nude ones as they were low on stock.
I know some influencers are always posting about Colleen Rothschild, I am not cool enough to be one of her picks….but I cannot deny that I love her products!!! Her hand cream is hands down my favorite that I have tried. (And trust me, I have tried a lot.) I have gone through an entire tube and repurchased another. When I did that, I also grabbed this honey vanilla body butter. This smells incredible!!!!! I love the texture, as it is the perfect consistency for rubbing in right after a shower. It makes me skin feel so soft, and it leaves a pleasant scent that lasts all day. I can even smell it on my clothes hours later. She has a creamy body wash in this scent that I would love to try.
I really like her conditioner/hair mask too. I have been using it for about 8 or 9 months. I think it would be perfect for all hair types. It doesn't weigh down my fine hair, and I can definitely feel a difference since I had started using it.
Favorite Lust: I came across these beautiful vases and I can't stop thinking about them. I think I need one or three for our fireplace. My decorating sort of happens as I see things that inspire me, rather than going out and searching for something specific. How do you decorate?
Favorite Recipe: I made this teriyaki chicken last night. It was quick and easy, minimal ingredients. Low carb, healthy, delicious. What more can you ask for?
Chris and Zoe really liked this cheeseburger meatloaf recipe. I made it for the first time last week, and we already repeated it once this week. Again, low carb, not many ingredients and easy to make. It does take awhile to bake in the oven though, as any meatloaf does.
Favorite Workout: I had to skip my workout one day this week, but I did manage to fit one in the rest of the week. Mr and Mrs Muscle gives you the most bang for your time. This 20 minute workout had my heart racing and me sweating after the first round. I love her style of four rounds of a few moves. It moves very quickly, and you are done before you know it.
Of course, I also got a few in with my girl Heather. This one wiped me out! Her low impact workouts do not mean low intensity. Not even a little. I felt so good after I finished this one.
Favorite Funnies:
Linking up for Friday Favorites.