I happened to look down at the date in the corner of my screen this morning and saw that it was September 11th. Let's be honest, I am good if I even know what day of the week it is, yet alone the actual date. Every year, I think about where I was, what was going through my mind, all of the lives lost, and how we are forever changed. Sometimes I think about how life is going to look after Covid. How long will it take before things feel "normal." What will normal even look like. How much therapy we probably all need.
But that was all quite a bit deep for a favorites post, wasn't it? I can't let my mind go in that direction! I know it was a short week, but man, was it quick! We have been so busy at work that the days have just slipped right past me.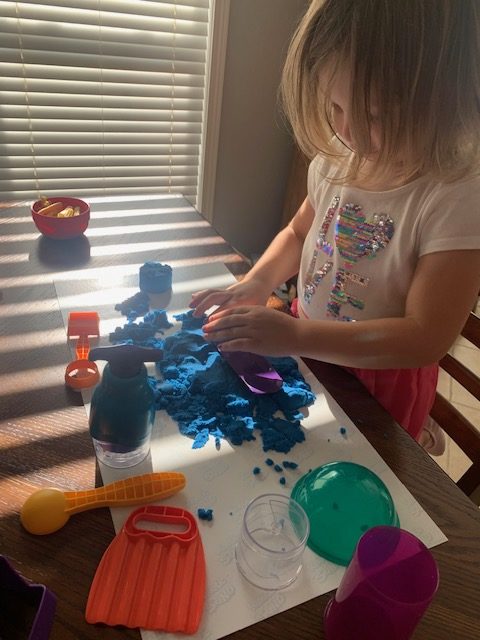 Favorite Activity: Zoe and I have had some really fun lessons this week. I ordered this Kinetic Sand set the other day because it came with a ton of different tools, a play mat and two bags of sand (red and blue.) Kinetic Sand has been a favorite of Zoe's for quite awhile now. Usually we bury small zoo animals in it for her to dig around, but I wanted some more things to change it up. This kit is fantastic! Cutting and using the scoop and dome mold is so satisfying! I think I had just as much fun as she did.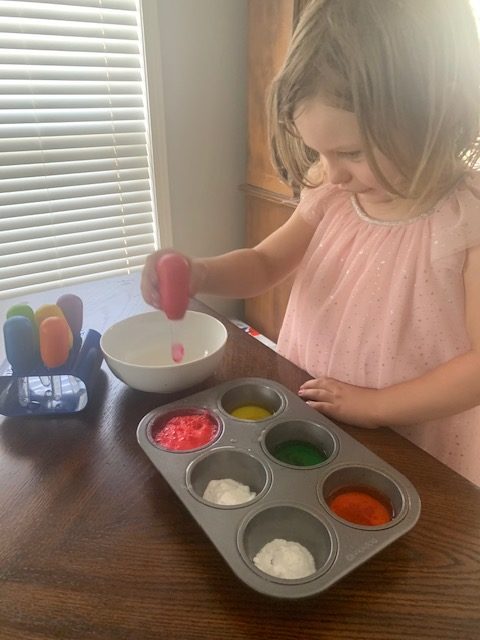 I shared our science experiment on stories the other day, and I got a lot of questions about where I got the droppers from. Amazon, of course! They are a great size for little toddler hands, and honestly, quite comfortable for adults too. I loved that they came with a little stand to keep them in, it keeps the liquids from dripping all over the table! I took a muffin tin and put a few drops of food color on the bottom of each section, covered it with a spoonful of baking soda, then put vinegar in a bowl. Zoe used the droppers to drop the vinegar into the cups and thought it was the COOLEST thing ever seeing it foam up and become a color. She played with this for a good 30-40 minutes, and has asked every day to do something with the droppers since. I have been just letting her mix colored waters to see what happens.
Favorite Aldi Finds: I have so many photos on my phone for Aldi posts that I wanted to do and never got around to. But I got these signs this week, so they should still be in stores. Each one is double sided so you can use them for fall/Halloween/Thanksgiving. I absolutely love that about them. I am still trying to gather fall decor, but this was a great start. The large sign (I shared both sides of it) was $9.99 and the three smaller ones were $3.99.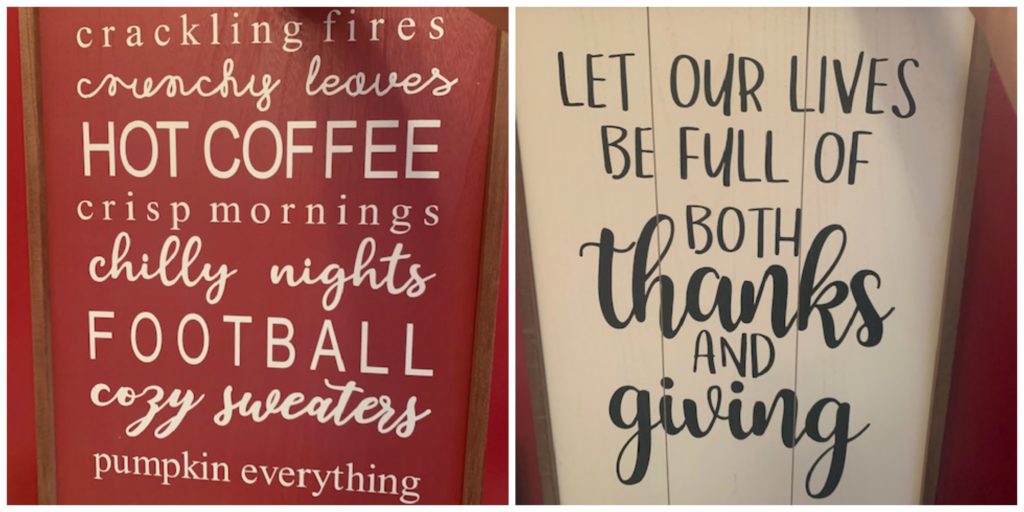 Favorite Recipe: One of my favorite things to make for parties, company, or lunch for myself is to take salami and roll it around a little bit of cream cheese. So easy and always a crowd pleaser. I like that this is a fancier version of that, and low carb friendly.
Favorite Funnies: