Oh hey, Friday!! This week sort of got away from me! I realized that when you don't have somewhere to be every day, you begin to have no sense of what day it is. I am speaking the actual day (Monday, Tuesday, etc) and the date. This week I have made great progress in the spare room!!! I am so proud of myself for committing to it during Zoe's morning naps instead of sitting and watching TV. I was 5 weeks postpartum on Sunday and it was like a switch flipped and I feel much more human that I did before! I really have my mobility back too!! I still cant climb in our bed, but I started sleeping on the couch laying on my side instead of sleeping in the recliner. That coupled with the fact that Zoe has been sleeping in 3-5 hour stretches over night means I am getting the best sleep I have had since even before having her!!!
I need all my friends to stop getting sick! A few weeks ago, a girlfriend was supposed to come by one afternoon to visit for awhile but she and her daughter were sick. This week I was supposed to go to lunch with my lunch club and introduce them to Zoe…but illness strikes again. I miss my friends, yo! Plus they need to see Zoe before she is a teenager, because that is how she is growing these days!
Favorite Moment: The doctor telling me that Zoe is perfect at her one month check up on Tuesday!!! I already knew that, but nice to have medical confirmation. wink wink 
You guys, this smile. I can't handle how she melts my heart with this smile!!! She already knows how to turn on the charm. Chris and I are in serious trouble!
She is 9.2 pounds and 21 inches long. When I told that to my sister, she laughed. Both her sons were born larger than that and here Z is at five weeks.
Favorite Product: My trusty Body Shop Vitamin E moisturizer is the only thing that is giving my dry dry dry skin any relief this winter. I order at least 2 tubs of this every year during one of their 40-50% off sales. Never pay full price for their stuff, they always run sales.
Favorite Lust: I need to get some new shoes before I start working out again. Mine were killing me and are super worn out. What are you favorites?? I sort of get overwhelmed when I look. I am liking the way these look…
Favorite Funnies:
Glad I finally understand how men feel….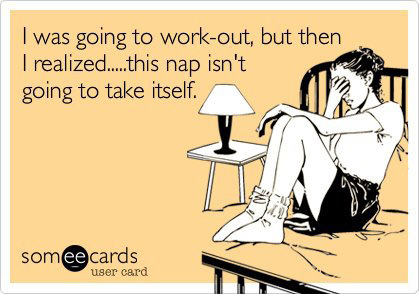 When you are out and don't want to run in to anyone.
Linking up with Amanda, I will be catching up on blog reading, staring at Zoe, and hopefully making more headway in the spare room. I hope you all have a fabulous weekend!!!