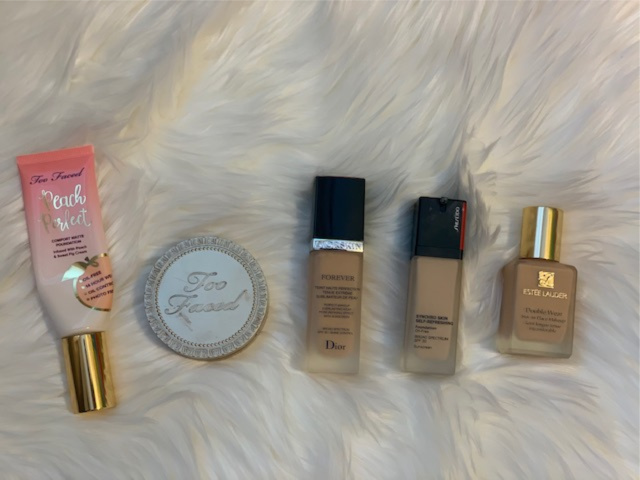 I love a good empties post. I usually tend to stick to the same foundations, my top two choices being Estee Lauder Double Wear and Lancome Teint Idole Ultra Liquid. (Which Nordstrom has a sale on both of these right now!!!) I did venture out with a few others recently, and I want to share my thoughts! There will be two not pictured above that I returned to Ulta after trying out. Ulta should really consider giving samples out for those on the fence like me, such a waste.
Too Faced Peach Perfect – This is a great foundation. I loved the coverage and the way it looked on my skin. I sort of have a love/hate relationship with it though. First of all, my color was never right with either one I tried. I ended up having to go a shade too light and making up for it with bronzer/color corrector add in. Also, the smell of this is too much for me all over my face. I absolutely LOVE my peach eye shadow palette. It smells amazing and the colors are gorgeous!!!! The smell of this foundation is nothing like that, and I think it kind of stinks. I can definitely smell it for a few hours after application too. This will be a pass from me from now on. If you aren't bothered by the scent and can find your shade…I think this is a great option.
Too Faced Born This Way Powder – (On sale at Nordstrom right now) I am not a big powder person, but someone at Sephora recommended this to me a long time ago when I was looking for something new. I have had this forever and am getting rid of it because it cant be good to use on my skin anymore. I was using it as a mirror in my purse for awhile. Anyways…about the powder foundation. This actually looked really amazing on my skin. It evened everything out and I loved to touch up with it throughout the day. I purchased this before I was pregnant with Zoe, so it is around 4-5 years old. In that time, my skin has changed drastically. Powders are way too drying for my face now. But if you have combination/oily skin, this is a great option for you! It really does have great coverage.
Dior Forever– I absolutely loved this foundation. The color match was perfect, it looked and felt nice on my skin. The coverage is very similar to Estee Lauder Double Wear. Would I re-purchase this again? Yes. However, I would rather get Estee Lauder for less money and same results.
Shiseido Synchro Skin Self-Refreshing Liquid Foundation – Full disclosure, I got this one from Influenster a few months ago. The campaign is over, so it's not benefiting me or them by talking about it now. This is actually a pretty solid foundation. To me it is more medium/full coverage than true full. I liked the way it felt on my skin, and it looked very natural/skin-like. I don't really have anything bad to say about this one. I just like Estee Lauder coverage slightly better.
Estee Lauder Double Wear – This is my holy grail, always have it on hand. I don't know why I ever stray. Well, that is not true. I know why I stray. Sometimes my skin gets really, really dry. When that happens, this one tends to bring out those dry patches anymore. Not enough to not use it though, I am just more aware when I am applying.
And now for the two I tried out for a week and returned…
Tarte Tape Shape Foundation – The coverage of this was alright, it was medium coverage but build-able for me. What drew me to this, was that it was supposed to be hydrating. Ummmm this so was NOT hydrating. This caked like no other all over my face. And it never really settled into my skin. It reminds me of how IT CC cream is on my skin. It wipes off on everything all day because it never settles. Hard pass. This went back after 2 uses.
Too Faced Born This Way – I was told this was medium/full coverage, but it is not. It was barely medium on me. I just didn't care for the way that this looked on my skin. It creased badly under my eyes and caked around my nose and any dry spots. I found a perfect color match for me, but after 2 uses on this (both with and without primer as I did with Tarte) it went back. The staying power was awful.