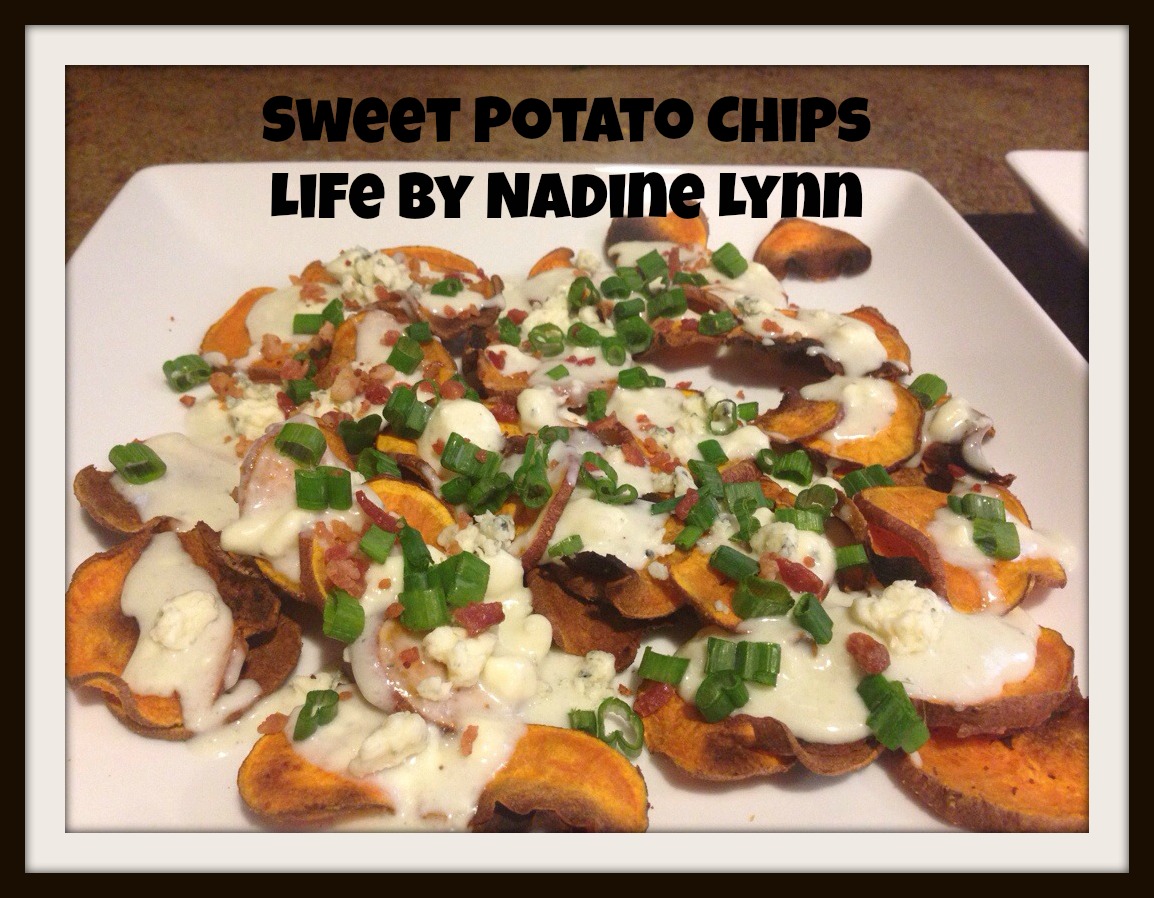 One of my favorite things to do is to go to a restaurant and enjoy some amazing food and perhaps an adult beverage or two. Inevitably with that comes spending money and consuming a lot of calories. Two of my un-favorite things. What is a girl to do?! Come up with her own recipes for those things that she craves! That's what!
Plus, since I am making them I control what ingredients go into it and how it is made. Enter sweet potato chips. Trust me when I tell you that you NEED these in your life! Two of my favorite appetizers out is blue cheese sweet potato chips and fried pickles. Mmmmm mmmmm mmmmmm.
(Chips and salsa goes without saying. Duh.)
I am not sure exactly how restaurants make theirs so freaking delish!? I had a feeling it was deep frying them and adding all of the calories. I knew that I could create something delicious and perhaps a little more calorie friendly.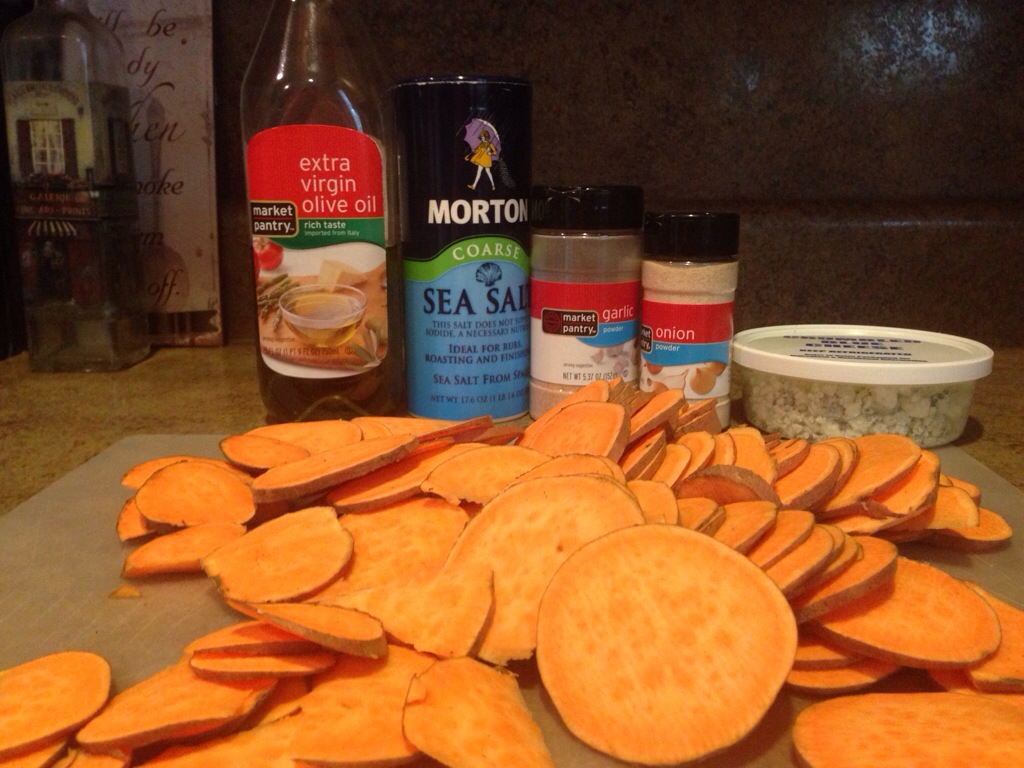 What you need:
3 sliced sweet potatoes
You want to slice them VERY thin. I did this with a knife, but I know there is a device out there made specifically for  this called a mandolin. Maybe I need to invest in one of those fancy items if I plan on making these more often.
1 tbsp Olive Oil
1/4 tsp Onion Powder
1/2 tsp Garlic Powder
Sea Salt to taste
Cooking Spray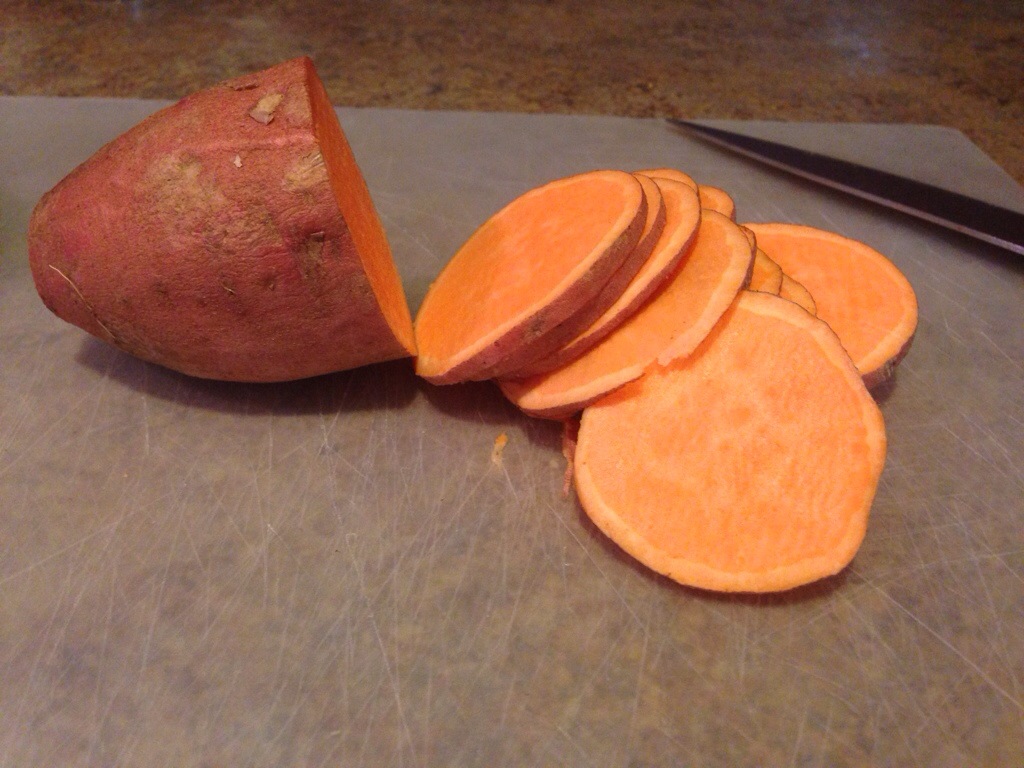 What you do:
Spray a baking sheet with cooking spray to prevent sticking.
After you slice the sweet potatoes, toss them with olive oil and sprinkle with garlic powder, onion powder and sea salt.
Spread the sweet potatoes in a single layer on baking sheets. It took me two baking sheets to fit them all.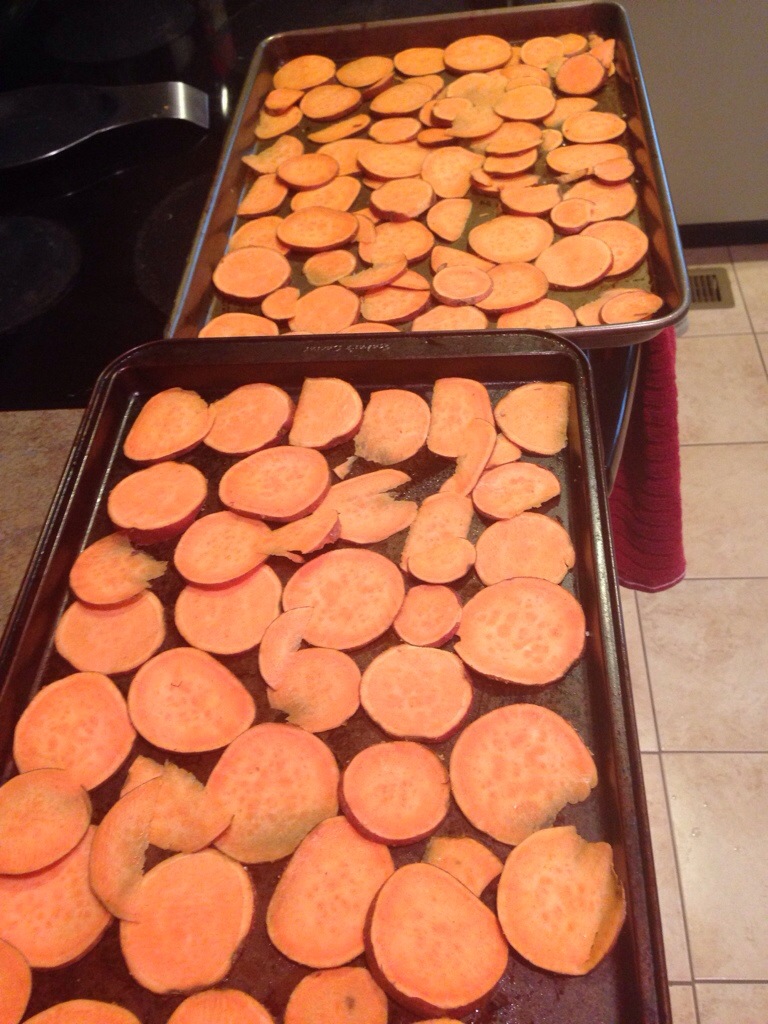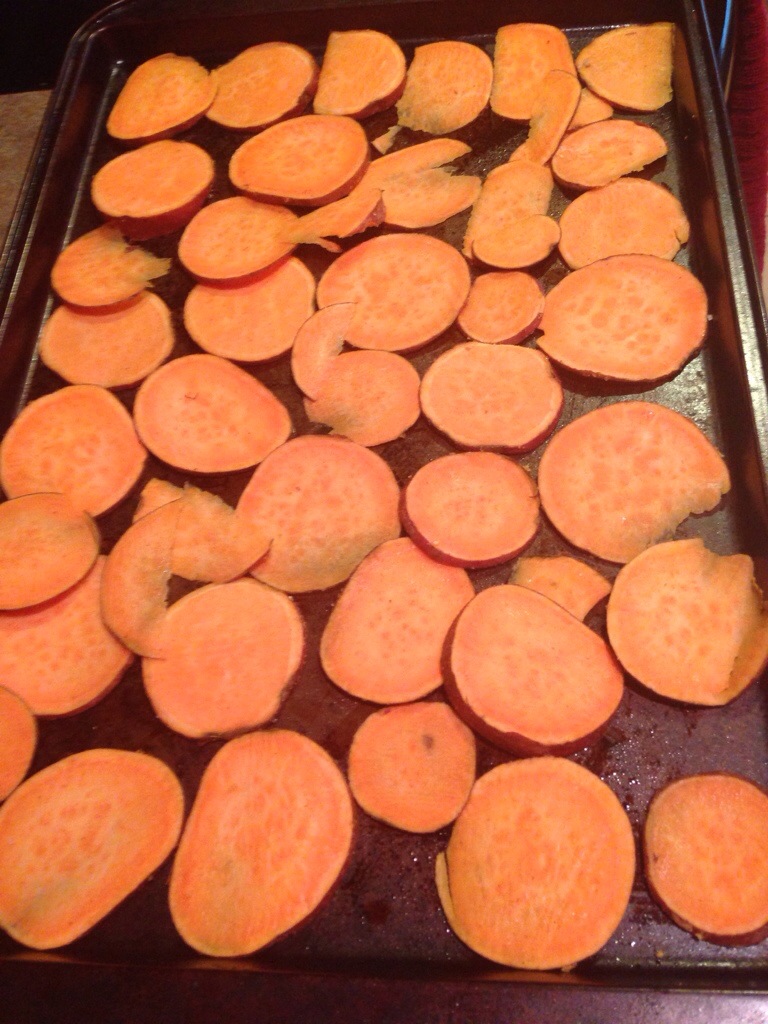 Bake the sweet potatoes for 20-30 minutes at 400 degrees.
Turn the oven off and crack the door a little.
Start the preparation for the blue cheese sauce.
What you need:
1/3 contaner of Blue Cheese
1 tbsp flour
1 tbsp butter (you want to use REAL butter, low-fat or substitutes will not work, I tried.)
1/2 cup milk
What you do:
Melt the butter in a frying pan.
Add flour and stir for 1 minute.
Turn off heat, add milk and whisk for 1-2 minutes at a simmer then add blue cheese and stir until well mixed.
Take your sweet potatoes out of the oven, and spoon the blue cheese sauce over them.
Add toppings.
I chose:
bacon bits
green onions
blue cheese chunks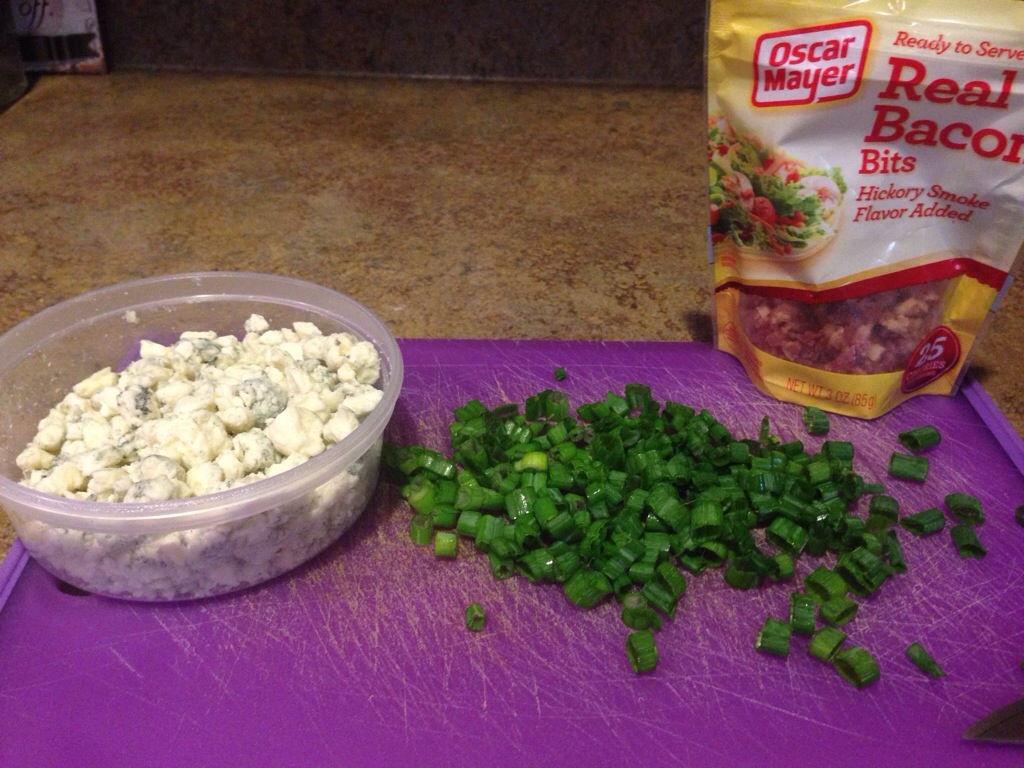 If they do not come out of the oven "crunchy" you can set your oven to broil for a few minute to get them to your liking. Sometimes they get crunchy on their own, sometimes they need a little push!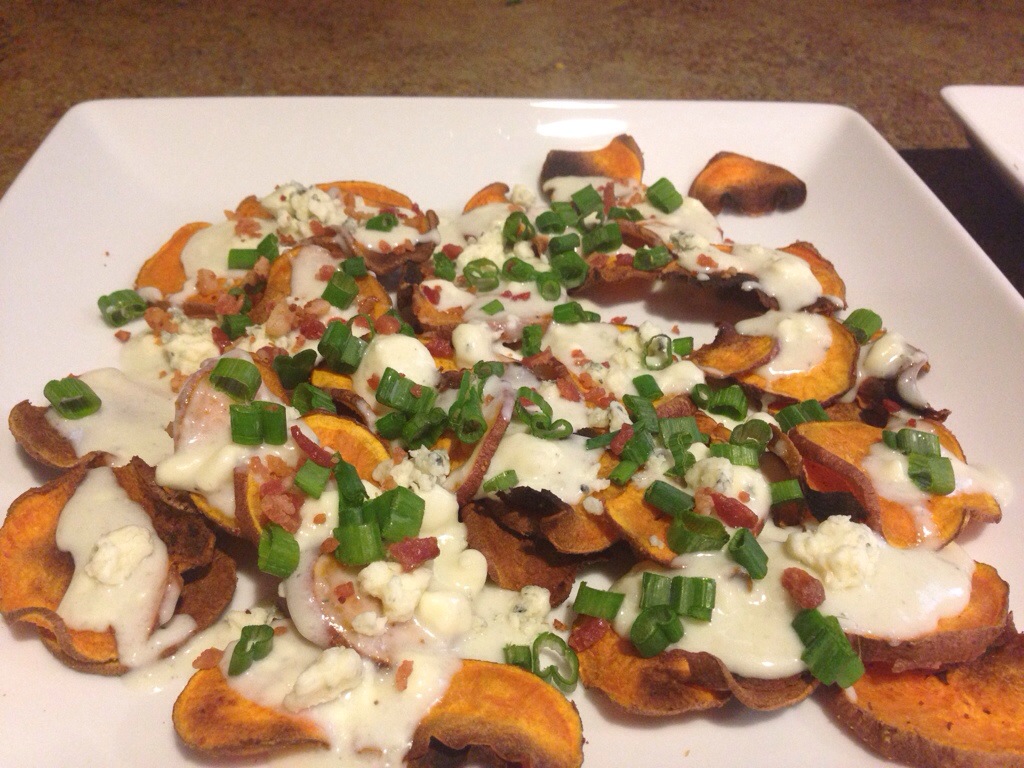 Enjoy!!!! I know we did.