Coming at you with another empties post today! I saved all my recent makeup products for one empties. I still have a body care one and some random empties I need to post. Do you guys like to see these as blog posts, or would you rather watch them on Instagram stories? Just curious. I already photographed the next two and discarded the packaging so they will be blog posts, but was wondering how you would like them going forward. Little old me is not popular enough to have a swipe up on my Instagram to share links, so it would just be me talking about the products.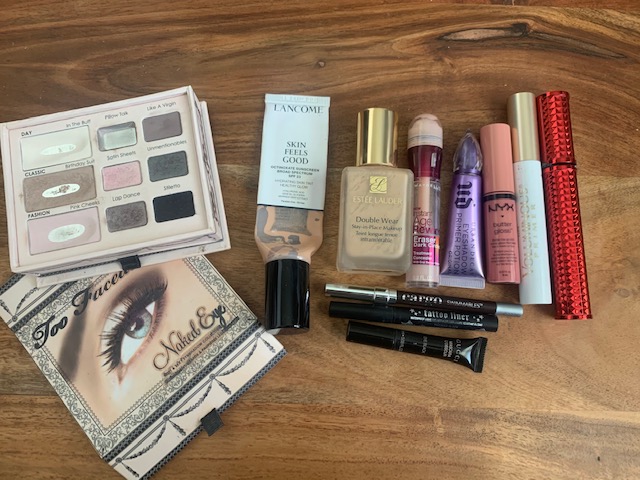 Too Faced Naked Eye – This palette is so old that they don't make it anymore. The one that is closest to it is the Enchanted Wonderland or the Natural Eyes Neutral Eyeshadow Palette, that comes in nicer packaging. I bought this back in like 2012 -2013 I think? It was a long time ago. And I kept it even though I quit using it a few years ago. Who knows why? It is time to trash this thing! As you can see, there were a few colors that had a lot of love, and some I hardly touched. Isn't that they way with palettes?
I do love Too Faced shadows and I have the Peach palette that has gotten a lot of wear and love over the years. I recommend the shadows if you are in the market for one. They blend nicely and compliment most skin tones. I definitely find myself using a lot of the colors in the Peach palette in the spring and summer.
Lancome Skin Feels Good – I have this in a light shade and it is my favorite to wear if I don't want a full face of makeup, but want to even out my skin tone and have another layer of SPF. I find myself grabbing this most since the pandemic started. It does give a light/medium coverage and my skin looks better overall with it on. This, some mascara and a swipe of lip gloss is enough to go out in public for me. Not that I am going anywhere right now. I like this 100 times better than the IT CC Cream. I know some of you are obsessed with that stuff. I cant stand the way it smells, and it never sinks into my skin. It just sits on the top and transfers onto everything all day until its completely gone on me. This Lancome one holds up.
Estee Lauder Double Wear Foundation – Holy grail foundation for me. I can not tell you how many bottles of this stuff I have gone through. This provides full coverage all day, and does a good job of looking great on my skin. I wear 1N2 Ecru, and find it is the perfect shade for me most of the year. I used to wear 2N1 Desert Beige, and I find that this one is more my shade in the summer if I have a tan.
Maybelline Age Rewind – This is the best drugstore concealer that I can find. I usually grab it in fair, I want my concealer a shade lighter than the rest of my face. For some reason I had grabbed the brightening one this time. It was more of a rose gold type color? I dont know, I didn't love it as much as the regular fair on me. I always have a bottle of this and then a higher end in my arsenal.
Urban Decay Eye Shadow Primer Potion – I have been using this primer for years. I think ever since it first came out. I like to buy the smaller $13 size because the larger one tends to dry out before I use it all. A little goes a long way, so the tube lasts a good while. My eye make up stays perfect all day.
NYX Butter Gloss – This is one of the best drugstore glosses you can find. I have been using this stuff for years and my favorite colors are Creme Brulee, Eclair and Tiramisu. I always have one of these three shades in my purse.
Loreal Voluminous Lash Primer – As far as lash primers go, this is my favorite drugstore option. I don't use it all the time, but I do notice a difference when I do.
Givenchy Volume Disturbia Mascara – I loved this mascara. It lengthens and gives volume. Definitely one of my favorites and worth the price. Also, the packaging is gorgeous.
Cargo Liner – I don't love this Cargo liner. I found that it tends to smear when I wear it, which is why I am tossing it before it is gone.
KVD Tattoo Liner – One of the best eye liners out there. Always a perfect line, always stays in place all day.
Gucci Mascara – I got a sample of this in exchange for a public review on a retail site. I have to say, this was a really good mascara and I was sad when it was empty. I would consider purchasing a full size one. I think I might have liked the Givenchy a little more.