Today I wanted to share some body care products that I have finished and loved! Well, mostly loved. I feel like one of these is over hyped. Have you used any of these products? Loving anything new lately?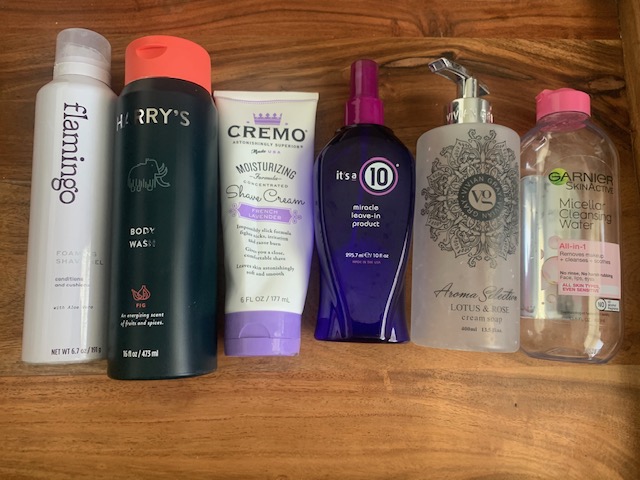 Flamingo Shaving Cream – This is my favorite shaving cream. You can grab it from Target or Amazon. It does the shop, smells nice, and I tend to not have any irritation or cuts when I use it.
Harry's Body Wash in Fig – This is my favorite body wash. I know it is "mens" but I love the smell of both the fig and stone body washes. Chris and I both have sensitive skin, Chris more than me. There aren't a lot of scented products he can use without irritating his skin. This works for both of us and can be found on Amazon and at Target. LOVE. We have been using this for about two years now. The best.
Cremo Shave Cream in French Lavender – There was so much hype to this stuff, and I have to say…I was a little disappointed. This shaving cream is alright. It worked find, smelled decent…but there is nothing special about it. I would use it again, but I actually prefer the Flamingo one.
Its a 10 Miracle Leave-In Product – This stuff was just ok. I honestly didn't really notice much difference in my hair while using it, other than helping to detangle a little. I won't be purchasing it again. There is much better stuff out there for the price! I highly suggest Shu Uemura's Shiki Worker Multi-Benefit Hair Primer. After switching to this stuff, I noticed a difference the first day! It is for all hair types and is supposed to be a hair primer that detangles, tames frizz, and leaves hair with a smooth, silky texture. And it does all of those things while smelling delightful.
Vivian Gray Lotus & Rose Cream Soap – This stuff smells incredible and is my absolute favorite hand soap to have in my bathroom. I grabbed my bottle at HomeGoods quite awhile ago, but good luck finding it there regularly. you know? I am so glad Amazon has it.
Garnier Micellar Cleansing Water – I have gone through several bottles of this stuff. I use it at night to remove makeup before cleansing my face. It works fine and does a good job at taking off my eye makeup as well. I use these reusable cotton rounds with it, and these are wonderful. I have had them for 2 years and washed a million times and they have held up nicely.