I love when I can prep something on a Sunday evening to have for lunch all week! That is just what I did for this week! I discovered couscous several years ago when I started venturing out and trying different things. You could say I was food sheltered most of my life, sticking to the "normal" foods that my mom would cook for us when we were younger. She was a picky eater and I basically liked what she liked and didn't eat what she didn't. I didn't know any better. Lauren did a great post about appreciating food more here, and I completely relate to it.
So I have two favorite couscous salads that are my go-to's when I am craving some for lunches. I have already shared my Mediterranean Couscous Salad,  now I would like to share my Curried Couscous Salad with Cranberries and a Citrus Vinaigrette finish. I know it might sound a little weird, but this salad delivers on the flavor for sure. Don't let the word curry scare you off. It becomes for subtle when paired with the sweet cranberries and the zest of a citrus vinaigrette. The chichpeas and green peas add in some great flavors as well! This salad is best chilled, and you want to make it ahead of time and let all the flavors infuse together. It is just wonderful after it has sat overnight and perfect to take for lunch, or pair as a side for dinner. I think it would be great with turkey or chicken.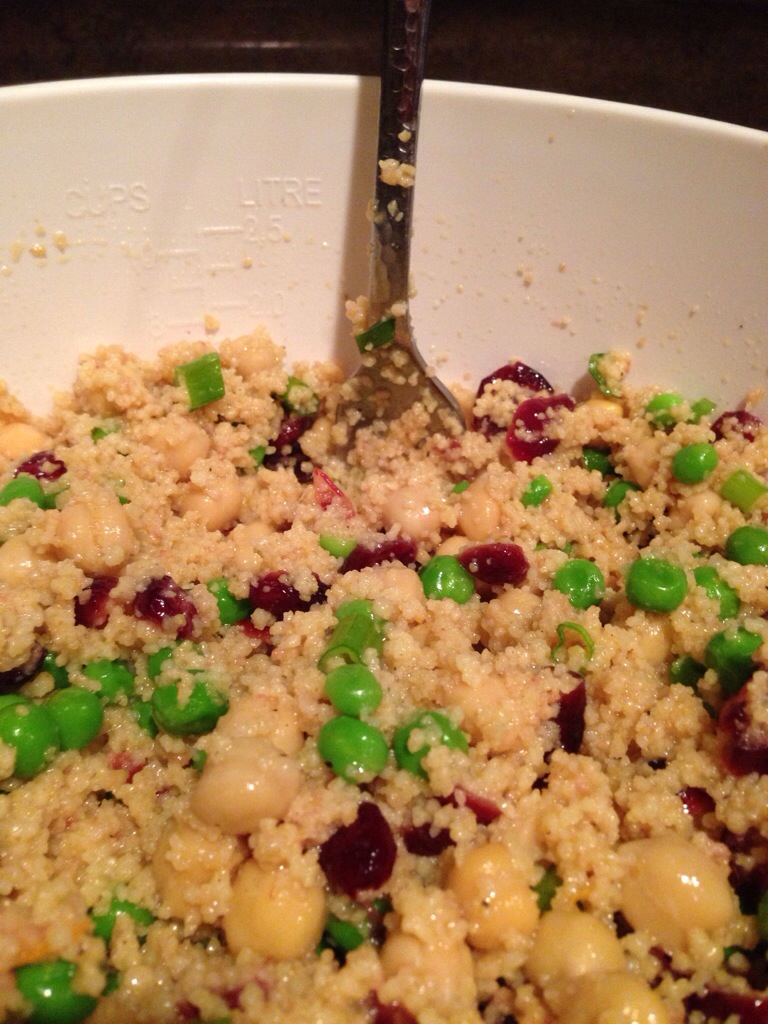 What you need:
Salad:
1 box of whole wheat original couscous (you could use plain instead of wheat)
1 package of dried cranberries
1 cup frozen peas
1/2 teaspoon curry powder
2 cups of boiling water
1 can of chickpeas, drained and rinsed
1/4 cup green onion, sliced
1/4 cup fresh basil (I add this sometimes if I am going to need fresh basil for something else that week, if I don't have it, it still tastes wonderful without it. Only add it if you really like basil, as it is noticed.)
Dressing:
1/3 cup lemon juice
1 tablespoon orange rind
2 tablespoons water
2 tablespoons concentrated orange juice (the frozen kind in a can works best, you can store it in a container in your freezer and use it for recipes that require orange juice. It lasts awhile like that.)
1 1/2 tablespoons olive oil
4 crushed garlic cloves
1/2 teaspoon salt
1/4 teaspoon black pepper
What you do:
1. Pour the box of couscous, the peas, the cranberries and the curry powder in a large bowl. Mix in the boiling water, cover and let sit for at least 5 minutes. Fluff with a fork, add the chickpeas, green onions and basil. Leave sitting out to cool for a little bit.
2. You will want to grab a jar to mix your dressing in. I have one that I got from an Italian dressing packet kit, but a mason jar or even a small plastic container with a lid would do. Mix together all the ingredients for the dressing and shake. Shake it like a Polaroid picture.
3. Pour dressing over your couscous mixture, cover and keep in the refrigerator. It usually lasts all week in there.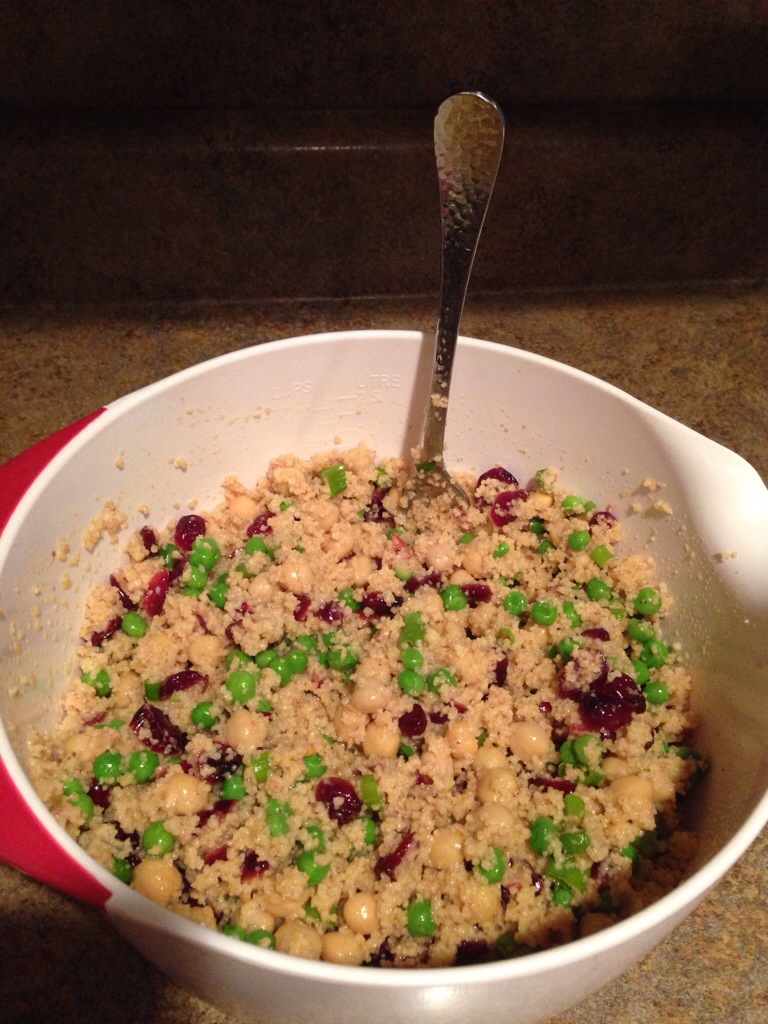 Enjoy!
Linking up with Jessica and Ashley for Taste of Tuesday!