Felt like a good currently post this morning. I also have something on my mind that I would like to vent.
Reading– One to Watch came available from the library last week. It was the audio version though, and I really just don't have time to listen to a book right now. It is much easier for me to physically read one, which is so different than me pre-pandemic. I hope to get through it before it is due back.
Watching– Some of our shows have come back, so we have enjoyed catching an episode after Zoe goes to bed a few times this week. We are caught up with Good Doctor, Blue Bloods, Chicago Fire, SVU and I think we have one more episode of Greys. It is nice to have that normalcy back.
Listening-I found Liz Moody's Instagram account through Whitney Simmons when she shared some of her Tik Tok recipes that I tried. I learned that she has a podcast called Healthier Together. I listened to her most recent episode on skincare with Jessica DeFino and I found it very intriguing. In the episode she talks about why hyaluronic acid isn't good for your skin, and a few other shocking tidbits I never thought about. I am definitely going to do some research now. If you are looking for healthy recipes, Liz's Instagram account is great!!!
Cooking-I made an oatmeal bar recipe yesterday morning, and it was amazing. Like I almost ate the whole pan throughout the day yesterday because I couldn't stop. This is where the recipe came from. Found, again, from a Whitney Simmons video.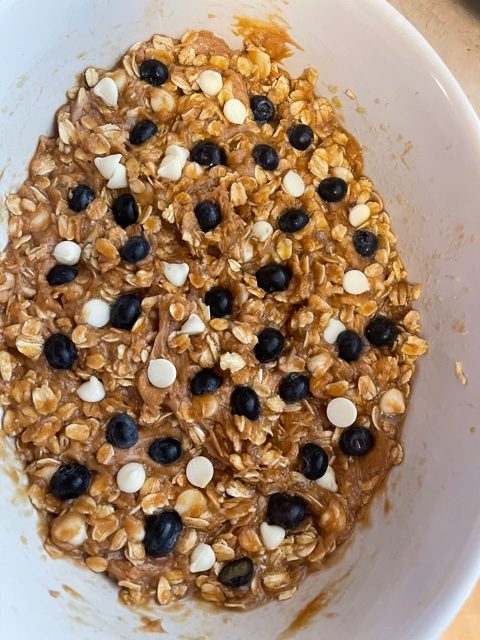 I also made this chicken tortilla soup last night. It was really good! Definitely add the coconut milk. It gives it this creaminess to it that really sets it apart.
Thinking-Last Friday was insane with work. Email was blowing up. We took in more jobs in that one day than we usually get in a week. I was feeling overwhelmed, especially since I had worked extra early in the week to take a few hours to spend with Zoe on her birthday and wasn't able to.
I had mentioned being overwhelmed to my sister, who made a comment about how she doesn't have any sympathy for me because I get to sit in the comfort of my own home in a sweatshirt and don't have to deal with people in person like the "essentials" such as herself.
Is there anyone else out there who feels this way??? Because let me tell you, while I am so so so grateful that I have a job that allows me to WFH in a sweatshirt during all of this…it is not some easy cake walk. I have a full time job with real responsibility. Take yesterday, my team was responsible and the last say on whether a $50 million deal went through. And yes, I do it from the comforts of my home..in a sweatshirt most days…but I am ALSO taking care of my child during this time. Basically a second full time job. And being her friend, caregiver, playmate, mother, teacher, dance instructor, basically her everything. Because Chris sits in meetings literally all day every day and cant really help me at all.
I still wake up before the ass crack of dawn, and even though I don't have to commute to the office anymore…I still have to work out and fit in a few hours of work before Zoe wakes up. Last night I was up til almost 11pm working after she had gone to sleep. I work EVERY Saturday and Sunday for several hours, waking up early and not getting to sleep in on a weekend. Thanksgiving and Black Friday are the only two days I have had off since March. And only because I forced myself to take a break.
On top of all of that, I have mom guilt for making my daughter play independently for hours every day. Way longer than anyone her age should have to. And I have guilt in my career for not being the best I can possibly be and trying to further myself. I get my work done and on time, but it is really hard to focus some days when you are getting interrupted a hundred times to get snacks, put someone on the potty, checking to see what that noise was, listening to ridiculous shows on the ipad in the background, being asked 50 times if I am almost done and can take a break, etc.
So I want to set the record straight for people out there that think working from home is easy, and not really work. Because I promise you it is in fact not. And just because I don't have to see people in person, doesn't mean I don't have to deal with people. I get snarky emails where it is hard to read the tone. I spend hours trying to track down data on the phone, talking to zoning departments, tax assessor offices, playing phone tag, etc. I have zoom calls with my team, and have to talk to market participants. So I am still "dealing with people."
I ignored her comment, but it has eaten at me for days. This year has been hard on everyone, no matter your situation. We should have compassion for others, because you never really know what they are going through.
And there is this, which I think a lot of us have mastered…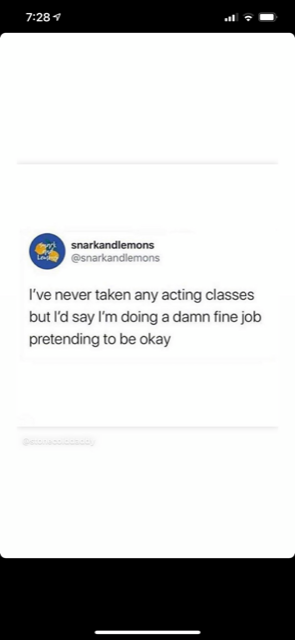 Working-Because of what I said above, a lot of my side projects that I was really excited about this year have fallen to the back burner. Or off the stove completely. I had so many great ideas that I really want to make happen, and I just don't have the time or energy for them. And I know you make time for what is important to you, but damn. Can someone give me a few extra hours in the week to accomplish them???
I need to come up with a plan for these things. I am indefinitely working from home for at least another year, and Zoe probably wont go back to school until the next school year…so this is life and I need to figure out a way to balance it. I think the hardest part of this year for me is feeling like I am losing myself and just barely staying afloat. Does anyone else feel that way?