You guys! YOU GUYS!!! I heard that Kathy was starting her confessions link up back up and I immediately emailed her to tell her how stinking excited I was!!! Then she was all, you wanna co-host? Um heck yes I do!! I might have squealed when I saw that!!!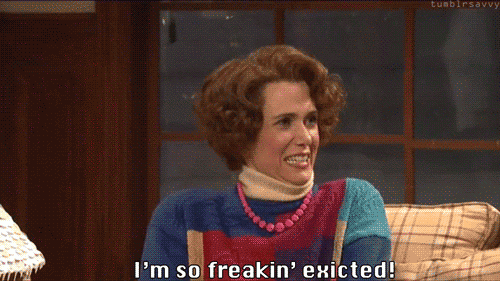 So confess all the things bitches!!!
–I scroll through Snapchat (when I remember) and love watching all of your snaps and videos and getting to hear some of your voices. It is awesome!!! And I think that I want to video too. Until I realize that I am scared for people to hear me. Do I sound weird? I have lived all over the place…the northeast, the midwest, down here in the deep south. What kind if accent do I have to other people?? That's why you haven't heard me yet…
–One night for dinner last week I had peanut butter and crackers. Don't judge.
–I updated my phone a week or two ago and it seems that when I do that, my text keyboard resets itself. And all of a sudden I am ducking angry for weeks. ITS NOT DUCKING MOTHER FUCKERS STOP IT!!!
–Since we are supposed to have a wet, rainy winter…I really want a pair of Hunters!!! I have said for years that I cant justify spending the money on them because I don't think I would get much use of them. But like, we go to Gatlinburg every year after Christmas and it does rain a lot here in the cooler months. I so would get use out of them!!! Plus Kristen and Andrea make them look so damn cute! And Costco has them for like half off. Oh what to do what to do…
–You guys, who in the hell actually cares if your Starbucks cups have snowflakes or are plain red? It is a fucking coffee cup. Calm your tits people!!! I think this picture best explains it…
–I opened my mailbox on Friday evening to find these beautiful personalized cards from Andrea!!! She reached out to Laura to get my address to surprise me. I can't even begin to express my gratitude for blogging that has given me so many amazing people in my life. Whether I meet you all in person or not, know that I include you all in what I am thankful for every day. It means the world to me to read your comments, our chatter back and forth in email/text, the smack talk that some of us exchange before a football game, the recipes and products we share, just everything about blogging makes me so happy!
Confessions in ecard
How I feel about all my blogging friends….
Now confess and get it all off your chest!!!
​