Hey hey hey!!!! It is basically like Friday in work world since tomorrow is Thanksgiving!!!! Link up with Kathy and I and tell us all your secrets!
–Sometimes when I know I am wearing boots, I grab my cropped or capri length jeans. I mean, you don't know the difference and well…I hate tucking all that extra jean material into my boots! #noonecantellthedifference #lazy
–I hate stuffing. There. I said it. Is it the worst thing I have ever tried? No. But ummmmm there is way too much else deliciousness to waste calories on something that is just meh for me. This goes with dressing to, you southern people like weird shit. #moreforyou
–I also hate liver. It smells gross and it sounds gross. I haven't tried it since I was a kid but ummm just no. #gross
–My family usually got the canned cranberry sauce that is more of a jello consistency. (Which is still my favorite, by the way….) But every year I had to have the top piece with the can indentation. I would legit get pissed if someone took it. #Istilldothis #minebitch
–Trying to sleep on the eve of Thanksgiving is hard for me. I am so excited to spend lots of time with family on Thanksgiving day…..and super duper excited for my mom and I's annual Black Friday excursion that starts promptly at 9-10PM Thanksgiving night well in to the late afternoon on Friday. #shoppingismycardio
This is an actual text with my mom about our trip. #wedontplay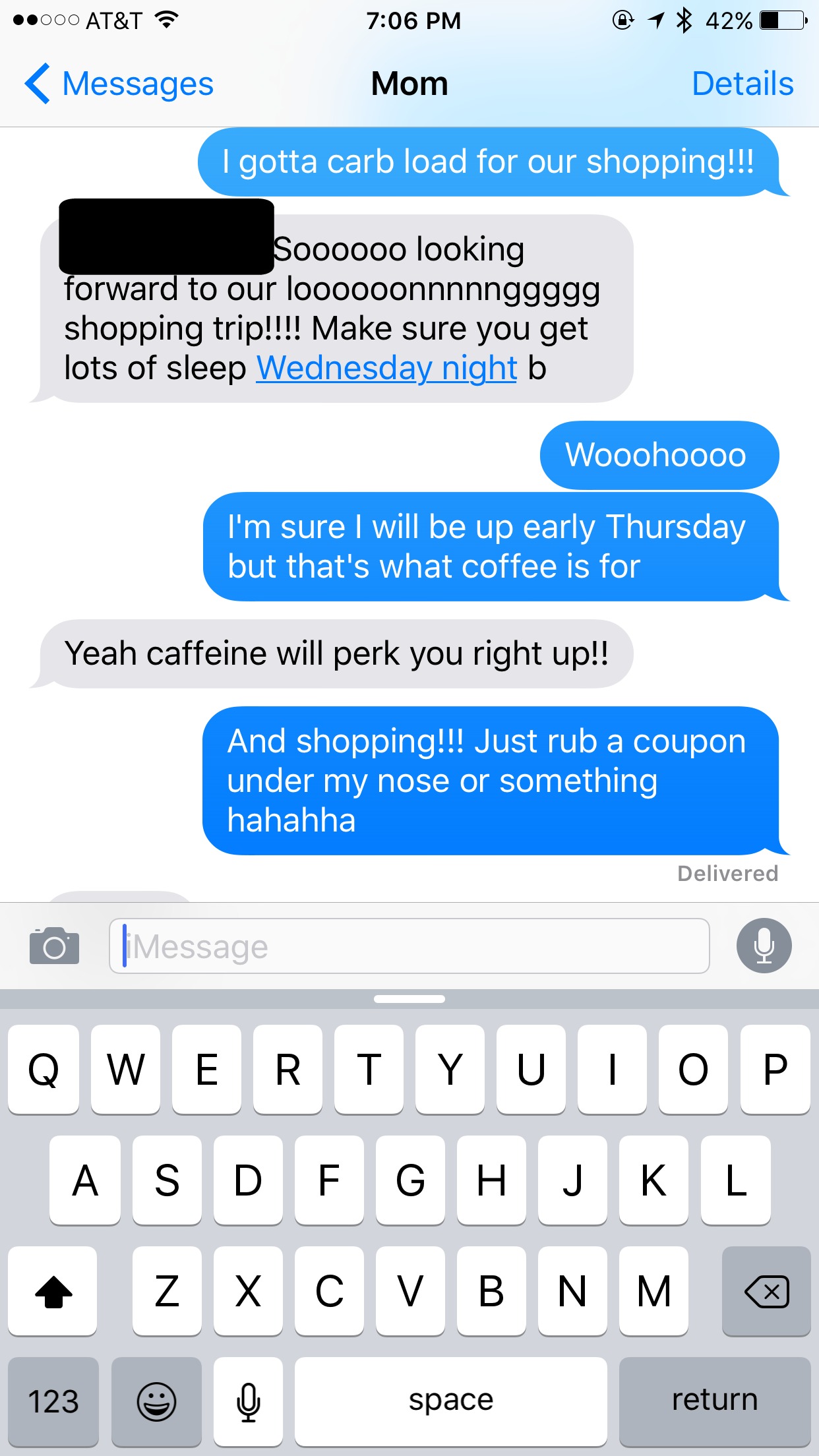 –I actually find the crazy Black Friday shoppers who get rowdy and pushy quite entertaining. People get so pissy and I just laugh. I think it pisses them off more. #itsjustshopping #chillthefuckoutandsmile
Confessions in ecard Thanksgiving style
Now it is your turn! Link up with Kathy and I, confess all your things. Go ahead, this is a safe space.