I am aware of the things that I am good at, and the things that I am not. One of those things is posing for pictures. I don't know how you fashion bloggers do it day in and day out! You always look so perfect and natural. I look like an awkward mess.
To give you an idea of what my blog would look like if all I posted was fashion, I thought it would be fun to take a look this Wednesday!
All photos were taken of the highest quality iPhone 5 has to offer. These are real clothes, bought at stores that you most likely shop at, probably on sale and worn by a no where near a size 2 person.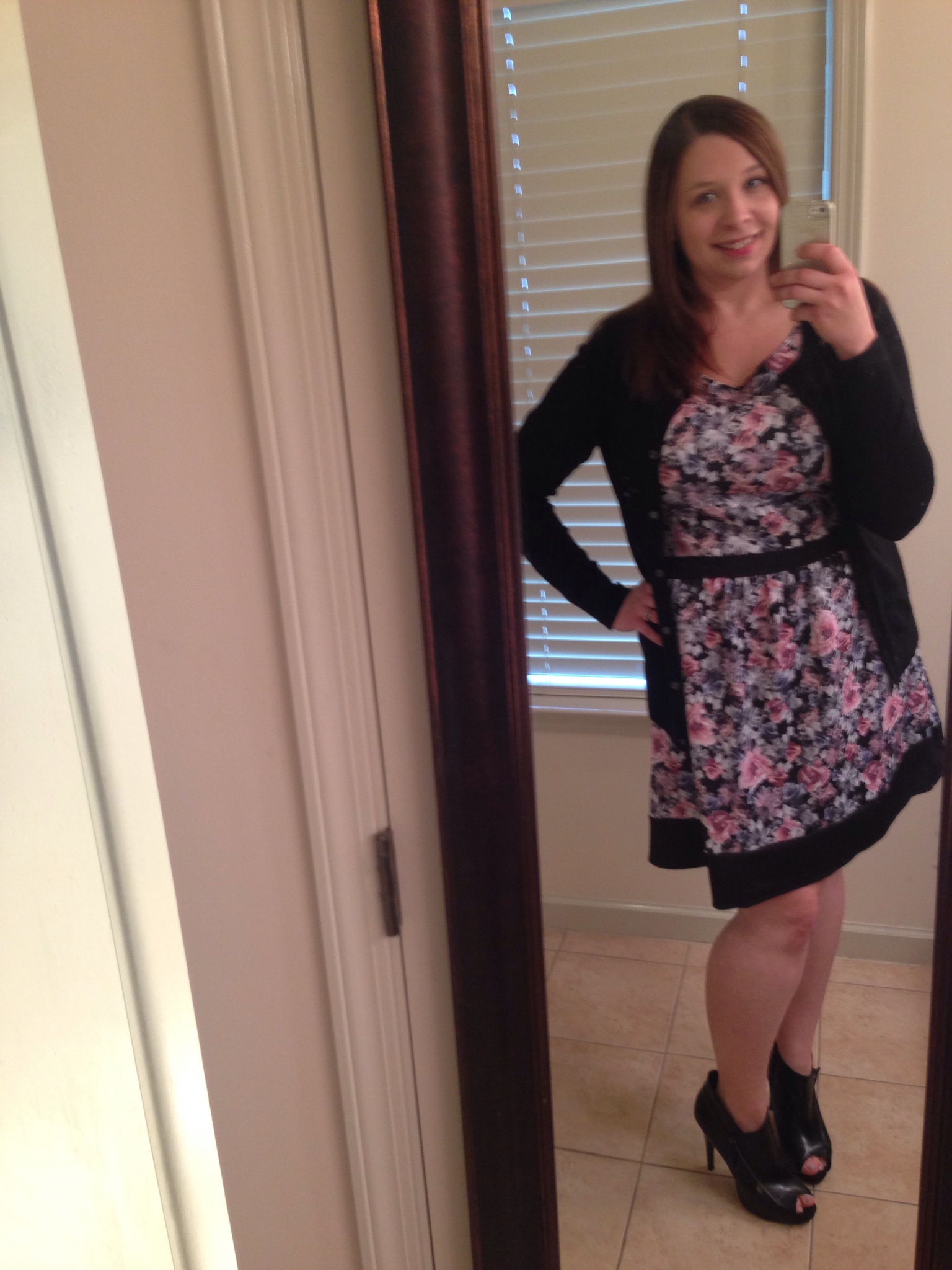 Like my $12.48 clearance dress from Target? Me too! It goes lovely with my $39.99 booties from Nine West. Pair it with a 3 year old $20 cardigan from the Gap and we have an outfit!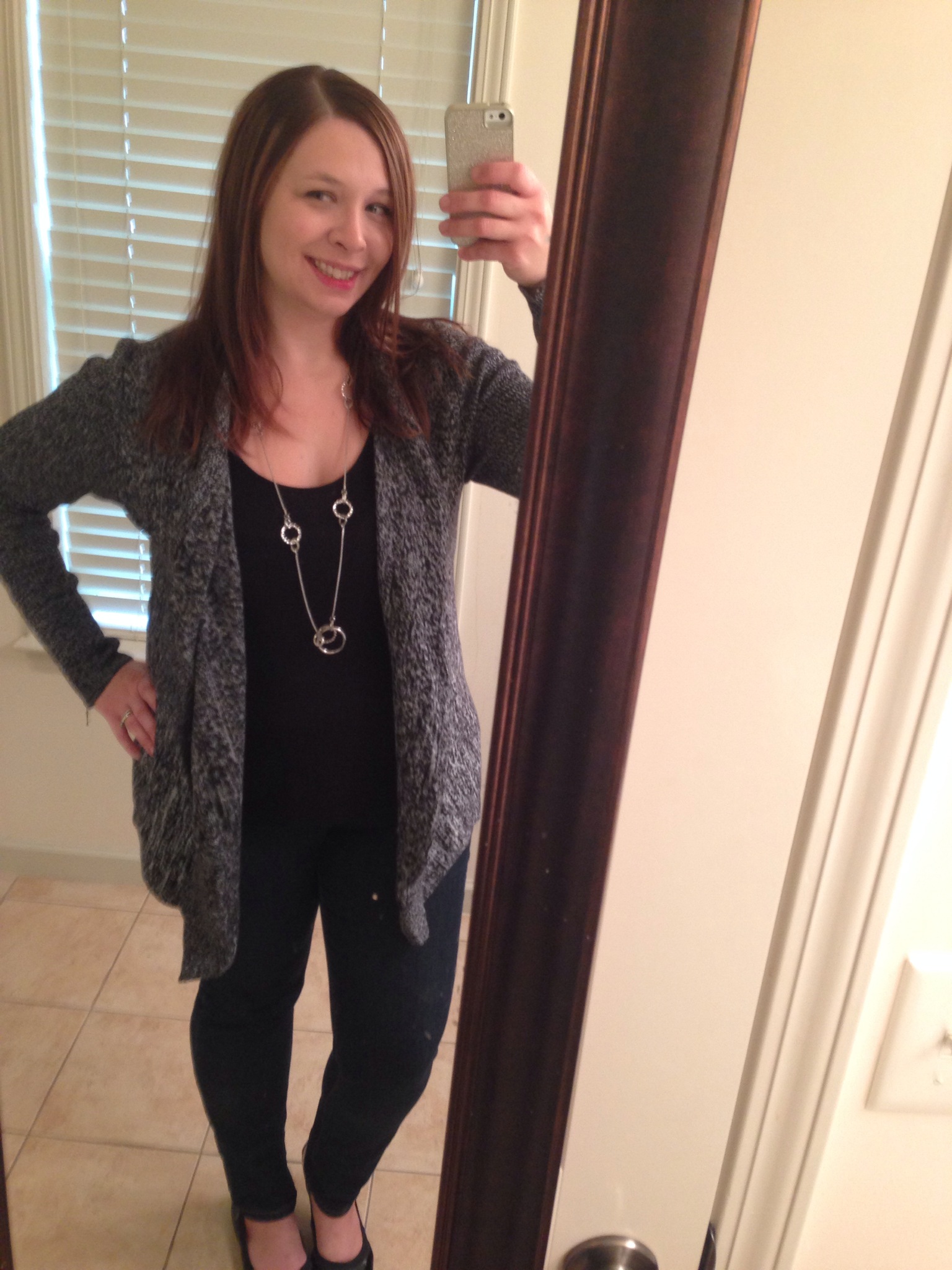 Hands on hip – check! Head tilt – check check! Here I am in a sweater from Nordstrom Rack (probably in the $30 range, because I am so edgy with the zippers on the sleeves, duh!). Ann Taylor Loft Skinnies and necklace (both from the outlet of course) annnnnd the most expensive pair of flats I would ever buy. Because I can walk in them all day and they don't hurt my feet. (Cole Han at Nordstrom Rack for $89.)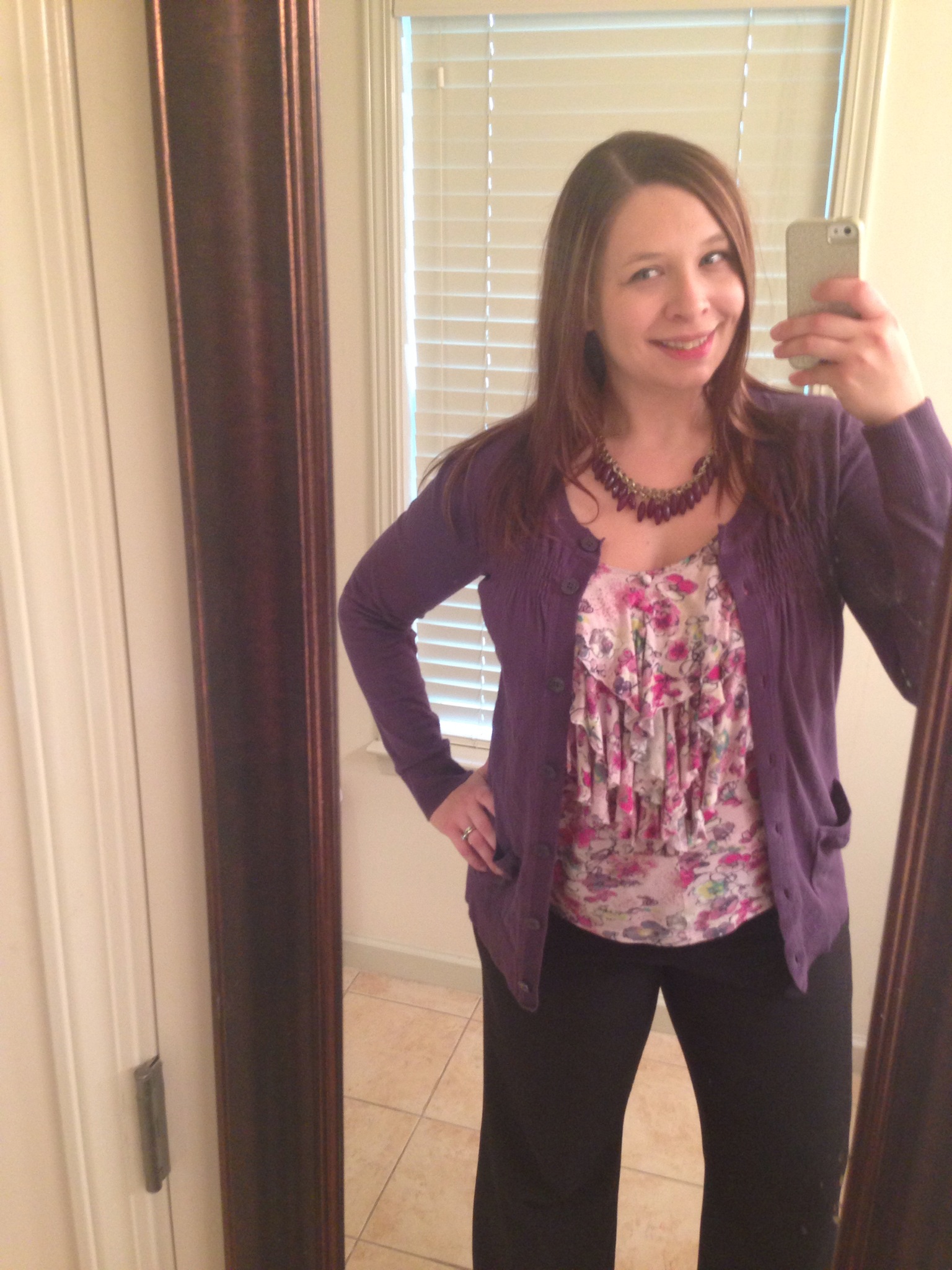 Statement necklace from the Loft outlet $8, trouser leg black dress pants from JCPenney from about 4 years ago $36, sweater from Loft clearance rack $20, tank top by LC (Lauren Conrad) at Kohls clearance $12. Squatting to fit into the picture – priceless!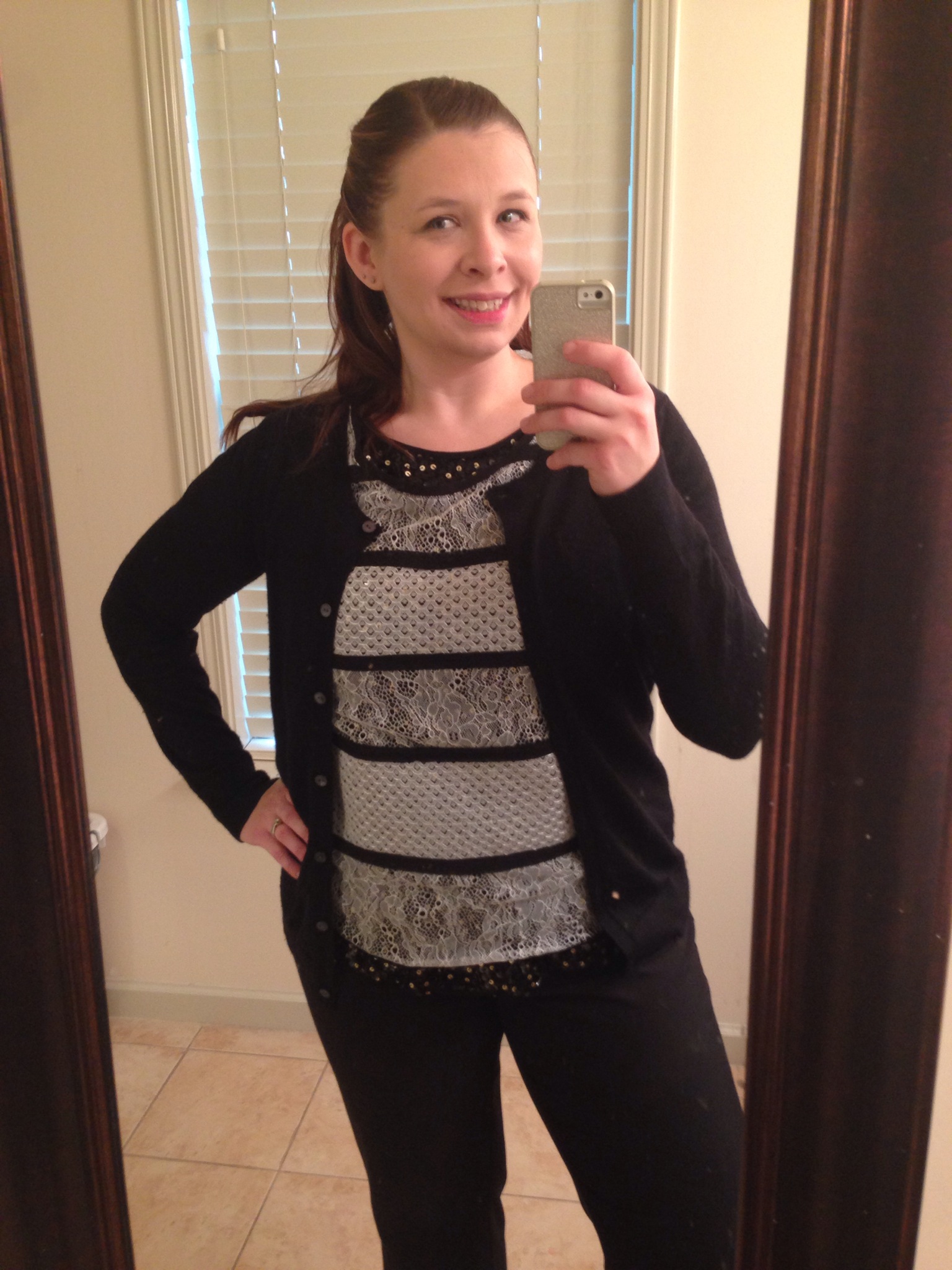 Here we have the Gap sweater and black pants from above pictures with two pieces off the clearance racks at Loft. This is my attempt at layering because every lace top needs glitter under it! Also, this is my best attempt at curling my hair. Notice it is half back, attempt unsuccessful.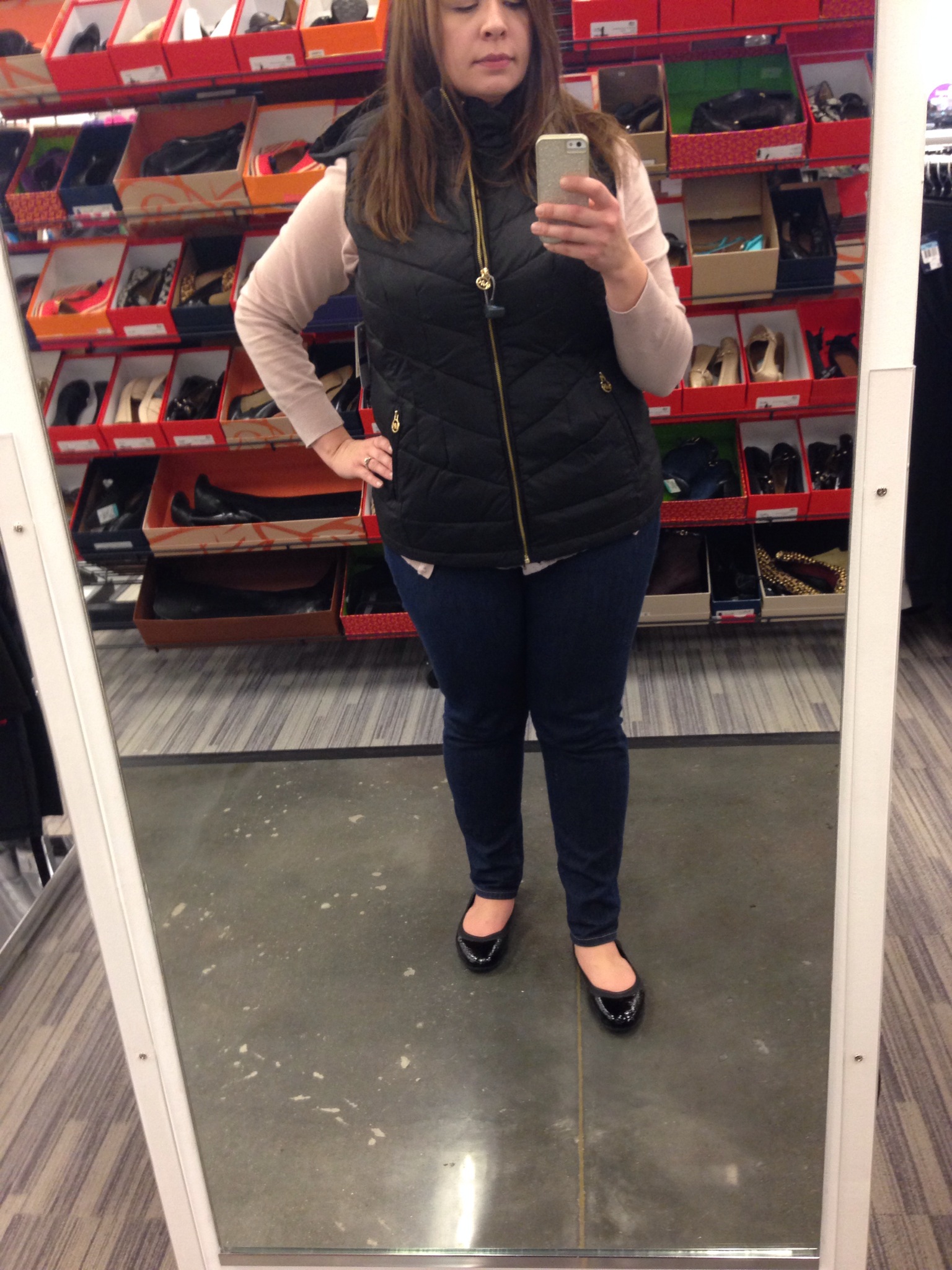 Trying on a Michael Kors vest at Nordstrom Rack with THREE shirts underneath. Fun times. I went back for it, but it was gone 🙁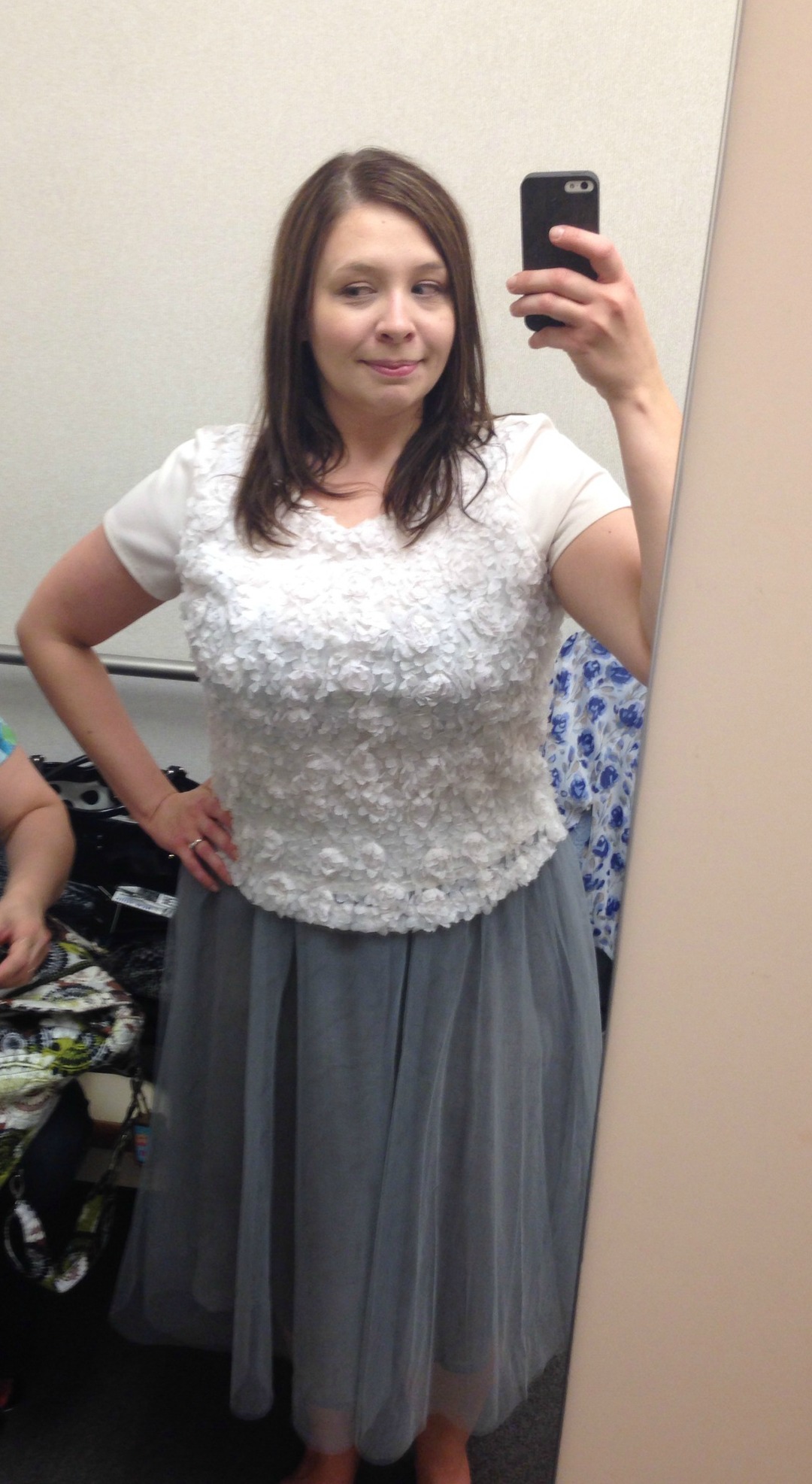 Here I am casually snapping a picture of my outfit in a fitting room trying to make sure my mom doesn't see me do it. Then I laughed at how awkward I looked and showed her the picture anyways. The outfit totally came home, my attempt at dressing like Sex in the City.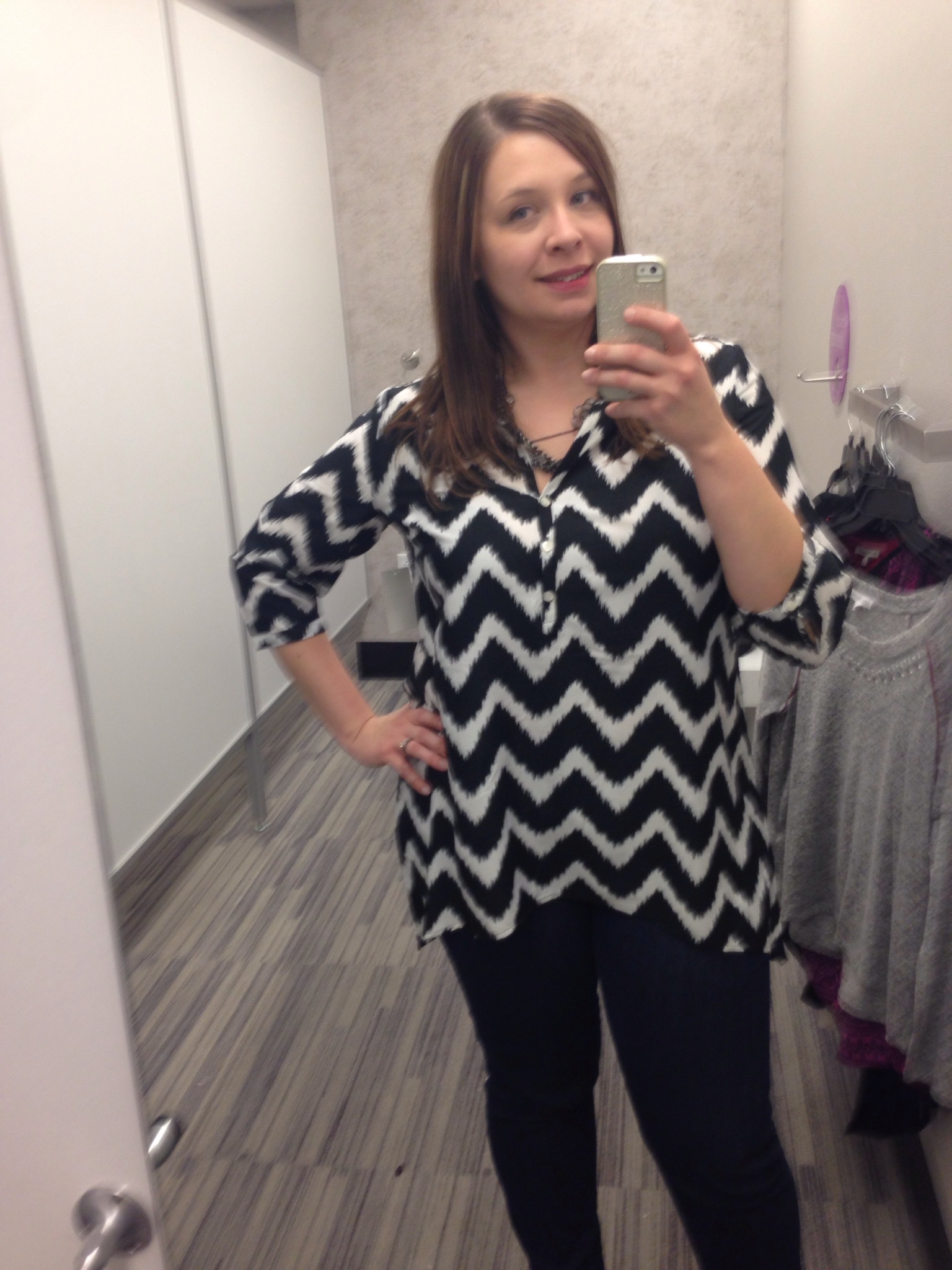 Another fitting room picture. If it doesn't pass the picture test it doesn't make it home. This shirt was left behind.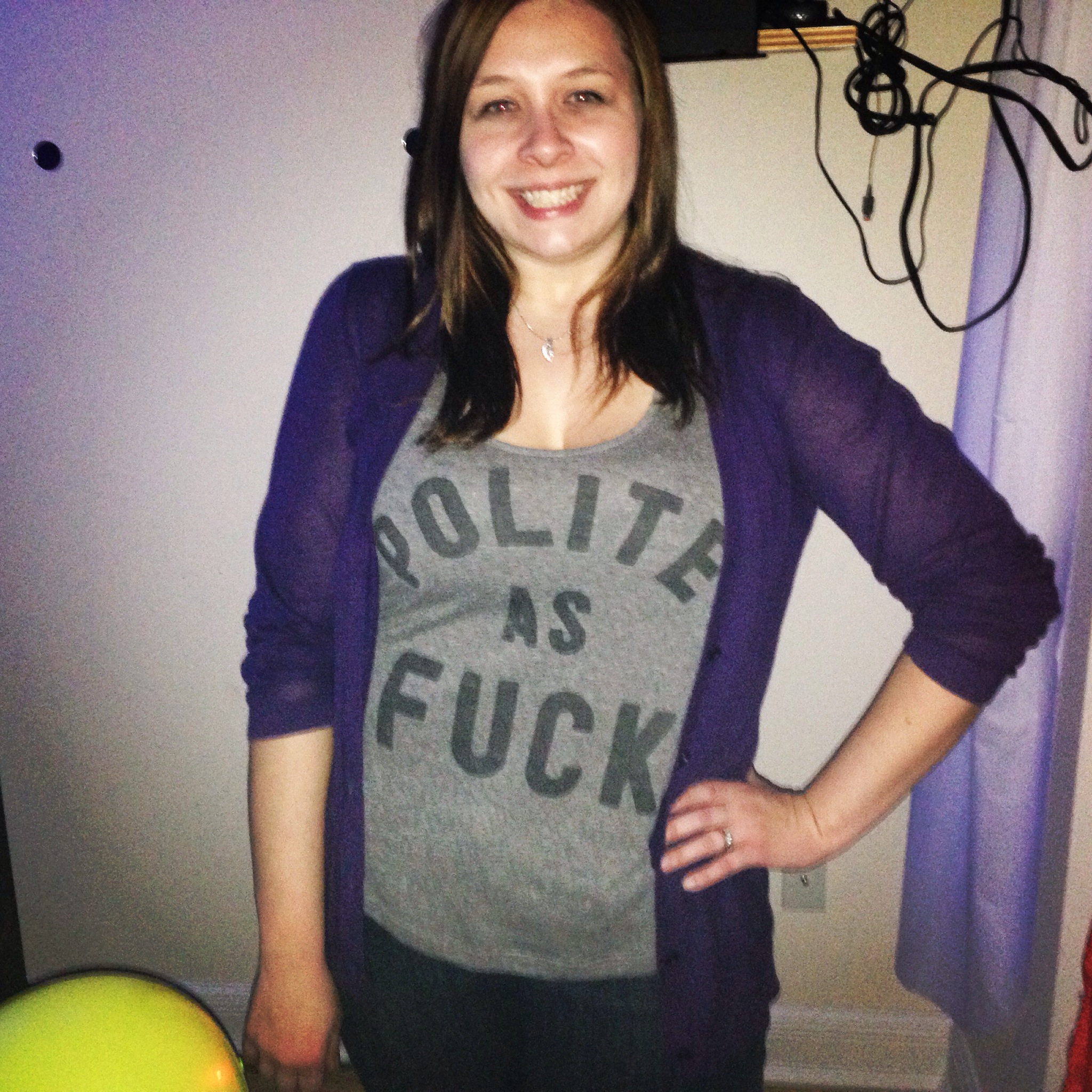 And here I am looking all edgy. Or something like that. Top was a birthday present from Laura 🙂 The sweater is another Loft clearance pick. Seeing a pattern? Jeans from the Gap.
These next few pictures were for a post I was working on for Kristen but never finished. The infamous jean jacket styling!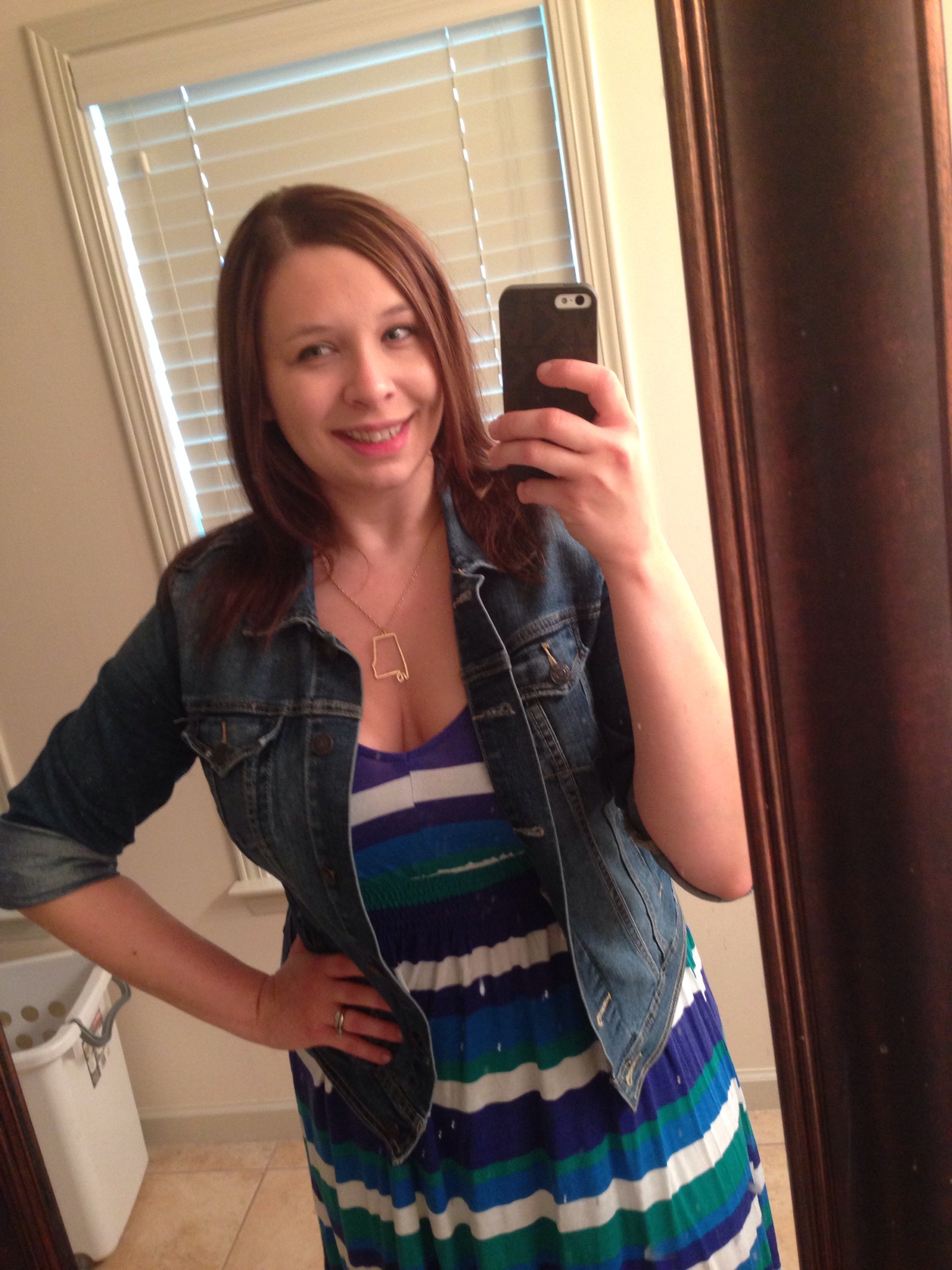 Saturdays at World of Beer – Jean Jacket from Old Navy (I think $30) dress from JCPenney $14.99.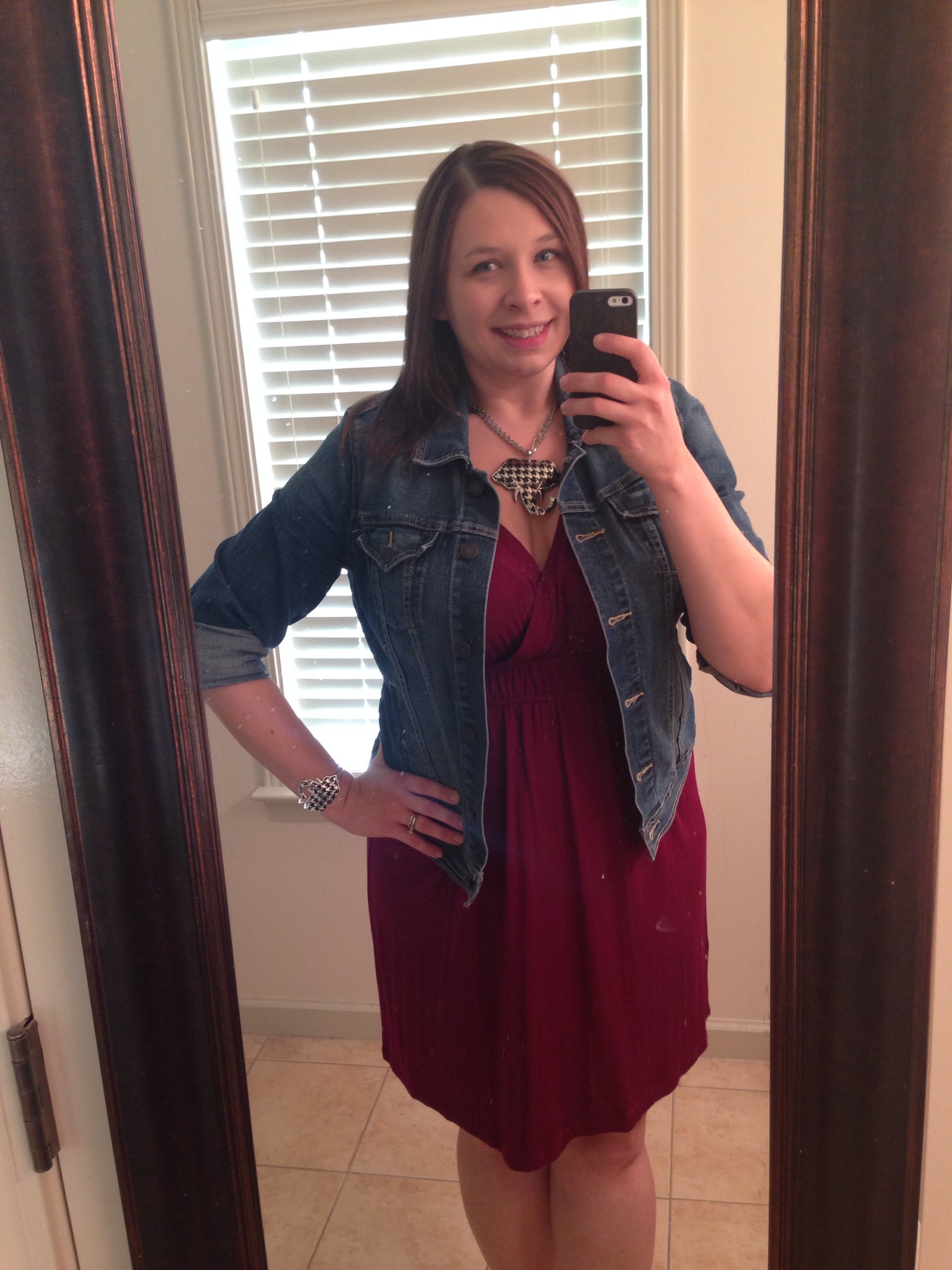 Gameday- Roll Tide! This dress is from Loft outlet for $20 and the necklace and bracelet were presents from my mom. She found them at Private Gallery.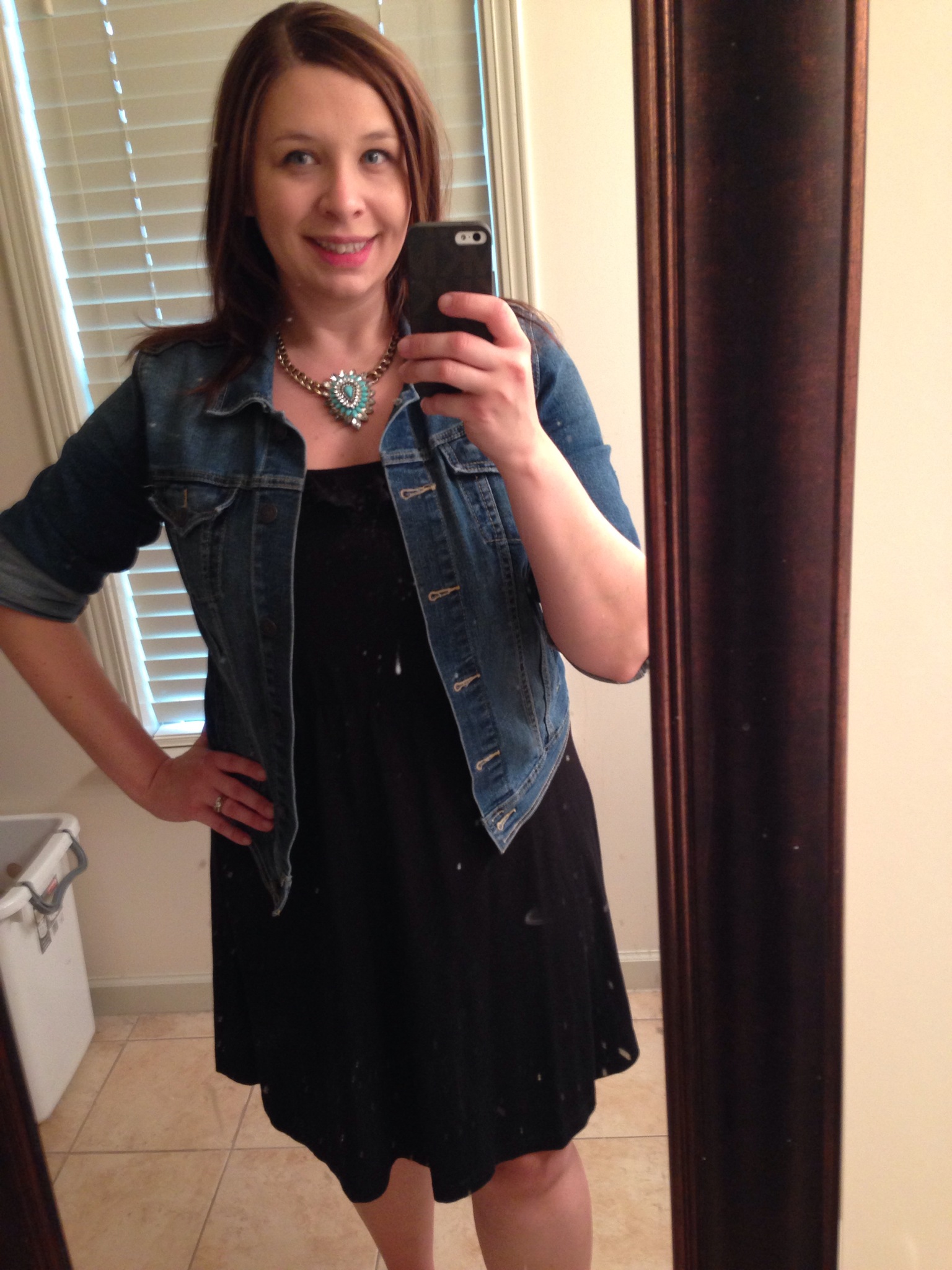 Work appropriate – Just kidding I wore all three of these to work. Dress from Loft for $30, necklace from Loft $25 (both on sale.)
And there you have it folks. Why I could never be a fashion blogger!
Fashion Confessions in ecards because Wednesday