If we met for coffee, we would probably start talking about the weather yesterday. While there was potential for some really scary shit, it actually wasn't too bad most of the day. I would tell you how Zoe and I spent the day with my SIL and nephew. It included an outing to Target and Starbucks before things were supposed to get bad. We hung around her house the rest of the day working and watching the kiddos play. I decided to go home around 5:30pm and a horrible hail storm started right after I pulled into my garage! Talk about good timing! There were downed trees everywhere around us. In fact, they are still cleaning that mess up this  morning, many roads are closed.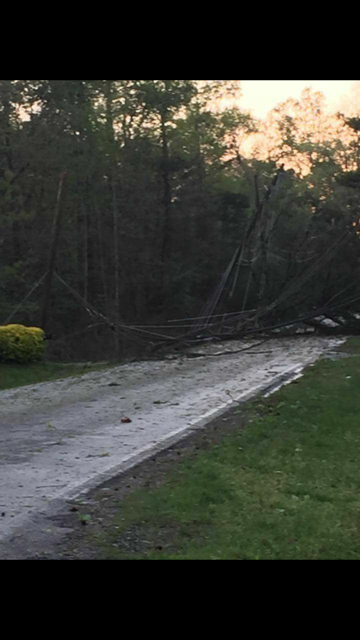 I would probably tell you that Zoe has been fighting her sleep a lot lately. It was just naps, but last night she had a meltdown for an hour before we could get her to bed. Four month sleep regression maybe? I would ask if you had any tips!
I would ask you what your weekend plans are. I am not sure what we are doing yet, but I hope they include getting my car washed. I clean the inside often and it is always vacuumed but I haven't cleaned the outside since I bought it. Last July.
I would tell you that I need to go shopping for some clothes! I only have a few tops that fit me right now, and one pair of jeans. All of my dresses are old and super worn and I truthfully needed new ones last year. But I was pregnant and decided to just wear them all one more year as maternity and then get new ones this year. Well that time has come and I need to do some serious shopping! I am going to be honest though, the mirror is a brutal bitch postpartum. I have been pretty good about my food lately but I can always do better. I am thinking of going back to shakes for breakfast.
I would ask you what you are reading and watching on TV. I am about one chapter into The Girl Behind. I really need to just sit down and read some!! Chris and I have been catching up on all our normal shows. Last night we watched Chicago Med. We saved Big Little Lies until all the episodes were available, so I am hoping to maybe watch some of that this weekend.
I would tell you that we are trying to really purge and clean things up around the house. There is forever a ton of baby things taking up space all over. For a tiny human, she has a lot of stuff! I have a huge pile of clothes in my office area that needs to be hung and tagged for a consignment sale my neighbor is doing towards the end of the month. I hope to sell most of it! I just want to surround myself with things I love and nothing else. The clutter gives me anxiety! My hope is to walk in to any given room and just see things that make us happy. Hopefully all of that will make it easier to stage our house whenever we decide to put it on the market.
As any good thing, our coffee date would have to come to an end eventually. You know, adulting and stuff. I would tell you that we really need to do this again soon! Why do we always wait so long before we set time aside to focus on our relationships with friends? They are important too! I would suggest that maybe next time, we try out a new restaurant! Or maybe that Sour Room in Avondale that I have been dying to go to.
Linking up with Kristen and Gretch.