You guys, when Helene announced that she was hooking up with Taylor to do a kid on Christmas post, I felt just like…a kid on Christmas. (I am here all day folks!) But seriously though. Christmas is my jam. I love Christmas. I love everything about Christmas! I am pretty sure I have expressed that enough around these parts lately! But seriously, who doesn't get all nostalgic around Christmas time and remember how excited you used to get when you were younger…seeing all the presents under the Christmas tree on Christmas morning as you come walking down the stairs gracefully running at full speed?!
My parents always made Christmas very special for my sister and I growing up. We had traditions every year and they were wonderful! We always put up the Christmas tree Thanksgiving night while watching Eddie and the Cruisers. We always went to church Christmas Eve and then promptly acted like we were going to bed as soon as we got home so that Santa would come. But not before opening one present on Christmas Eve. My sister and I always exchanged gifts Christmas Eve. It was always so fun just getting to open one present! We would also put out two cookies for Santa and some carrots for the reindeer. Duh. (My dad always made a mess of crumbs on the plate so we knew Santa enjoyed the cookies.) Tracy and I would wake up at like 4:30 am ecstatic to go downstairs and see what Santa left for us under the tree. One of us would always wake up first and then we would wake the other and wait together until an appropriate time that wouldn't make our parents mad to wake them up. It was usually somewhere between 7:00 am and 7:30am.  It would be the longest 4 hours of our lives!!!! We would be like ok lets just do it!!! Then I would get rational and be like mom and dad don't want us waking them up at 5:00 am let's wait a little longer. We would play games or one of us would get in the others bed and tell stories until it was time.
When we would finally wake up our parents, my dad would always go downstairs first while my mom would hold us hostage in our room because my dad would have to get the camera ready to take our first look expressions. Dad, why did you NEVER have it ready the night before?! I think you liked holding our suspense a little longer. One year I remember the batteries in the camera were dead and he had to find more and my sister and I were upstairs pacing and yelling about how he should have thought about that the night before. Patient, much?
Finally he would yell "Ready!" Tracy and I would go flying down the stairs and straight to the presents after hamming it up for the camera. Dramatic we were. My parents always went above and beyond every year to give us the best Christmas ever. We might not have gotten a ton of stuff throughout the year, but gosh darn did they spoil us on Christmas. I think every year they got both of us EVERY thing on our lists. Which were long and bratty looking back. I know now how much my parents must have had to save in order to give us so much. I do know that my sister and I always appreciated everything and made sure they knew it too though. We were ungrateful like I see some kids acting today.
When we got older my dad would take our most expensive or anticipated present and make it difficult to open. He would wrap a box in a box in a box in a box in a box. Or he would build a large box out of wood and nails and screws and he would wrap a screw driver separate and make up open the screwdriver then use that to open the box he built. Just ridiculous! Tracy and I used to get frustrated or mad but you know what….it sure did teach me how to use a hammer and a screw driver so thanks dad! Plus it makes for good stories that we bring up every year. I remember one year Tracy went through all that work of using the screw driver because she had asked for a cell phone. When she finally got to the present, it was a toy cell phone! It was hilarious the expression on her face!!!! My mom had the real present hidden away. They were so creative!
After we opened presents, my mom would make us breakfast and we would play with our new stuff for awhile, and then head to my Grandma Jerry's. Grandma Jerry always spoiled us rotten at Christmas too. She bought me my Super Nintendo system one year, a Game Boy another year, she had given me a pair of real gold cross earrings one year. She just really knew what we wanted. She also made the best food! Her sugar cookies were to die for. They had orange rinds in them and the best icing you have ever tasted. I cant even explain it. Gosh I miss that woman! Just hearing her laughing and having a good time with us, telling us stories about when my dad was younger or talking about the last book she read. Playing cards and cooking dinner. We always had the best time over there. When we got older and moved out of state, we always came back and stayed at her house for Christmas and then when we came home, my parents had the presents set out under the tree like Santa had come when we were gone.
I had so much fun when I was younger at Christmas time,  I guess that is why I love it so much as an adult! I love decorating for Christmas and watching the movies that we used to watch when we were younger. One year my parents took us to see Home Alone 2 in theaters, so I always think about that when I watch that movie now. My dad used to read us How the Grinch Stole Christmas and we watched that movie every  year. My dad made a Grinch scene for our yard with Whoville houses, some of the Who's, the Grinch and even Max the dog. It was so cool!
I love giving presents. I get so much joy watching everyone open presents that I took the time to pick out while thinking about them and what they like. I love getting things for the nieces and nephews and watching them open their presents and get excited and tear through them just like Tracy and I used to when we were little. They are always so sweet and thoughtful, last year they made me a Christmas platter and got presents for my dogs.
My husband probably thinks I am a little crazy for liking Christmas so much, but I cant help it! I love it every year! I get so excited and so happy around this time of year. I want to do all the lame things like watch movies, listen to Christmas music, decorate, make Christmas crafts, bake Christmas goodies, go sledding, see Christmas lights. Can you believe I have never built a ginger bread house? I would love to do something like that too! I may just have to borrow a few of my sisters kids and have a Christmas filled day while they are still young and fun! Now excuse me, I have some stuff to go throw glitter on!
Here is a photo dump of Christmas past. You have to excuse the pictures, they are all in scrapbooks so they are photos of photos.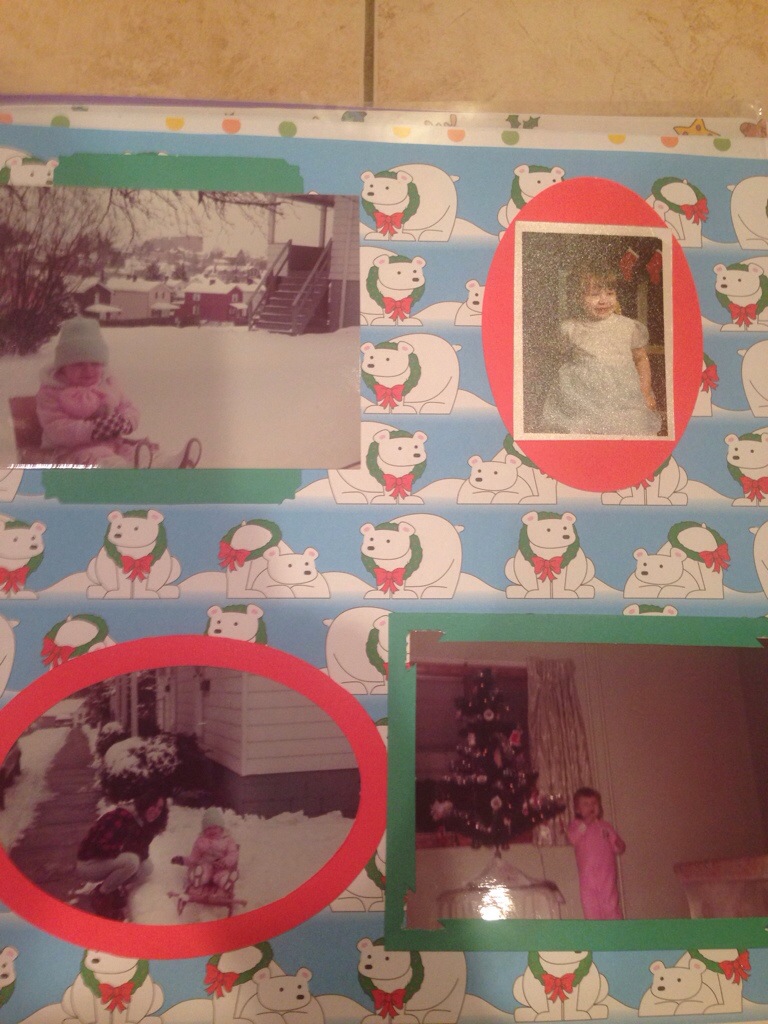 Christmas in PA was always fun because more often than not there was tons of snow! Look how pretty my mom is 🙂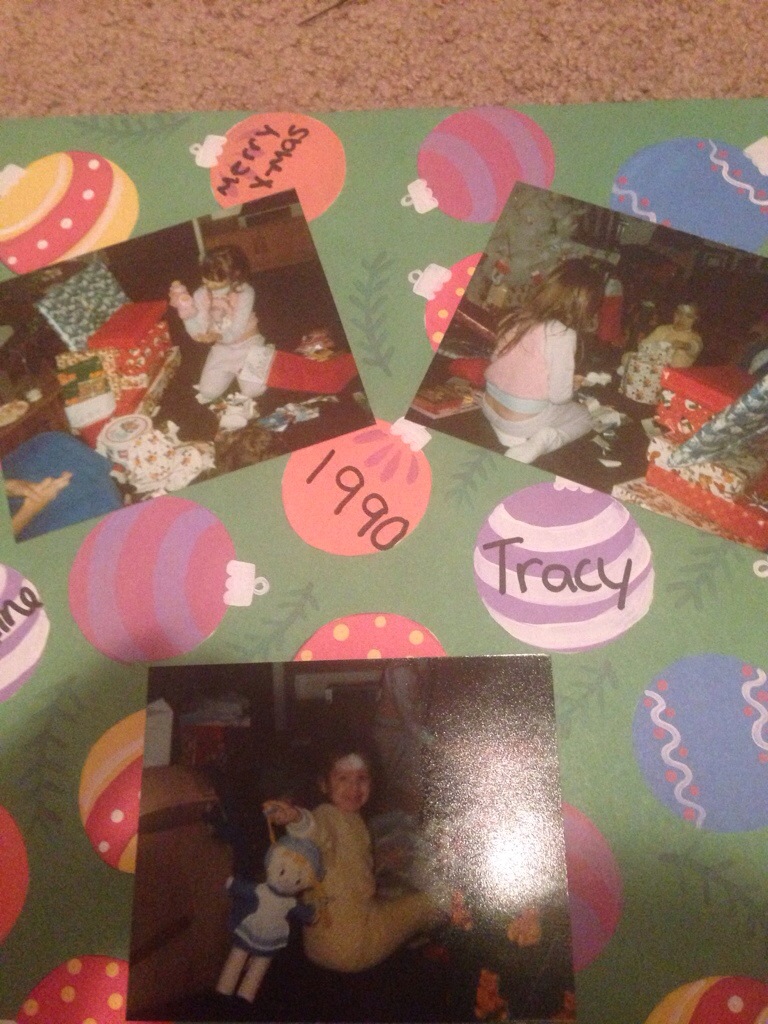 1990 AKA the year Tracy cracked her head open and was rushed to the ER for stitches, Dramatic that one! I will tell the story another day, it involves her blaming ME for those stitches. PSHHHHH Whatever!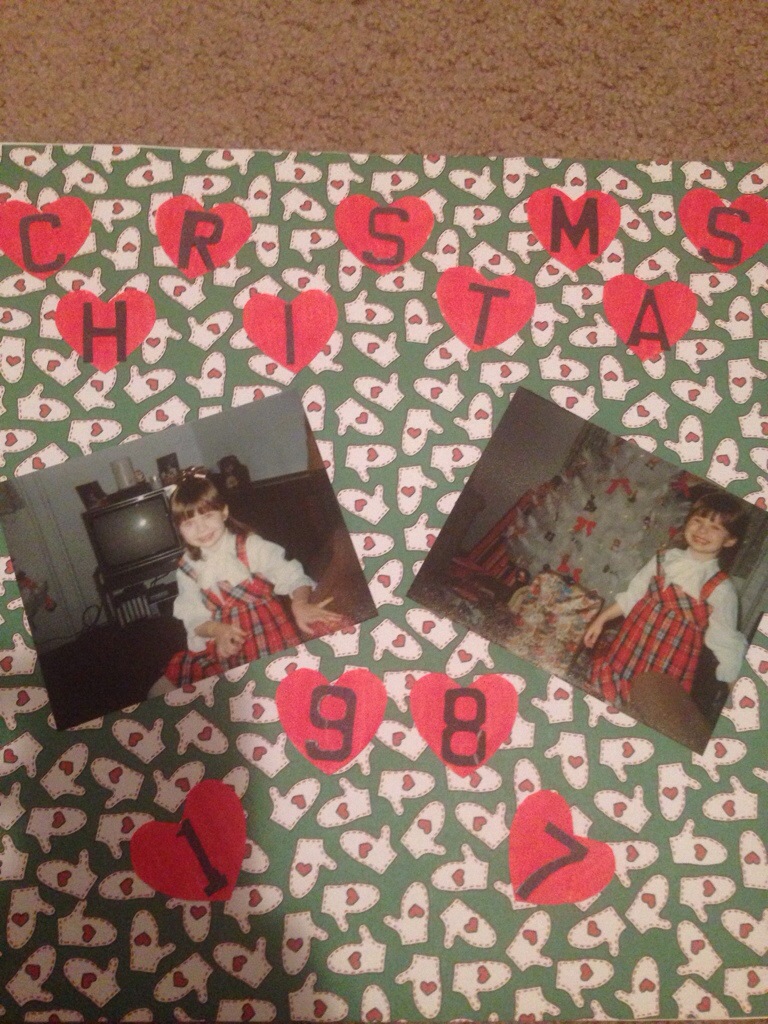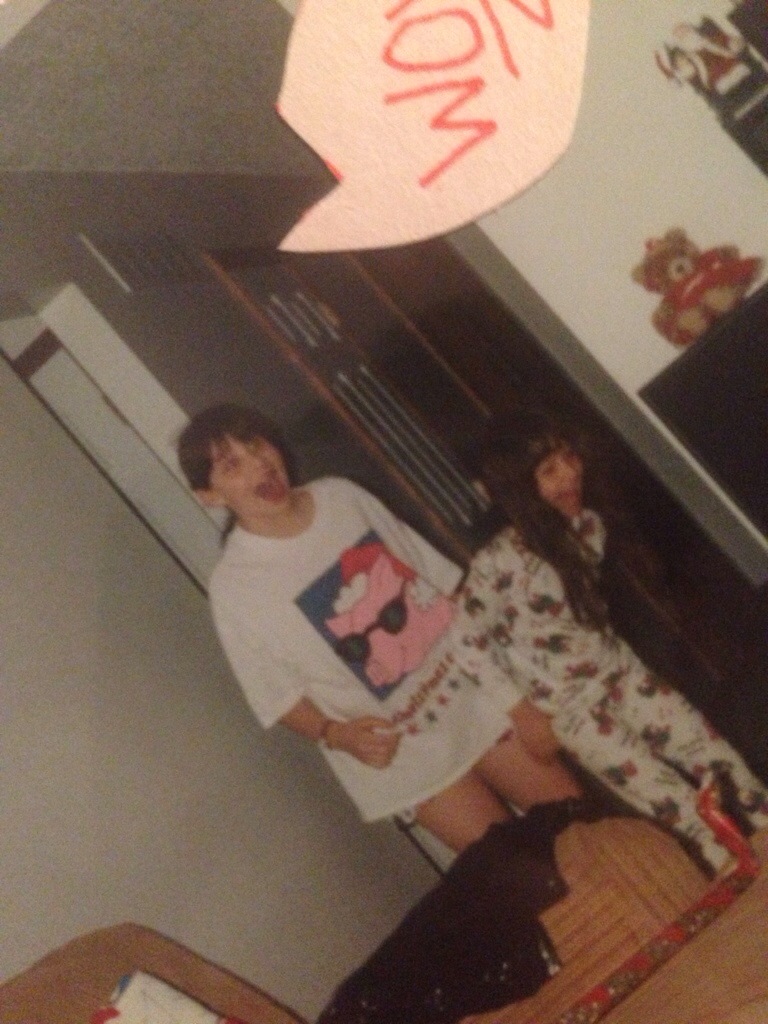 Our classic faces!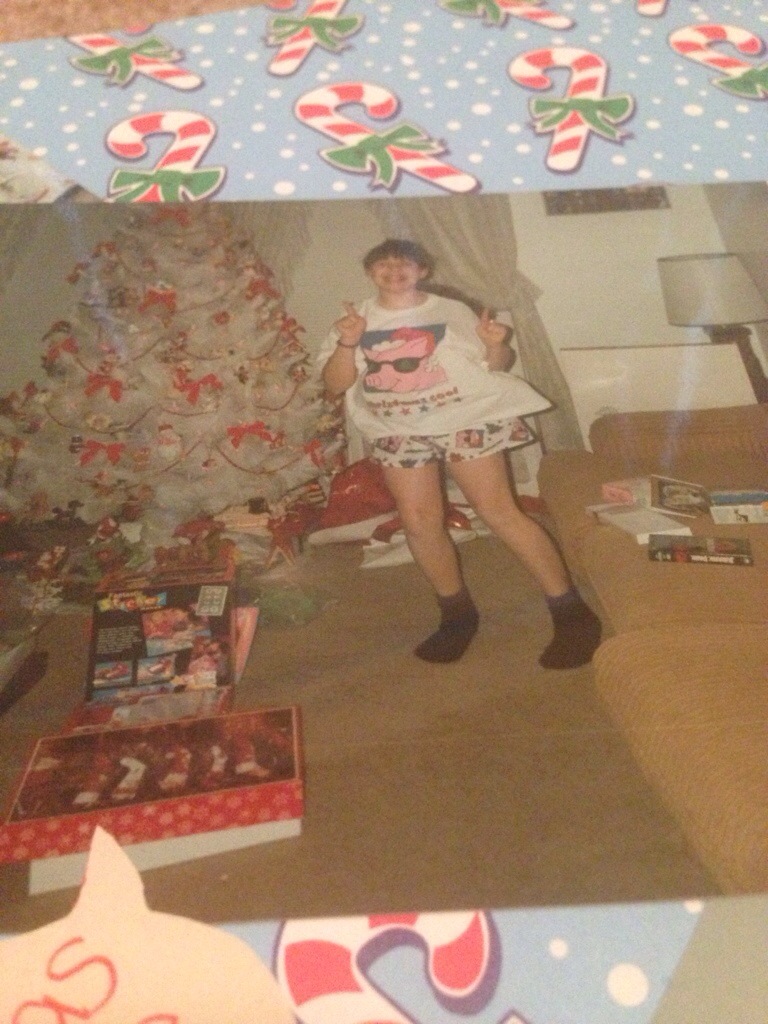 Dancing to the nutcracker song, dont mind me!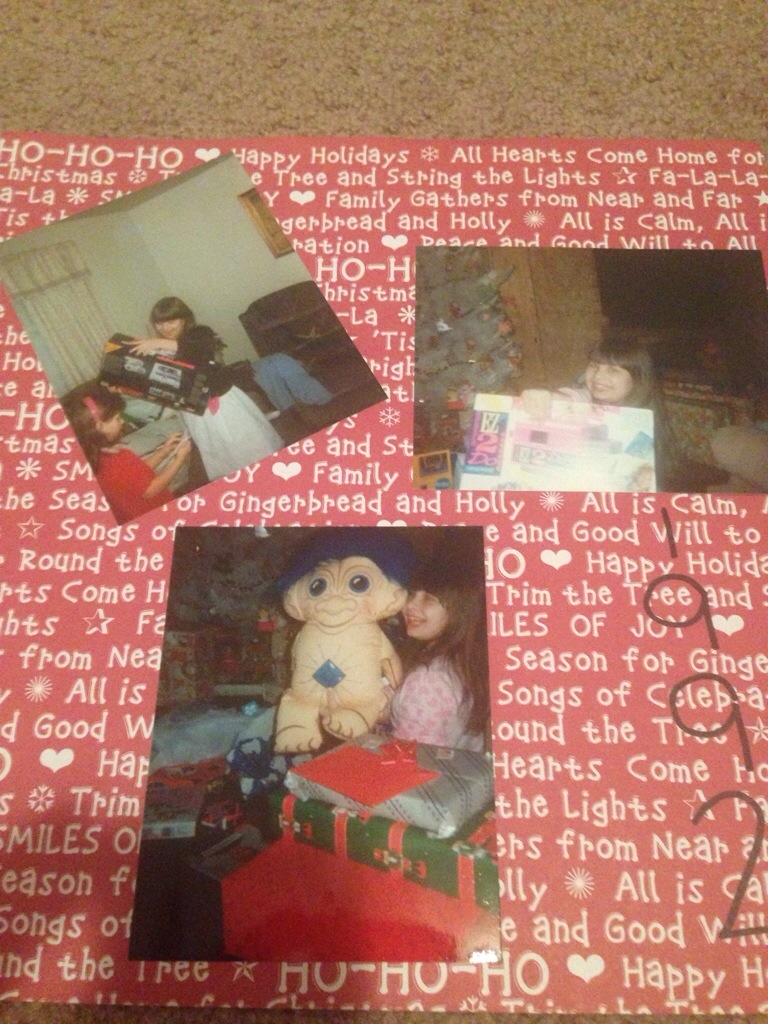 The year I got my first Nintendo!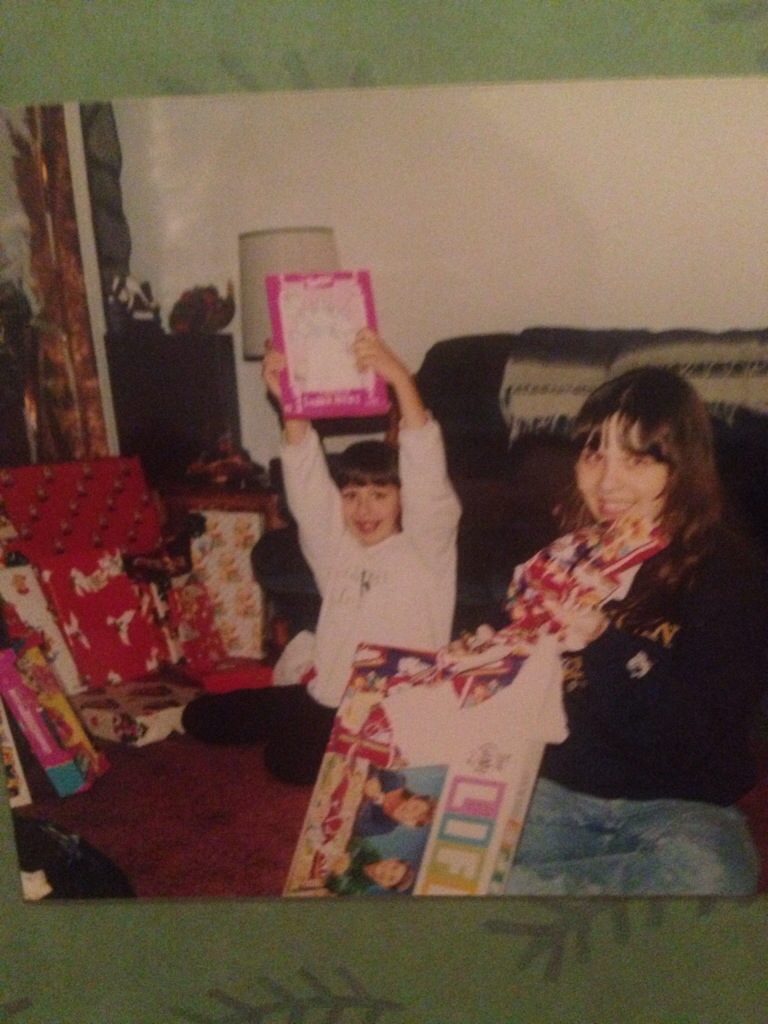 Freshman year of high school. I was a Michigan fan because the boy I was crushing on was. Typical Nadine. Remember the Starter brand that you can now find at Walmart?! Haha. You were the poo if you wore that stuff back in the day.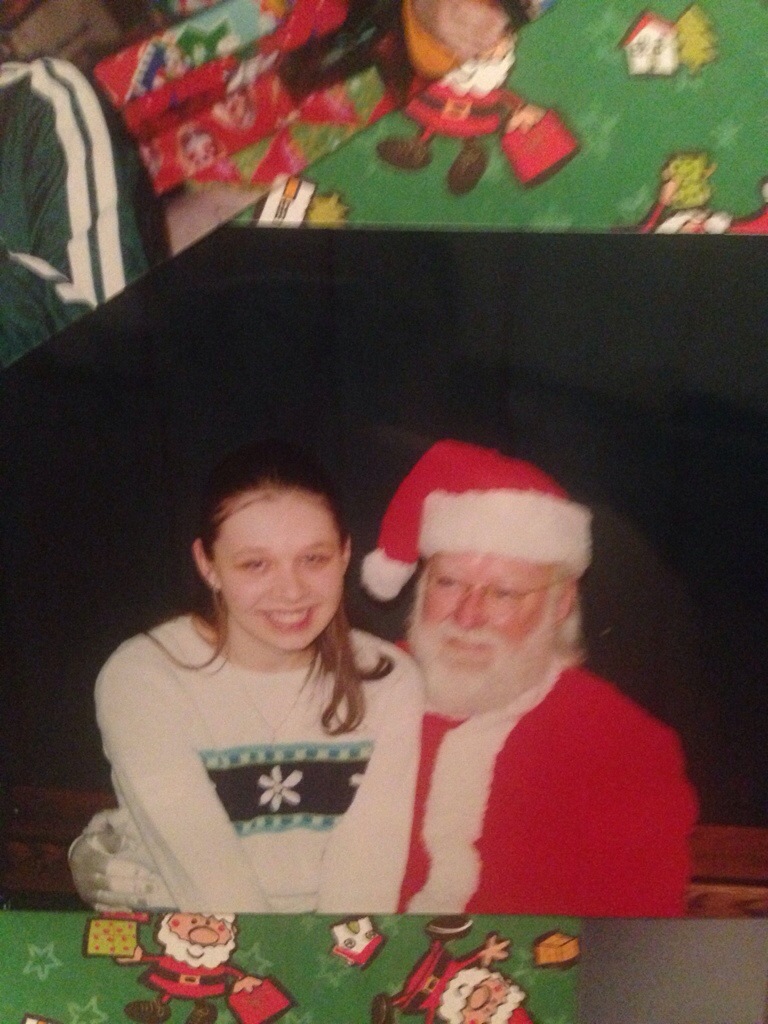 Never too old to sit on Santa's lap!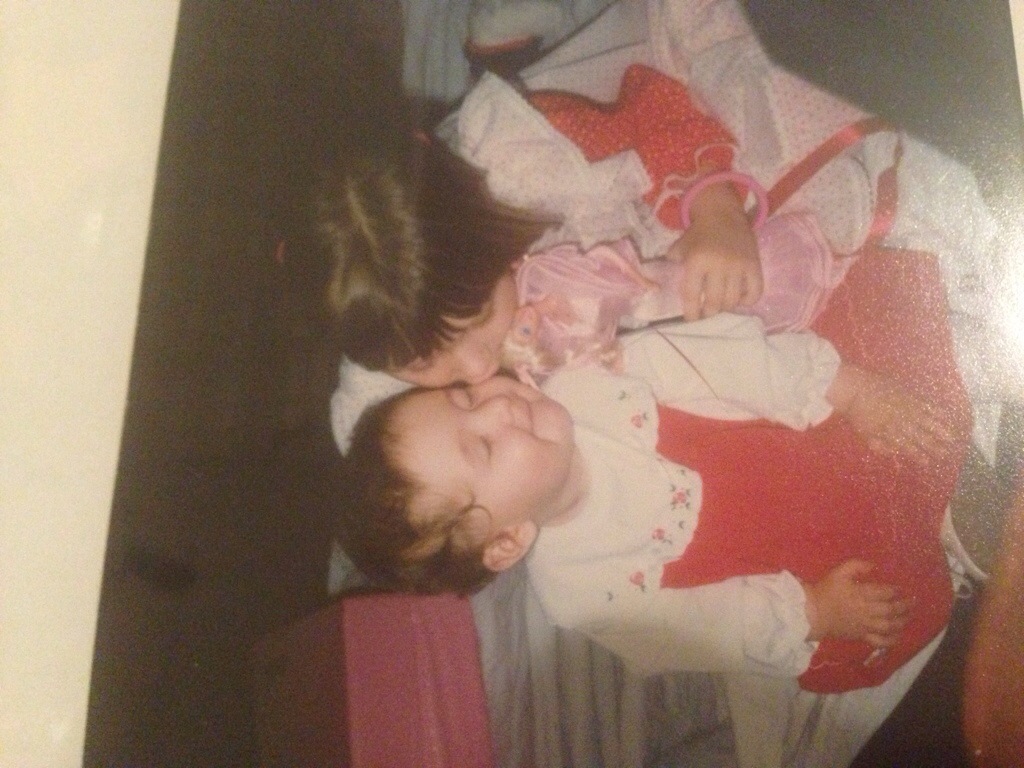 Me kissing my little sister on her first Christmas.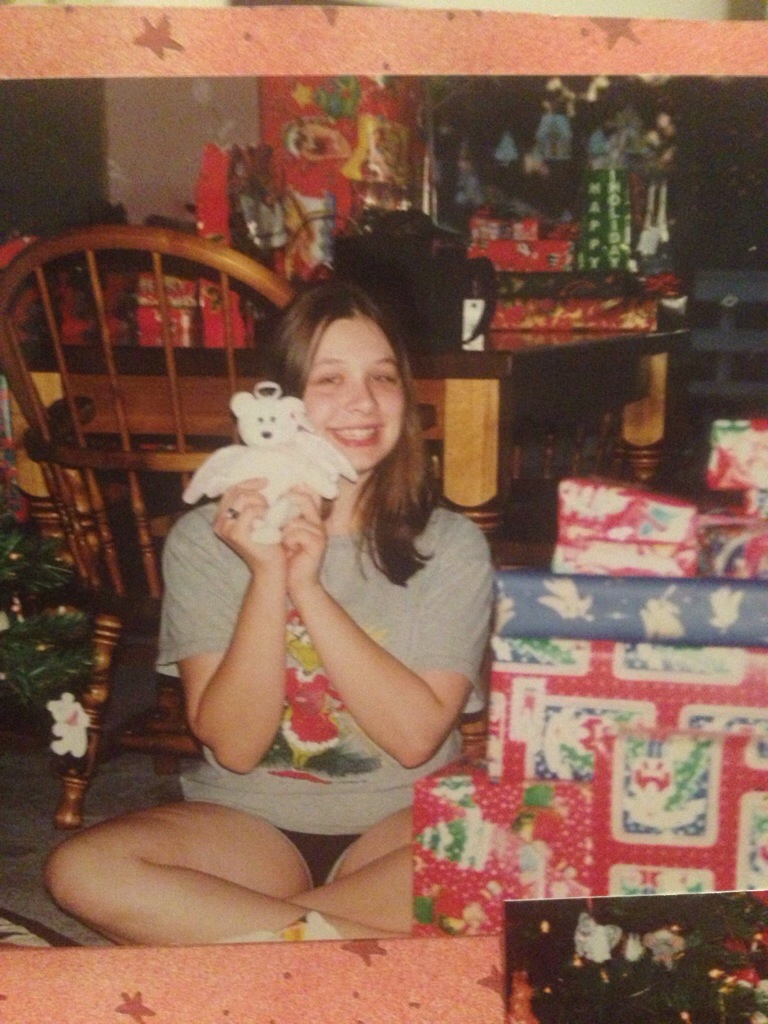 Clearly an angel.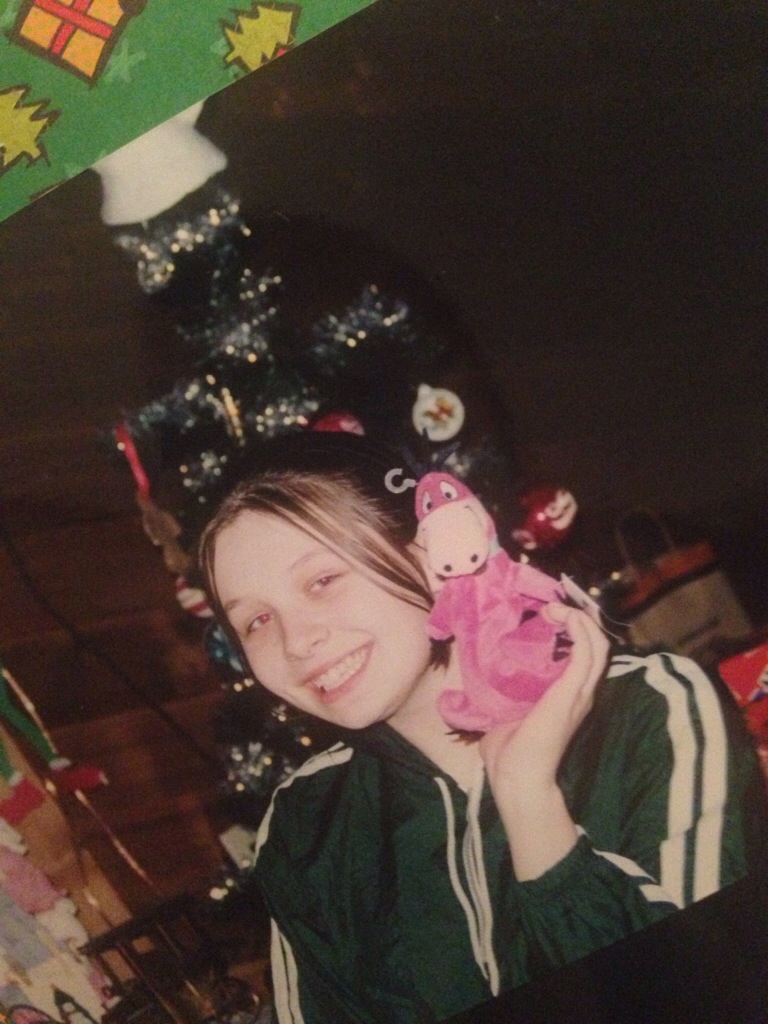 My dad called me Dino. Nadine. Dino. SO clever that one.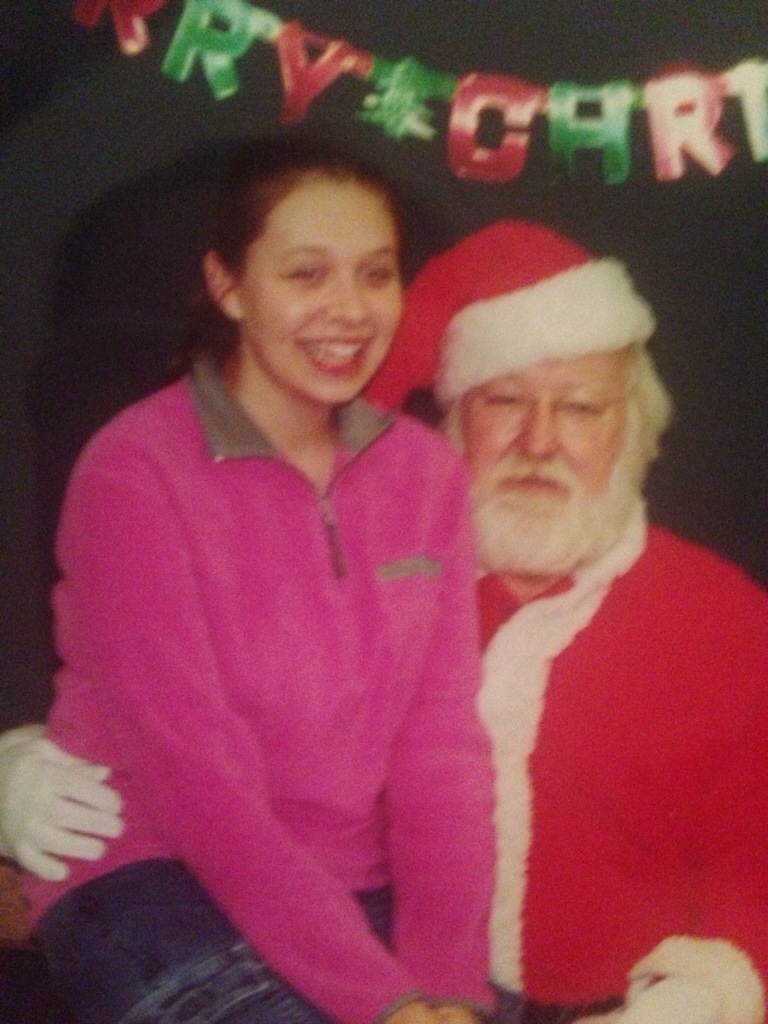 Senior year with Santa.
Sorry they arent in order. I uploaded them in order but then something happened. It happens.