Christmas looked a lot different this year for a lot of us. I enjoyed the slow, lazy days at home in our jammies. It was nice not rushing off to be anywhere, and really soaking in our cozy home, all our decor, Christmas movies, good food, and letting Zoe just play with all her new stuff and not worrying about the mess everywhere. But I couldn't help but think about how we should have been at Chris's parents on Christmas Eve. Or that I should have cooked a Christmas dinner for my mom and sister and crew the weekend before. Or on Christmas Day, I kept thinking that usually Chris's parents came over to see what all Zoe got, and then that evening we always went back to their house to see his brother and nieces that would come in from out of town that night.
This year I had an outdoor driveway Christmas with my mom, sister and two nephews the Saturday before. Laura and Sheff came over a few days before Christmas for a driveway Christmas party as well. It was only my second time seeing Laura in person all year. (The other time being when we celebrated Christmas, Zoe's birthday and her birthday in January.) A damn shame, since we used to do lunch together weekly. Chris's parents and sister dropped gifts for Zoe in our garage on Christmas Eve. We ended up doing Facetime calls with them while she opened her presents so they could see her.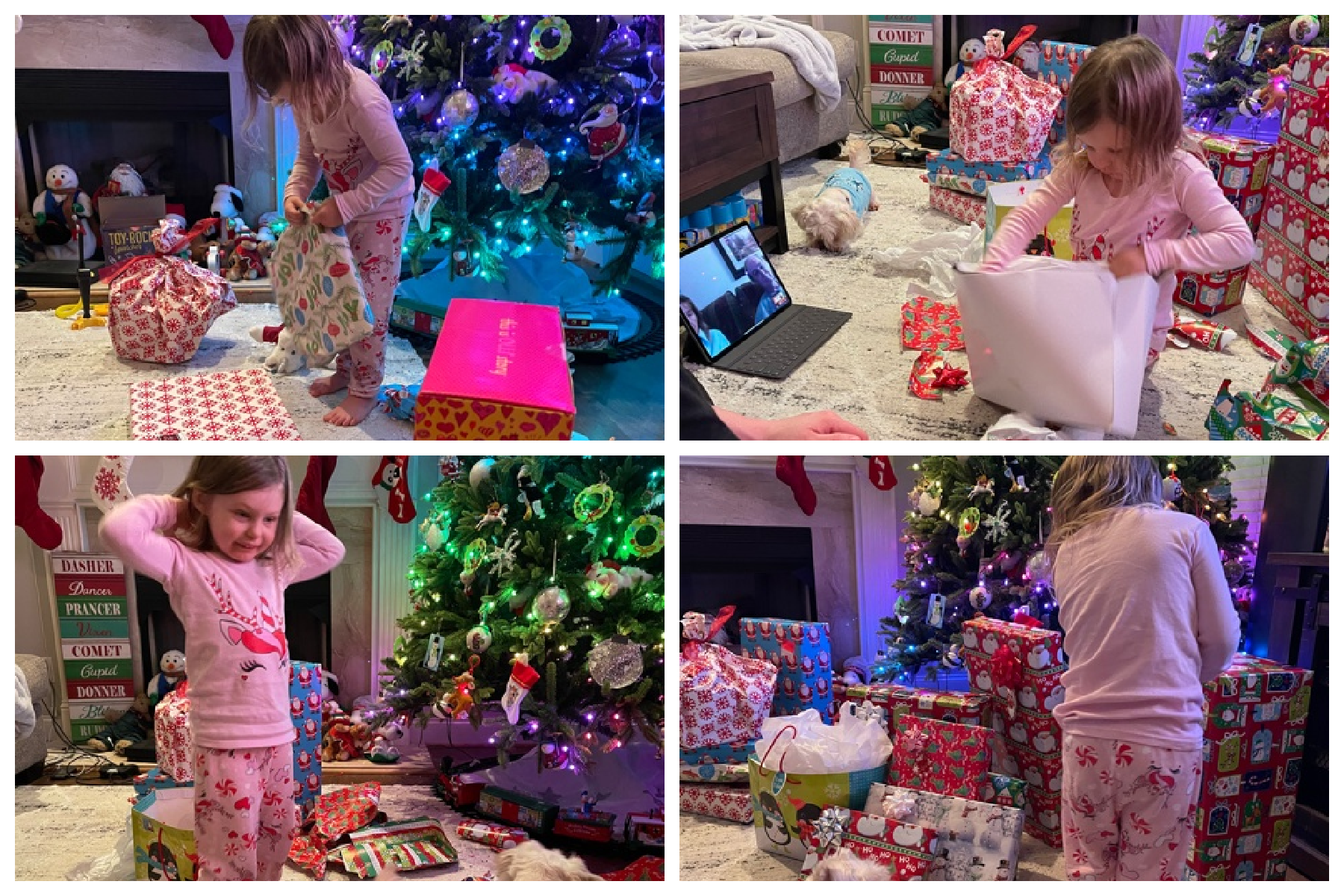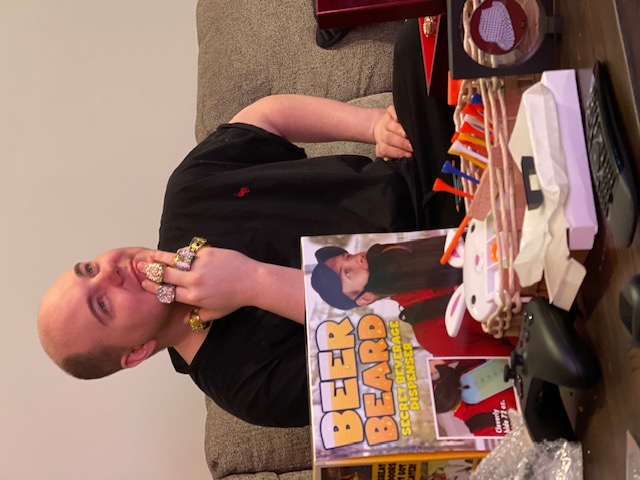 Usually we have cinnamon rolls Christmas morning, but we made them Christmas Eve instead.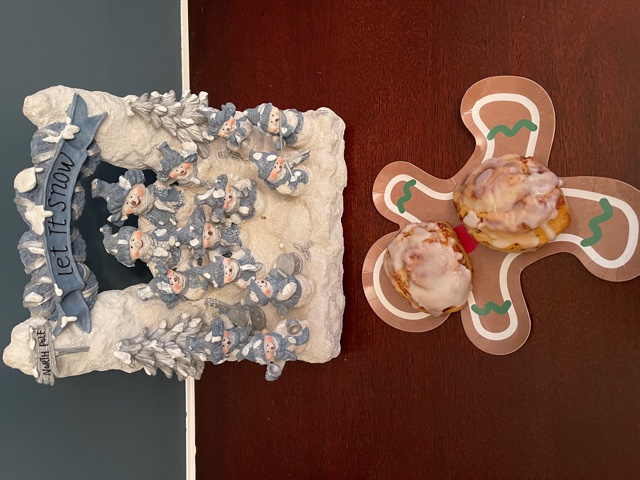 It was a real struggle to get Zoe to bed that night. She wanted to play with all her new stuff, and we got a late start on baking chocolate chip cookies for Santa. Because apparently Santa has to have chocolate chip cookies and not sugar cookies, according to Chris. Zoe was also really upset that she had to saw goodbye to Jerry. She went to bed sobbing, actually.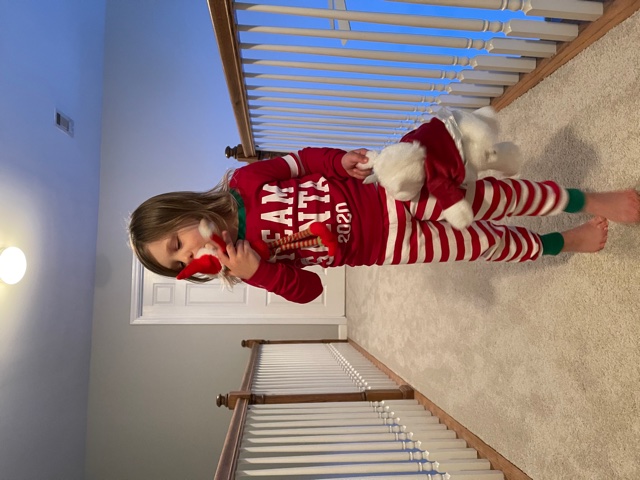 After all that, I came down to start laying out all the presents. It was a real chore to dig them out from all their hiding places. Some were out for Zoe to see for months and she had no clue. How am I going to swing this when she is older and more suspicious, I will never know! Also, I noticed that all the Santa cookies and milk had disappeared already. And I got none….interesting how that worked.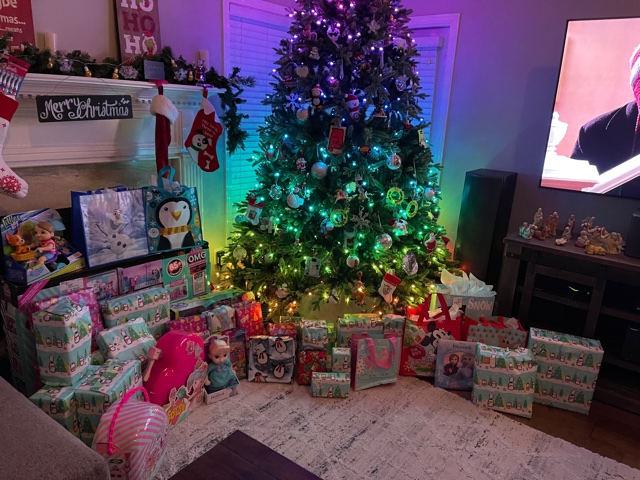 Christmas morning I was up early getting our breakfast stuff prepared. We had sausage pinwheels and hash browns, and the pinwheels have to sit in the fridge for at least an hour before cutting and baking. We waited and waited for Zoe to finally wake up around 7:30. She was shaking with excitement, upset that we told her she wasn't allowed to come out of her room until we came and got her.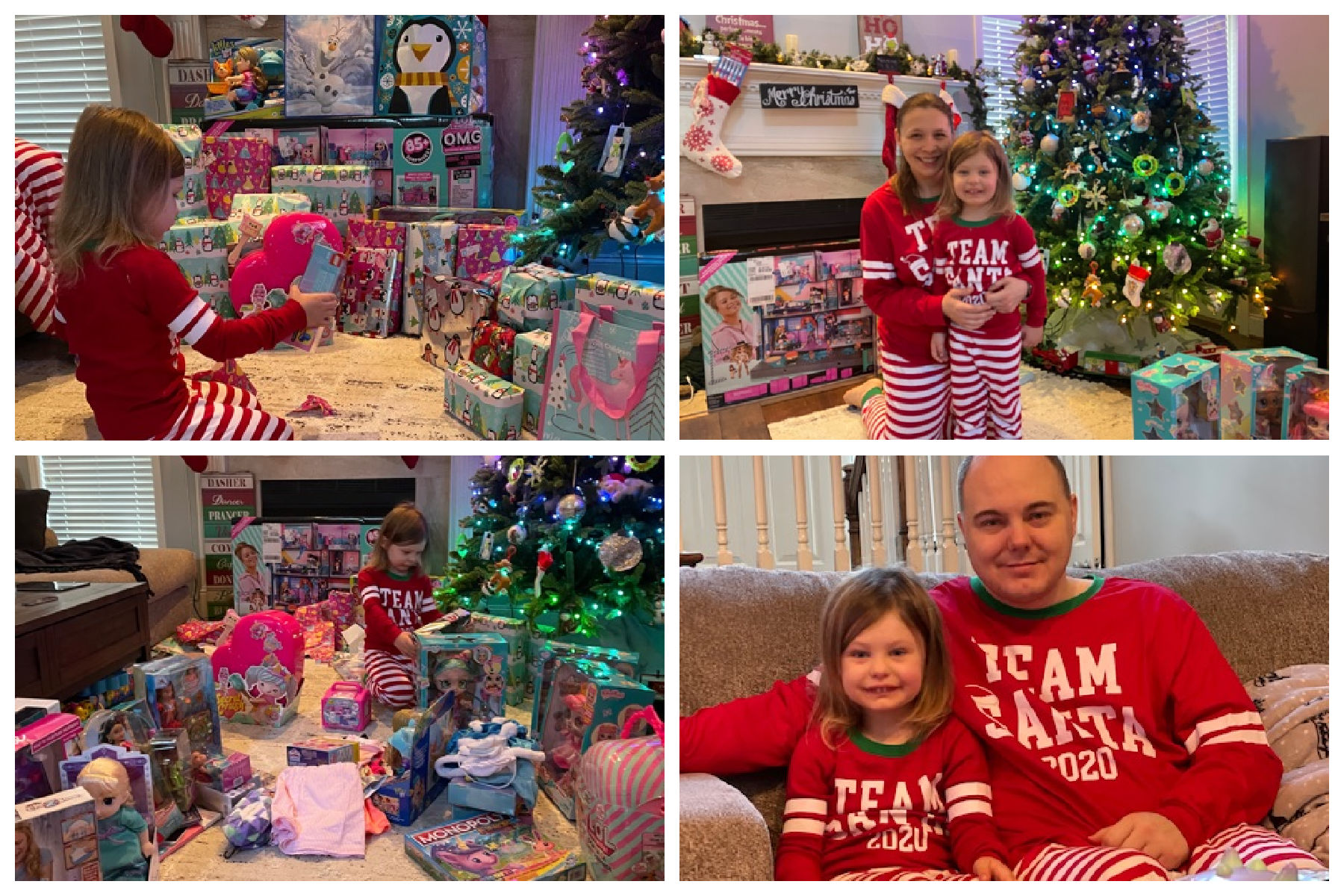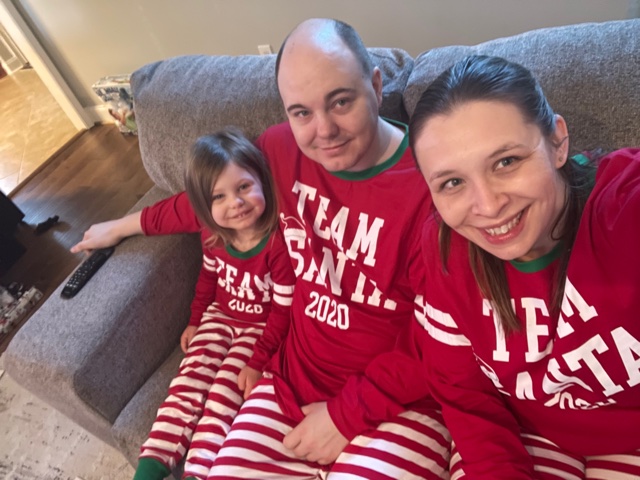 We played all day with all our new toys. Several rounds of Zingo, which is super fun! Even Chris and I have really enjoyed playing it. Zoe is a sore loser though, we need to work on that big time! I didn't realize she was so competitive!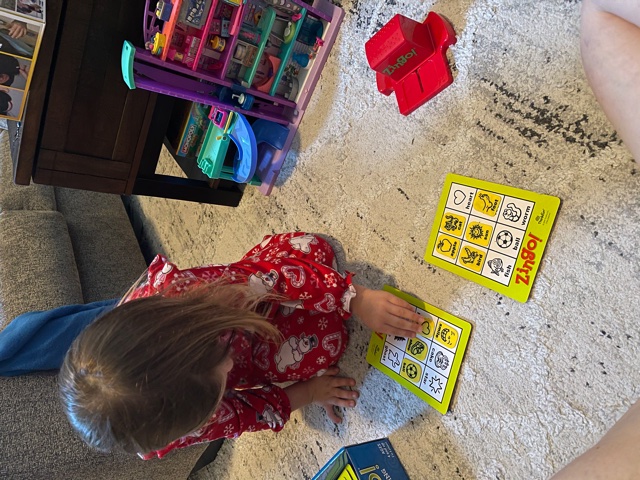 Chris had a blast (LOL!) putting together this LOL house. I think it was worth it in the end to see how excited Zoe was to play with it. It has an elevator, a pool, hot tub, flushing toilet, huge closet/makeup room, rooftop deck. Everything a little girl could want. Even a working lamp and disco ball!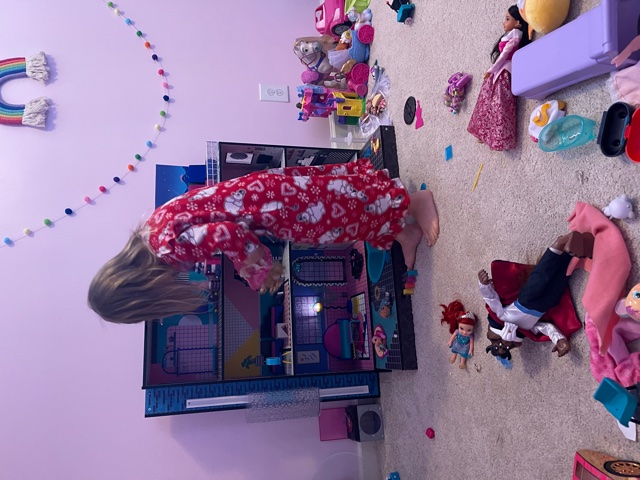 Chris has been obsessed with Fuser for Xbox. You are basically a DJ spinning music for a Tomorrowland type of event. Since Chris was an actual DJ for years, he is like the master of this game and has been having so much fun with it. He has it hooked up to the projector downstairs for the full effect.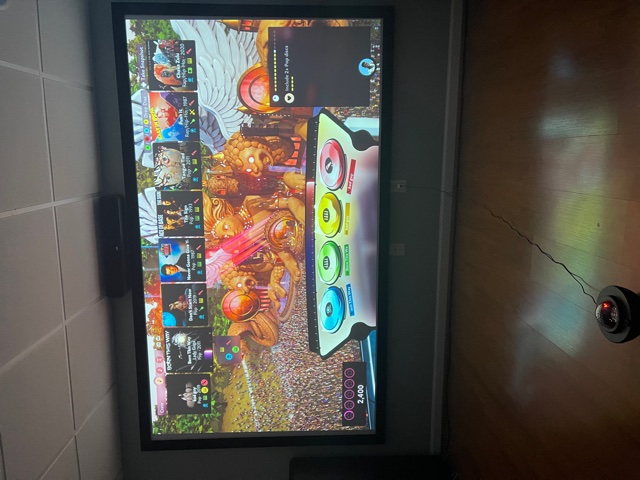 Our Christmas dinner menu was turkey breast, gravy, ham, macaroni and cheese, sweet potato casserole and green beans. We had plenty of sugar cookies, chocolate chip cookies, peanut butter snowballs and pizzelles for dessert. I also am carrying on my mom's tradition of buying an assorted box of chocolates for Christmas every year. Zoe and Chris both seemed to enjoy that!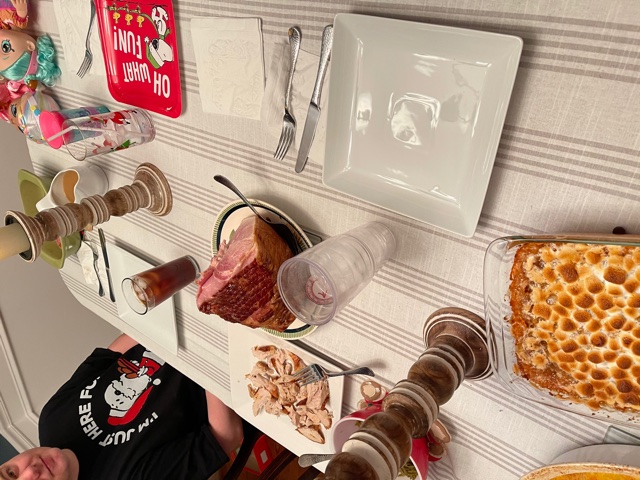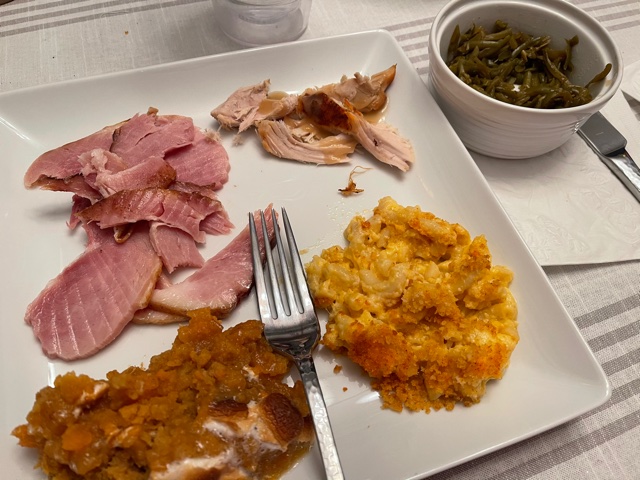 That evening, we snuggled in for some more Christmas movies and called it a day. Of course, some of our new friends had to accompany our movie party. And took up most of the couch.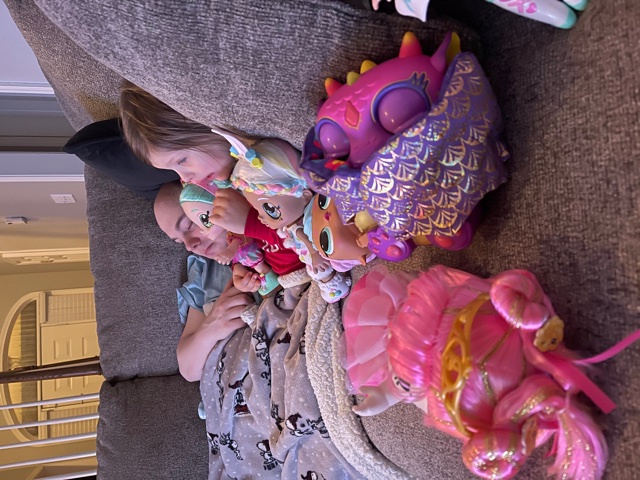 Also needed to document my annual peppermint milkshake from Chick Fila!!!! I dont care how much sugar and calories is in this thing. It is pure Christmas magic and I must have one every year no matter what.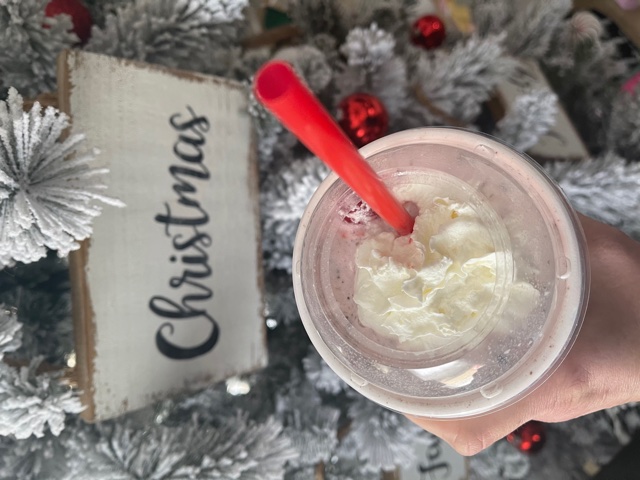 And that is a wrap on Christmas 2020. While I enjoyed all of the time with Chris and Zoe, I missed our family and friends and I really REALLY hope that next Christmas looks more normal. But this year we were healthy and safe in our home, and that is all one can really ask for in 2020, am I right?