It's that time again!!! Show Us Your Books with Steph and Jana is my favorite day of the month in blog land. Last month I added quite a few to my TBR, as one tends to do! I also promised myself I wasn't going to add any more books to my Netgalley shelf so that I could focus on clearing it out. And ummm while I did read a few books from it, I also added  more. I CANT HELP IT! So let's take a look at my books lately.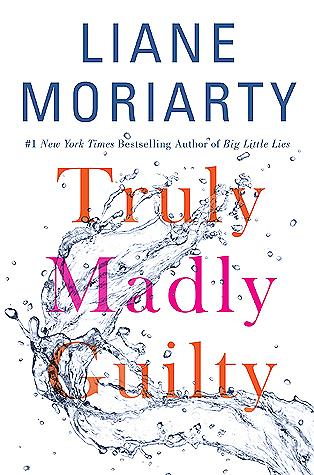 You guys know my love for Liane Moriarty, so I was really excited and anticipating the day that I could download this book on Audible! When I first started listening, I was a little bored and confused with all the jumping around. I just wanted to know what the hell happened at the BBQ?!?!?! You don't really start to find out what happened until  you are a good 8 hours in to the book. It is a loooong book! I did finally start getting  in to it after the first few hours and enjoyed it. You really get to know all the characters. My favorite was probably Tiffany. I couldn't stand Erika most of the book and Clementine got on my nerves as well. But even though I didn't care for them, it was still a good read.
Bottom Line: If you are a Liane Moriarty fan, then you need to give this book a go! I will say, it is not my favorite by her though. I enjoyed What Alice Forgot and Big Little Lies much more.
Rating: 3.5/5
Audio Comment: I have listened to every Liane Moriarty book via audiobook and I have to say the accent for the neighbor (Vid) was just awful at times. I got used to it after the first few hours and it quit bothering me so much.
One of the main characters in this book suffers from depression. It is certainly a harder topic to read about because as in real life, those that suffer from depression make me feel so helpless. It is a battle within them and there isn't really anything you can do to help them. This book alternates between four characters: Abby (the wife who is depressed), Ryan (the husband who is a football coach), Juliana (their daughter) and Lauren (Abby and Ryan's college friend.)
To keep from spoilers, basically something happened in the past that keeps haunting Abby and when the truth bubbles to the service, it threatens to destroy them all. I feel like this book brings light to a topic that many people try to avoid, mental illness. It does so in a tasteful, realistic way. I didn't mind the chapters skipping POV because it is important for the story.
Bottom Line:If you are looking for a heavier chic lit read, then this is for you. If you or someone you know suffers from depression….this book might either help you understand your loved one and perhaps make you feel not so alone.
Rating:3.5/5
I received an advanced copy of Where We Fall from Netgalley in exchange for my honest review. All opinions are of my own.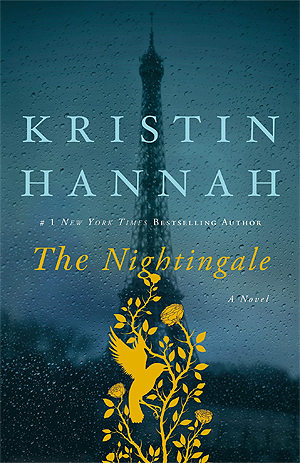 This one was on my TBR for awhile and so many of my friends gave it five star reviews so I knew I had to read it. I have to be in a certain mood to handle historical fiction, as it's not my favorite genre to read.
This book! I had so many emotions and thoughts. There are two things that really stuck out to me in this book. At one point one of the characters wondered how this war could happen just because people worship different gods. Isn't it crazy how this is still an issue today? And another thing is how people just assumed The Nightingale was a man because no woman could possibly do what The Nightingale did. In fact, the women were treated so badly in this book between prodding them like animals, stealing their food, whipping them, raping them. It is just crazy. I like to think we have moved forward as a society, but I still feel that women are not perceived as smart as men or as capable as men sometimes.
Reading about WWII is a heavy subject, but this book was written so beautifully. I really enjoyed it and had a hard time putting it down. You really get sucked in to the characters and the war from their point of view.
Bottom Line: Read it!!! This book is very enjoyable and I believe no matter the genre you prefer, you can take something from it.
Rating: 5/5
Audio Comment: I really enjoyed the narrator for this book, her voice is pleasant and her accents are on point.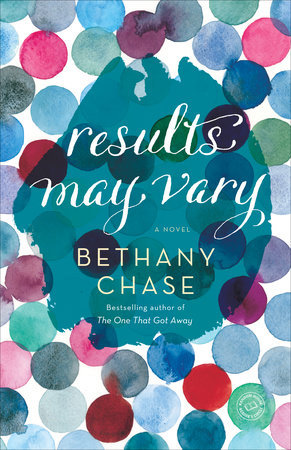 I was drawn to this book because the premise reminds me of Grace and Frankie, a show that I really enjoy. The book starts out with a huge shock, Caroline's husband Adam of 17 years has cheated on her with another man. We also find out he has other secrets too and now Caroline is questioning her whole life and everything she thought she knew.
I really loved the relationship between Caroline and her sister Ruby. And I was engaged throughout the book as Caroline tried to discover who she was as an individual. At times I felt the book was a little simple, like I wanted a little more about Adam and the why. There are certainly some deeper emotions dealt with, like Caroline having to work through her anger and grief surrounding the dissolve of her long marriage. Yet it was done simply. If that makes sense?
Bottom Line: I enjoyed reading this book and found myself thinking several times about how a person is supposed to handle such a shock like this. If you like chic lit, I would say give it a try.
Rating:4/5
I received an advanced copy of Results May Vary from Netgalley in exchange for my honest review. All opinions are of my own.
I felt like this book was a little repetitive and not a whole lot of action going on. The characters were alright, I didn't hate them but I wasn't super invested in any of them either. I don't even really have anything else to say about this book. Your typical, shallow YA read.
Bottom Line: This book was alright, but I think her other books I have read were better.
Rating: 2.5/5
Audio comment: The narrator for this book is pleasant to listen to. The only thing I didn't care for was her attempt at a New York accent. That was pretty terrible.
Fangirl by Rainbow Rowell
While I love Harry Potter and many other books and movies, I don't really get the fangirling over things to the extent of writing my own stories and being so obsessed with everything that surrounds it. So that part of the book I didn't relate to. What I did relate to, was Cath's attitude about meeting new people and college at first. I remember wanting to stay in my comfort bubble that time of my life as well. I could have done without the readings from Simon Snow books before each chapter. While it sometimes related to the chapter material, I felt it was sort of a waste of time. I wish they would have focused even more on Cath's relationship with Levi or her sister and less on the readings from her fanfic or the Simon Snow books. I was also somehow a little disappointed with the ending. Like I wanted more.
Bottom Line: I really loved Attachments, this one was just meh for me. Don't get me wrong, I enjoyed the book but it wasn't my favorite. It just sort of passed the time.
Rating: 3/5
Audio Comments: The narrator was decent to listen to.
I really liked the premise of this book. You basically bounce between present time and memories, which I liked the flow of. Mia is in a horrible car accident and she is sort of trapped between living and dying and has the decision if she should stay or not. I don't really feel like the characters were very developed in this book. I enjoyed my time while I was listening to it, but it wasn't amazing and I will probably forget about it soon. I did tear up during two different parts though, so I guess it did manage to tug at my heart strings.
Bottom Line:If you are looking for a decent read to pass the time, this has a different premise which I enjoyed.
Rating: 3/5
Audio Comments: Audio was decent.
This is a nonfiction book that is supposed to be taken as humor on being a woman and getting older. I related to some of her rants about maintenance of taking care of your hair and shaving and exercising, etc. And she was right on about all the ridiculous products we get sucked in to buying just to look younger.
Bottom Line: I related to many of the topics that were covered and at times it was entertaining. Nothing mind blowing. This is a quick read, about three hours. I think anyone from their 30's and up could relate and laugh along to a few points in this book.
Rating: 3/5
Audio Comments: Read by the author.
Currently Reading:

Currently Listening to on Audiobook:
Tricky Twenty Two from the Stephanie Plum Series by Janet Evanovich
Read anything good lately?