Linking up with Steph and Jana to share all the books!
So begins this exquisite novel about a Chinese American family living in 1970s small-town Ohio. Lydia is the favorite child of Marilyn and James Lee, and her parents are determined that she will fulfill the dreams they were unable to pursue. But when Lydia's body is found in the local lake, the delicate balancing act that has been keeping the Lee family together is destroyed, tumbling them into chaos. 
I am not sure what I want to say about this book. It was so well written, and kept my attention the entire time. But, I thought it was going to be more of a mystery about what happened to Lydia. Instead it is more about the truth about her family. As a parent, it was heartbreaking and difficult to watch the parents pushing their kids to be what they wanted them to be. It was a great reminder that we can't live vicariously through our children's lives. They need to be their own people. Let them come up with their own ideas of what they want, and don't put the guilt on them if it isn't what you want. I appreciated that the side story of Marilyn's disappearance and how it kept coming back around in the book. Another great reminder that our actions can have consequences and impact the rest of our lives. The characters can be very unlikable at times, but then you also feel sorry for them.
Bottom Line: Read it. While it can be difficult at times, the book is wonderfully written and tells a great, albeit, tragic story.
I absolutely LOVED 69 Million Reasons, the first book in this series. The second wasn't quite as good but still enjoyable. I feel the same about this one. There were a lot of references to Outlander in this book. I don't know what that is or anything about it, so I didn't care for the "show not to be named" references all throughout the book. That being said, I loved Harrison's quirky family and thought it was a fun and cute read. What I didn't get was why they kept holding out on themselves over getting together. There wasn't a strong enough reason in my mind.
Bottom Line: Fun, quick read.
**I received a copy of Scotland or Bust from Netgalley in Exchange for my honest review. All opinions are my own.**
Strange Brew by Kathy Trocheck AKA Mary Kay Andrews
When the body of a murdered microbrewer is discovered in the aftermath of a furious Halloween gale, suspicion falls on the aging "flower child" shopkeeper whom the victim put out of business. Callahan isn't as quick to condemn a colorful local character as some law officers still on the force. But her investigative zeal is stirring up secrets that are forcing her to reassess old friendships and a one-time love—and is brewing up more lethal trouble than Callahan and her "mice" can safely swallow. 
I have come to love Callahan Garrity and her House Mouse cleaning girls. I only have two more books in the series, and I am going to be so sad when I am done. I think I will be slowing my roll on these so I can come back to an old friend if I get in a rut any time soon. This one was fun, as it involved a brewery and some other places in the Little Five Points area that I remember and still exist today. I started to guess some of the mystery, but was still surprised at the very end. Just the way I like it.
Bottom Line: Such a fun cozy mystery series!!! Read it if that is your thing.
Atrophy by Edith Wharton
An unhappily married matron named Nora Fenway hears that her one-time clandestine lover, Christopher, is severely ill; she risks her reputation by going to visit him, but is turned away by his sanctimonious sister.
This was a quick, heartbreaking read about  social duty and etiquette. Nora wants to see her lover one last time, and you can practically feel her desperation.
Bottom Line: This was a quick read, around 30 minutes. I wouldn't go out of my way to track it down…but if you happen to come across it in the library, would be worth it.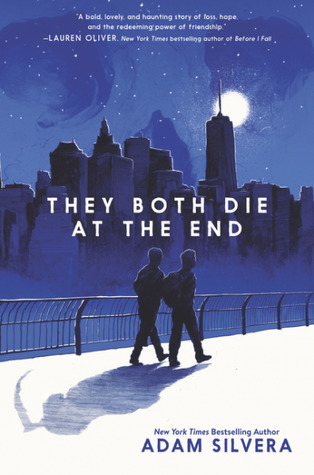 On September 5, a little after midnight, Death-Cast calls Mateo Torrez and Rufus Emeterio to give them some bad news: They're going to die today. Mateo and Rufus are total strangers, but, for different reasons, they're both looking to make a new friend on their End Day. The good news: There's an app for that. It's called the Last Friend, and through it, Rufus and Mateo are about to meet up for one last great adventure—to live a lifetime in a single day. 
The premise of this book was so interesting. I am not sure if I am for or against Death-Cast to be honest? Can you imagine getting a call at 1:30am that you are going to die within 24 hours? How would you live your last day??? It really made me think a lot throughout the book. And the forging relationship between Rufus and Mateo, two different kids becoming friends over their one common thread – dying that day.
Bottom Line: Read it! This book was tragic and inspirng all at once.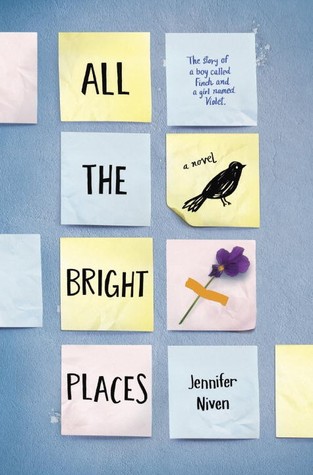 When Finch and Violet meet on the ledge of the bell tower at school, it's unclear who saves whom. And when they pair up on a project to discover the "natural wonders" of their state, both Finch and Violet make more important discoveries: It's only with Violet that Finch can be himself—a weird, funny, live-out-loud guy who's not such a freak after all. And it's only with Finch that Violet can forget to count away the days and start living them. But as Violet's world grows, Finch's begins to shrink.
This has been on my TBR forever. While the book is about high school students,  it touches on the deep subject of death, suicide, depression and mental illness. It shows how powerful true friendship can be. It was beautiful, tragic, heart-wrenching, and even whimsical at times. I really liked the idea of completing a school project to see the wonders of their state. I actually want to create my own list of places to locally wonder. This book, it really hits all the feels.
Bottom Line: This was such a beautiful, tragic book. Definitely has some triggers though, as it deals with mental illness and suicide. I highly recommend it.
Current Reading:
I squealed when I saw that Netgalley approved me for the newest TJR!!! I really wanted to have it finished before this link up, but that didn't happen. I am about half way through and can tell you I am loving it! Reminds me of watching a VH1 behind the music episode.