We are already knee deep in August and you know what August is? My birthday month!!! I do like to treat myself to a few things throughout the month and create a wish list for funsies. Here are a few things I wouldn't mind having wrapped up just for me!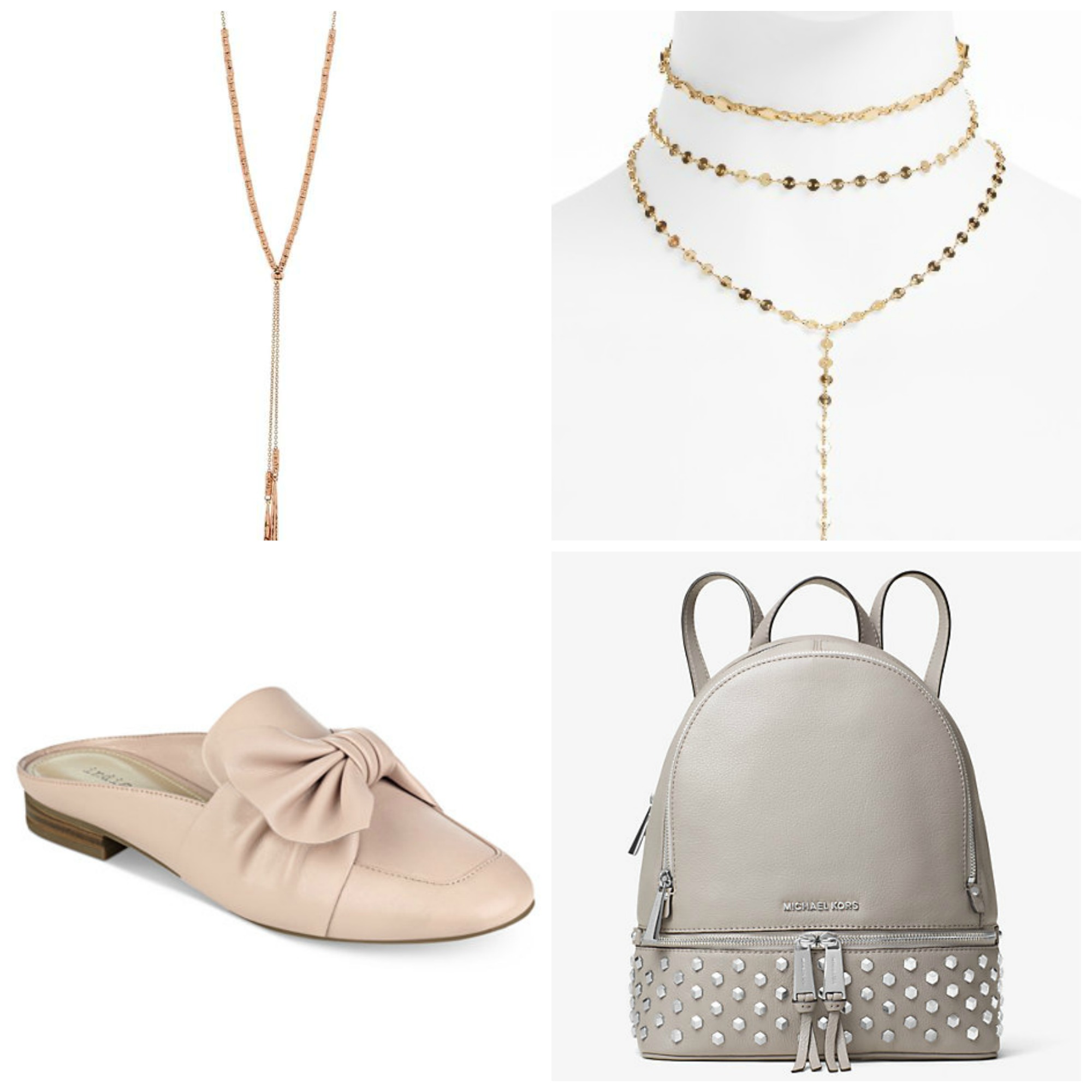 This Rose Gold Gorjana Lariat necklace has been on my wish list for nearly a year. I think it would go with so many things in my closet and be such a staple piece!!! It would also layer nicely with my beloved Kendra Scott necklace I wear nearly every day!
I am also obsessed with this BaubleBar Aimee Layered chain. Since it is gold, thicker and layered…it gives a completely different look than the Gorjana one!
How cute are these mules in blush??? I am in need of some new work shoes for the fall/winter and these would be perfect!
I want to get a purse that is a little easier to tote around with baby. I love don't need to carry as much now that she is a little older and I want something I can take to work too without having to take things in and out of her current diaper bag. I think a backpack style like this or a larger tote like maybe this would be better.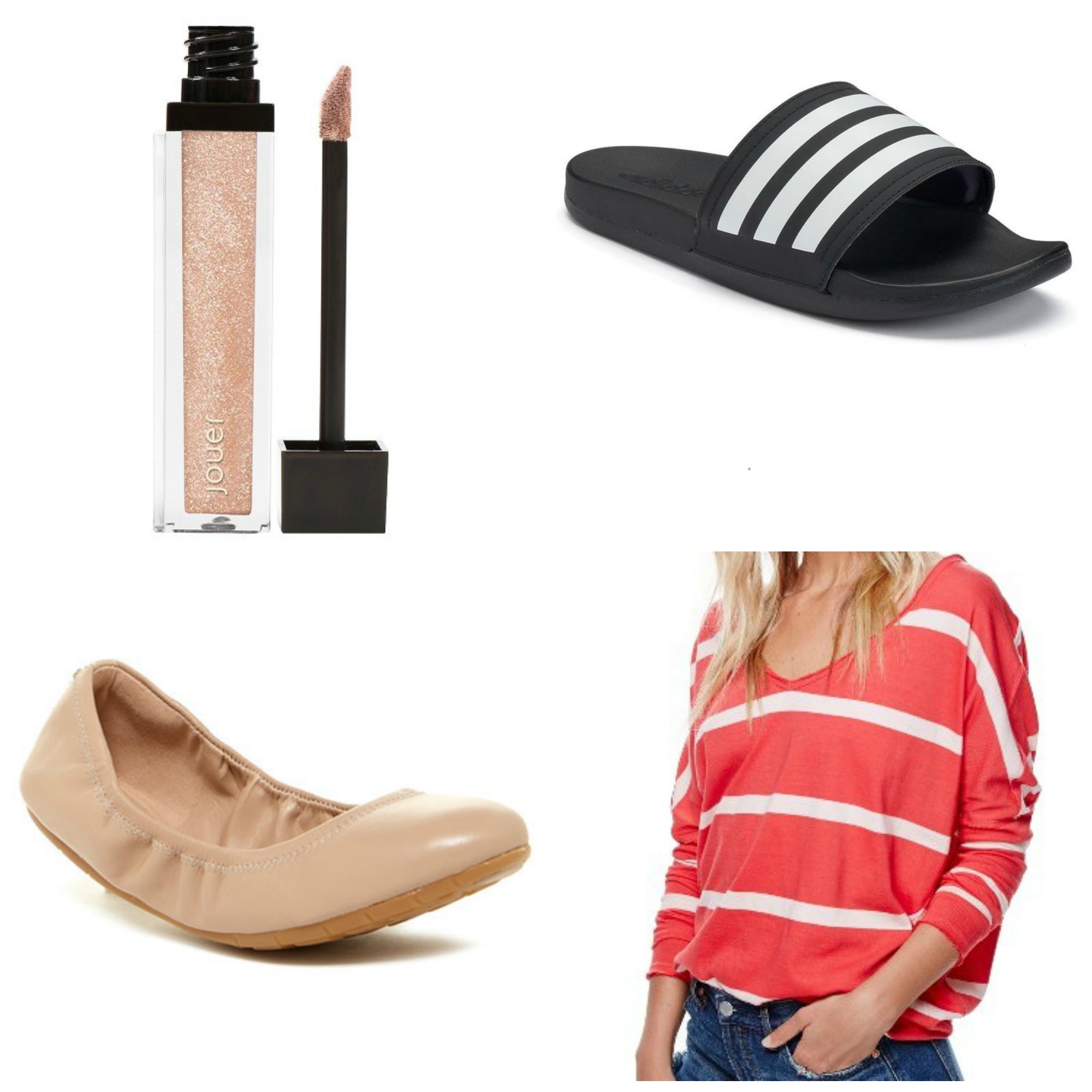 How pretty is this Skippy Dip Lip Topper by Jouer?
I am obsessed with slides and these are a classic!
This shirt looks crazy cozy for the fall weekends! I could use a pop of color in my wardrobe.
Cole Haan is the only brand of flats I have found that I can wear for more than a few hours without wanting to throw my shoes in the trash. I have a pair of black ones, and I really want to get a pair of nude to wear as well. These look perfect!
I would love a fancier band for my apple watch, this rose gold one would be perfect! Love the price too!
When Andrea emailed me about TBB link up, I knew I had to participate! These are fun questions to get to know someone better and I got right to drafting my post! But then I forgot all about it when I posted about my weekend on Monday. Better late than never, I always say!
Pool, Lake or Ocean?
My favorite place is the beach, I love to listen to the ocean crashing into the shore. But from the pool. I rarely get in the ocean. If I do, it is maybe ankle to knee deep. Never more. The pool is more my jam.
Camping, cottage or hotel?
I am so not an outdoor person. I never say never, but I seriously cant see myself ever thinking that camping sounds like a good idea. Give me all the indoor amenities and air conditioning. Please and thank you! A cottage or hotel suits me fine.
Favorite ice cream flavor?
Cookie Dough
Pj's, Nightgown, T-Shirt/Shorts or Birthday Suit?
Usually shorts and a tshirt or short cotton nightgowns.
Fave Summer Beverage
Fruity beers and ciders or a mojito. At the beach, I do love a good pina colada! Cant believe I didn't even have one this year.
Would you rather be hot or cold?
Cold cold cold. Please give me the cold! For someone who lives in the deep south, you would think I would be used to the heat. I hate it! You can always add layers, but you can only take so many off. I am a fall/winter girl.
Sandals with heels or flats?
These days you will find me in flats 98% of the time. I also appreciate a good wedge.
Shorts or skirts?
Neither! I were dresses in the spring and summer or pants in the winter.
Sit in the sun or the shade?
Unless it is in the upper 60's or low 70's, you will find me in the shade. See above. I hate sweating.
Water, tea or soda?
water
Fave summer fruit, vegetable?
Pineapple! Nothing beats a pineapple in peak season! I also love fresh ears of corn.
Sunrise or sunset?
I love both, but if I have to pick….sunset. Alabama has some of the prettiest sunsets I have ever seen.
Bike, ride or walk?
Alabama is not so not walkable. Not even our downtown area, so ride it is.
Winery or brewery?
brewery
Garden or no garden?
I do not have a green thumb, nor do I have the time.
Big summer concert or music in the park?
Music in the park, I hate crowds.
Fave cookout food?
Filet or burgers
Dine indoors or patio?
Patio, as long as it is shaded if it is too hot!
Fave summer destination? 
Our annual trip to Gulf Shores
Big theme park or local carnival?
Again, I hate crowds. I don't really care for either. Though I really really really want to go to Disney World!
Drinks blended or on the rocks?
blended
Popsicle or freezie flavour of choice
You know what I miss? Pudding pops!
Hot Dog or Hamburger?
Hamburger