For some reason, my posts are not showing up on Bloglovin anymore. 2020. Can't catch a break! Anyways, we are here for reading….so let's go!
When the year started, I set a goal of 52 books for the year. I forget what my goal was in 2019, I think it was around 75? Anyways, I don't even think I got to 50 that year. I think a book a week when you are a full time working mom to a toddler is a lofty enough goal. As of today, I read 69 books for 2020! I know I will have the one I am currently reading finished in the next day or two, so I should close out with 70.
In a weird ass year, books were my escape and I tried to read them as much as I could. I can see scrolling through them, that I clung to fluffy romance and a lot lighter reads. Usually I am about half romance and half dark fucked up shit. 2020 was a scary enough story. So if you are looking for some William Shakespeare level reading, my list probably isn't for you. What I can provide is some lovely love stories, and a few others that really stuck out to me that I have thought about often. This isn't exactly the best books I read this year, but the ones I enjoyed and remember the most.
Linking up with Steph and Jana. Thanks ladies for your continued support of the reading community! It is by far the best day in blogging each month.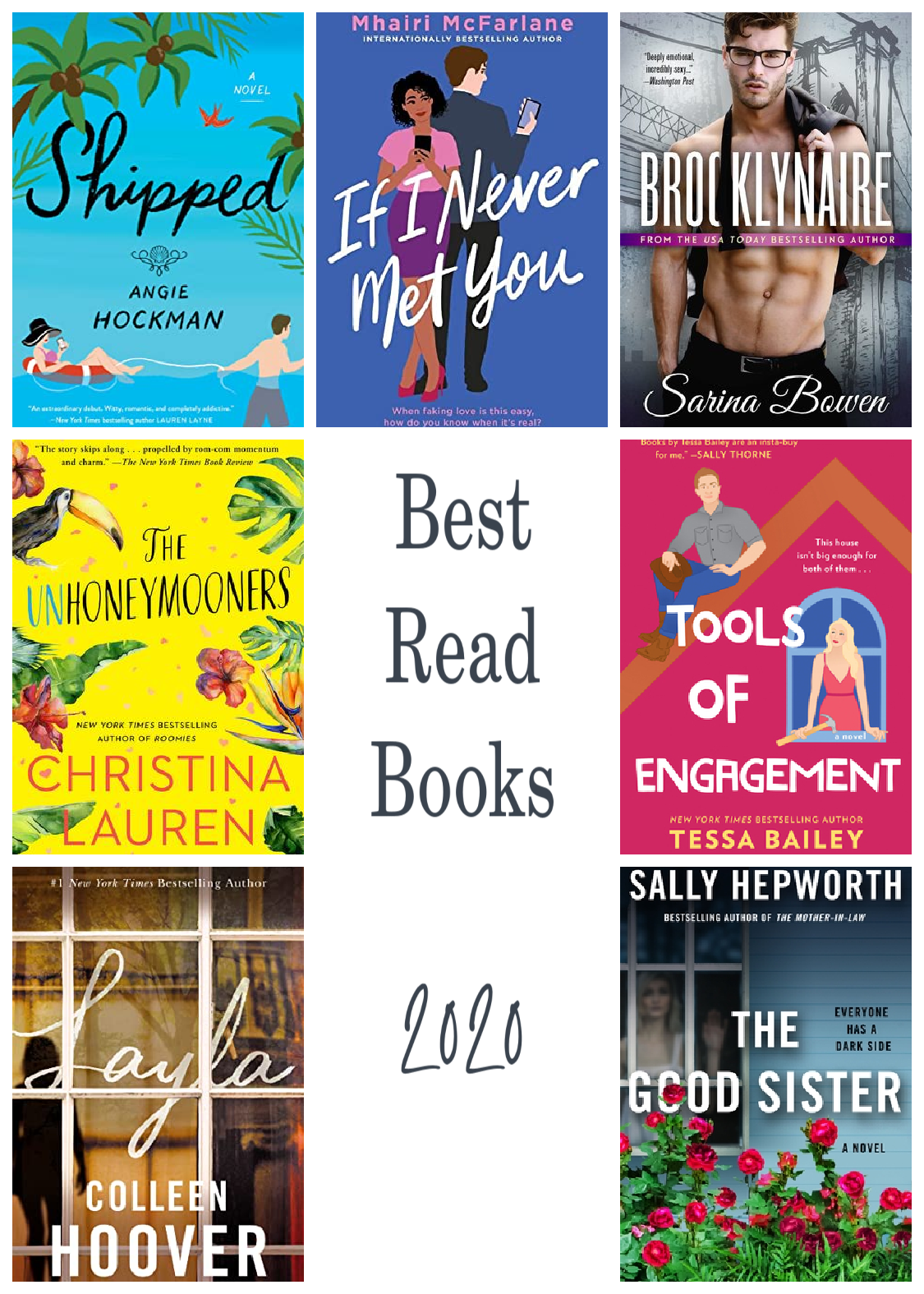 Romance
Shipped, If I Never Met You and Billionaire were all new to me authors in the romance department. Shipped is a debut novel that read like it was written by a pro, highly recommend. Christina Lauren is one of my favorites, and Unhoneymooners was my favorite of theirs I read this year. Tools of Engagement is the third book in a series that I started with, and went back to read the first two because I loved it so much.
Fiction
Layla is nothing like anything Colleen Hoover has ever written. It wasn't necessarily the best book from her, but it blew my mind and I thought about it quite a lot after I finished.
I love Sally Hepworth, and The Good Sister is everything I expect in a novel from her.
Honorable Mentions
I only read a handful of nonfiction books this year. My favorite is definitely Jessica Simpson's book. I just love her and everything she touches. I love how raw and honest she was in her book, and when she could have been awful and petty…she kept it classy.
When No One is Watching was really interesting. It took me a little while to get into, but once it grabbed me, I couldn't stop. The pacing of the book is all sorts of off, but the actual story…wow.
I enjoyed the first two books of Elin Hilderbrand's Paradise series and just got the third from the library and will start it later this week. I have really enjoyed this series and cant wait to see how it all wraps up.
My favorite Christmas read this year was Christina Lauren's In a Holidaze. Though I will say I am reading The Twelve Dates of Christmas right now and quiet enjoying it. By the time I finish, it may be my favorite.
Have you read any of these books? What was your favorite from 2020?