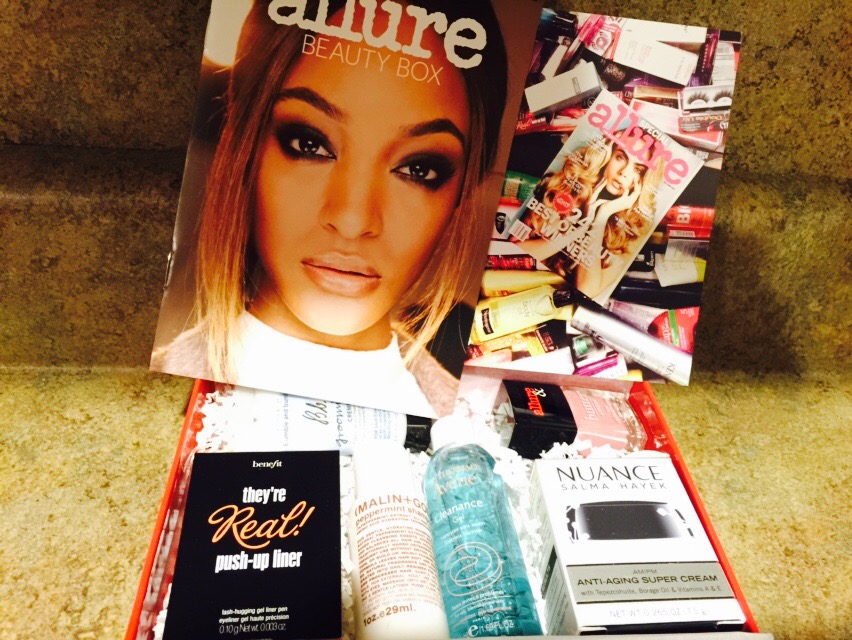 Another month of awesome products with the August 2015  Allure Beauty Box!!!
What's the Deal: For $15 a month, Allure sends you 5 deluxe size beauty samples, a mini magazine about the samples and usually some type of coupon.  I pay for this on my own, and all opinions are my own. This is not a sponsored post, a girl just likes to talk beauty sometimes, ok?! You can see last month's box here.
Let's take a look at what I received, shall we??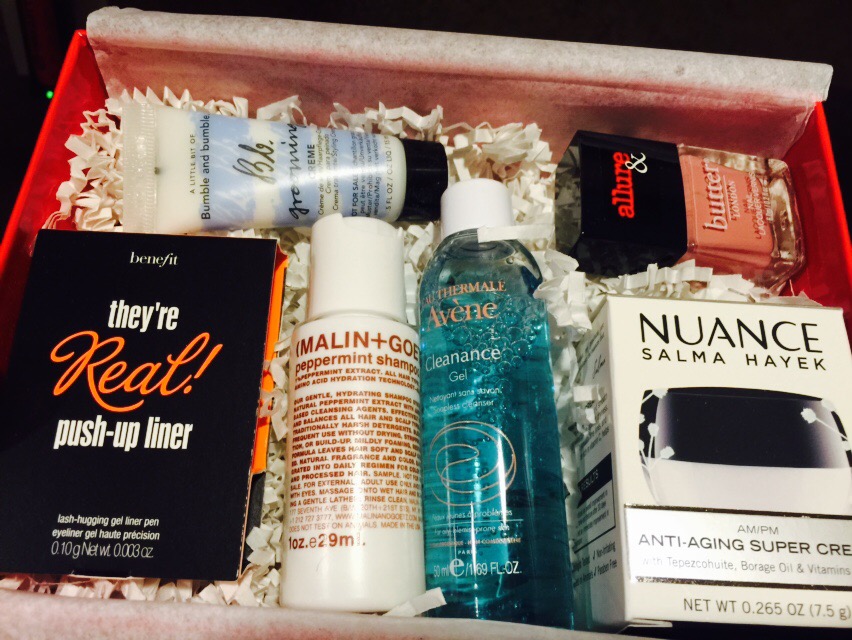 Malin + Goetz Peppermint Shampoo (full size $20 for 8 ounces)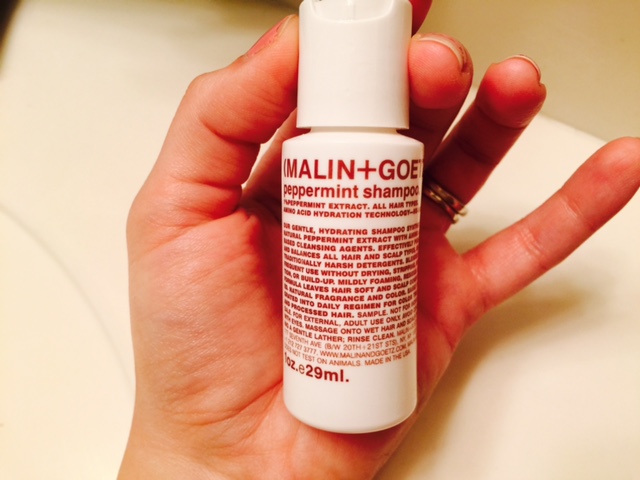 What it is: A gentle clarifying shampoo with a peppermint scent. This shampoo has a great lather that is supposed to whisk away all the grime, grease and hair product gunk.
My Thoughts: This stuff smells AMAZING you guys! AMAZING!!! I really do feel like my hair is cleaner when I use this. I have super fine hair that tends to be rather oily at times and I had no issues with this. I didn't feel like it was too drying either. I really liked how it felt a little cool/tingly after lathering. It said in the allure mini-mag that guys love the scent too and end up stealing it from their gals so if you get it, keep tabs on it!
Nuance Salma Hayek AM/PM Anti-Aging Super Cream (full size $19.99 for 4 ounces)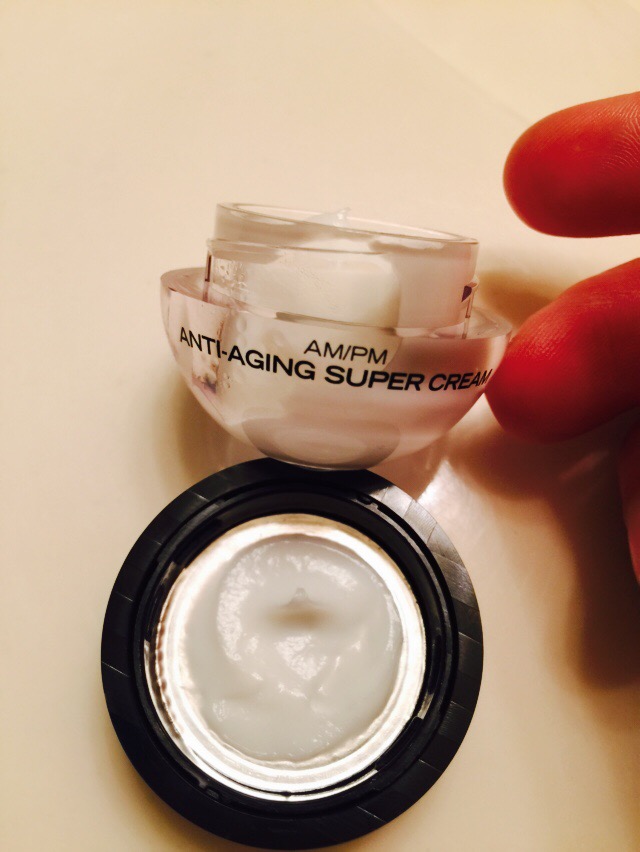 What it is: A medium-weight moisturizer that has skin protecting anti-oxidants. This is to soften and plump skin without it feeling like you have anything on your face.
My Thoughts: I have used this for about two weeks. I feel like a product like this takes much longer than that to really get the feel for it and see if it is working. With that being said, my face is super sensitive to lots of things and this is giving me zero problems. I like the way my skin looks after using it and that fact that it absorbs pretty quickly. It says you can find this at CVS and it is a great price point. A little goes a long way. If I continue to like it, I will certainly grab it again for the price point and availability!
Benefit They're Real! Push Up Liner(full size $24)

What it is: A gel liner with an innovated click pen.
My Thoughts: I love They're Real mascara and this might be a great find. HOWEVER!!! The packaging of this sample is the most horrid thing EVER!!! You have to squeeze up some liner out of a slanted opening and just WTF??? While the liner was great and lasted all day without a smudge, and came off nicely with eye make up remover….I tossed this thing out because the application was a total nightmare. Surely the full size can't be like this?? It says the full size has a click pen where you can dispense the perfect amount? I suggest checking it out at Sephora or something to be sure, like I said…the formula was great and worth a look.
Bumble & Bumble Grooming Creme (full size$30 for 5 ounces)

What it is: A lightweight styling cream to smooth frizz, boost waves and add texture to fine hair.
My Thoughts:I am seriously loving this product you guys! B&B does it again! Last week it rained about every day and we were literally at 100% humidity. I have noticed that my frizz has been much more under control!!! I have super fine hair and this does not weigh it done or make it look greasy in the least bit. Also, a little goes a long way, it has a pleasant clean smell and doesn't leave the hair feeling crunchy or anything. This will be a repurchase for sure!!
(Allure) & Butter London Arm Candy Polish  (full size $15 or $30 for four 0.2 ounce bottles)

 What it is: Allure teamed up with Butter London to create two special colors for their line. There was a blue option (Violet's Revenge) and a pink option(The Sweet Spot). Part of me wishes that I would have received the blue option because I have so many pink polishes!!! But let's be honest, I love pink so I am totally ok with it. And this color is super pretty! It is a dusty mauve color and really perfect for year round wear.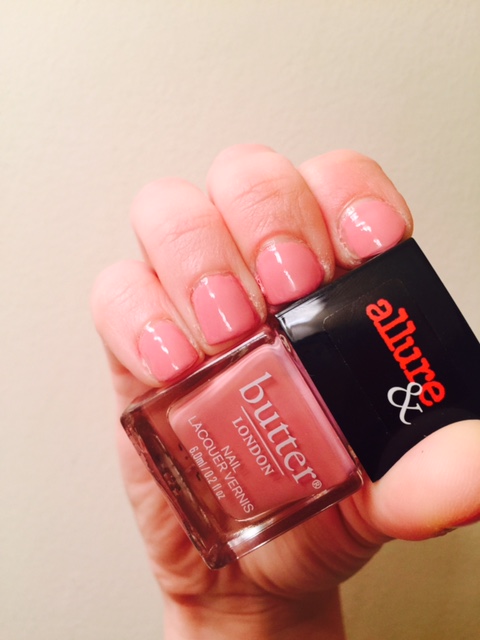 this was on day 2 after typing for 9 hours at work
My Thoughts: This is my third Butter polish. I like them quite well, but usually when I am purchasing them for myself, I get them from TJ Maxx and Marshall's because who wants to pay $15 for a polish? I will say that this is a great formula. It literally goes on smooth as butter and it lasts a decent week for me, which is way more than I can say for Essie.
(Eau Thermale Avene Cleanance Gel Cleanser full size $20 for 6.76 ounches )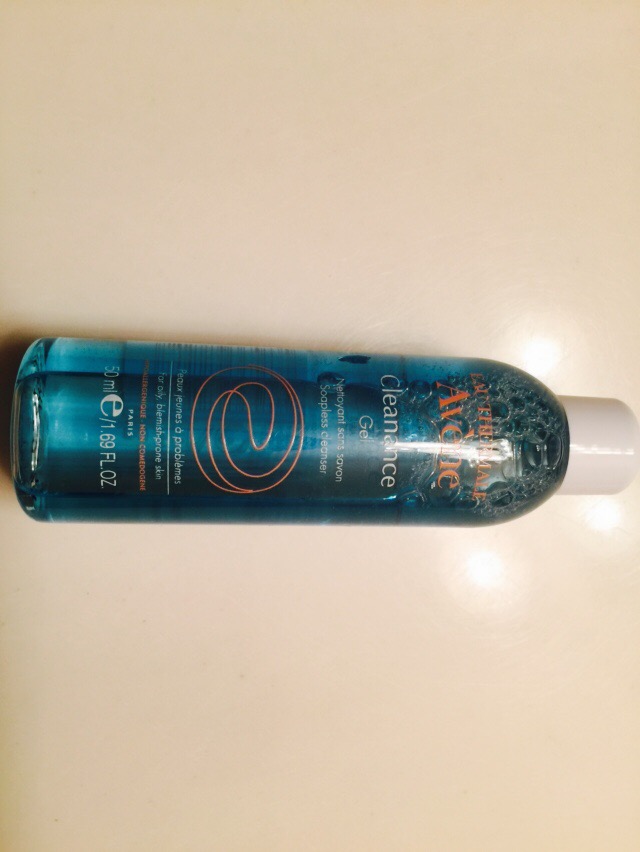 What it is: A foaming cleanser for oily and acne-prone skin that cleans the face and removes make up without stripping skin.
My Thoughts:The first thing I noticed was the smell, it is delightful!! This is a great option for a face wash. It removed my make up nicely and didn't make my sensitive skin go crazy. I have used this little bottle for 3 weeks now and you can barely tell that I have opened it, so a little goes a long way!!! It says that you can find this at drugstore.com. I would probably repurchase this again, the full size bottle would probably last at least 6 months or more given my use thus far on one that is just 1.69 compared to 6.76.
I really enjoyed this box. I will say that I have noticed that Allure sends a lot of Bumble and Bumble stuff. I am going to be honest, it doesn't bother me because I actually love everything that I have tried so far!!! But if I didn't, I would be pissed to keep seeing that brand repeated.
Have you used any of these products yet? What are you loving?