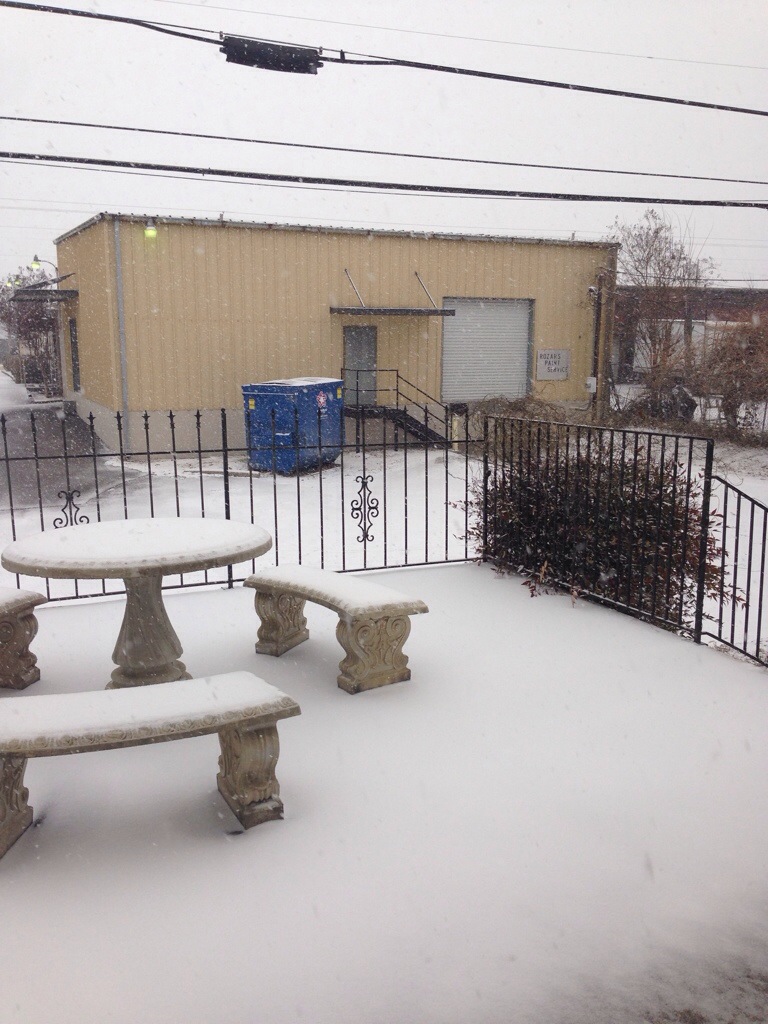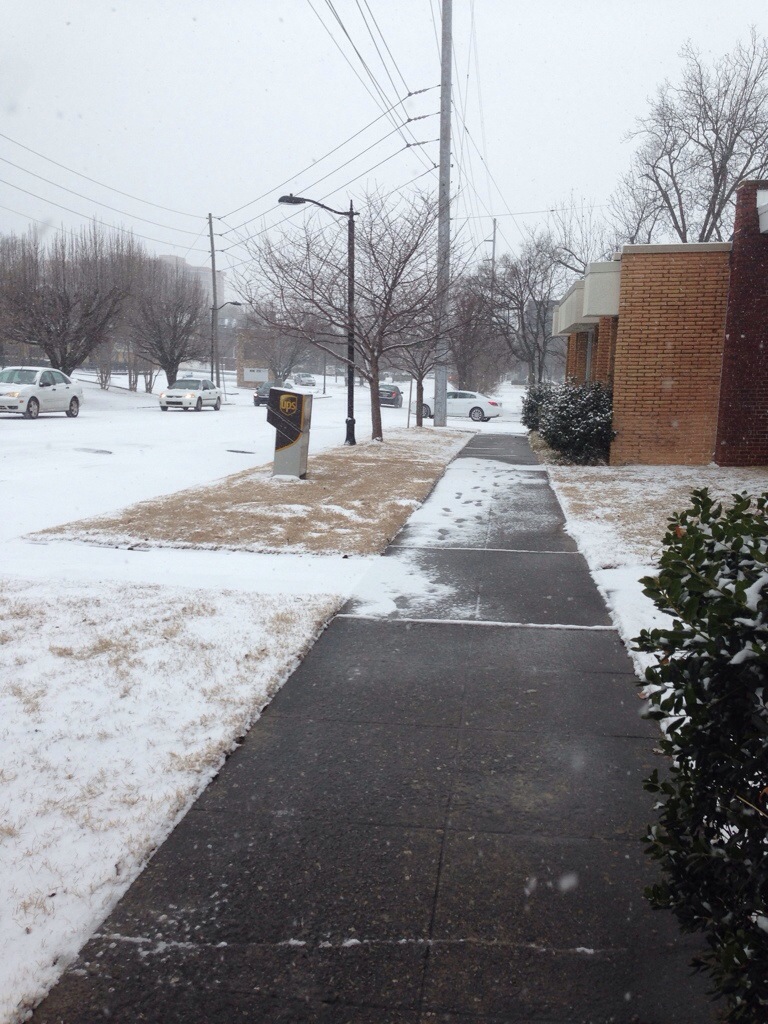 I am posting from my cell phone this morning so please excuse any weirdness or wonky placing.
Yesterday morning it started snowing. A rarity in Alabama, but not unheard of. It was pretty at first. The two pictures above were taken behind my office and on the walk to Jimmy Johns for lunch.
We were told we could work from home around 11:00 am. Awesome, I said to myself. Chris and my sister in law had attempted to leave work and were both unable to get anywhere and had to go back to their offices. Damn ice and people everywhere!
My brother in law and his co worker happened to be downtown for work and were nice enough to come get everyone from their prospective offices. It took them 3 hours to get from my sister in laws to Chris's office to my office, all within a 2 mile radius.
Once they picked me up, we started taking 1st Ave to route ourselves around where we knew most of the traffic issues were. We then were able to get on I-59. At this point, we heard that all the roads leading to our house were closed, our destination became my sister in laws house.
We arrived at their neighborhood entrance several hours later and gladly left the car there and proceeded to walk the rest of the way to their house, as there is a very steep hill.
/>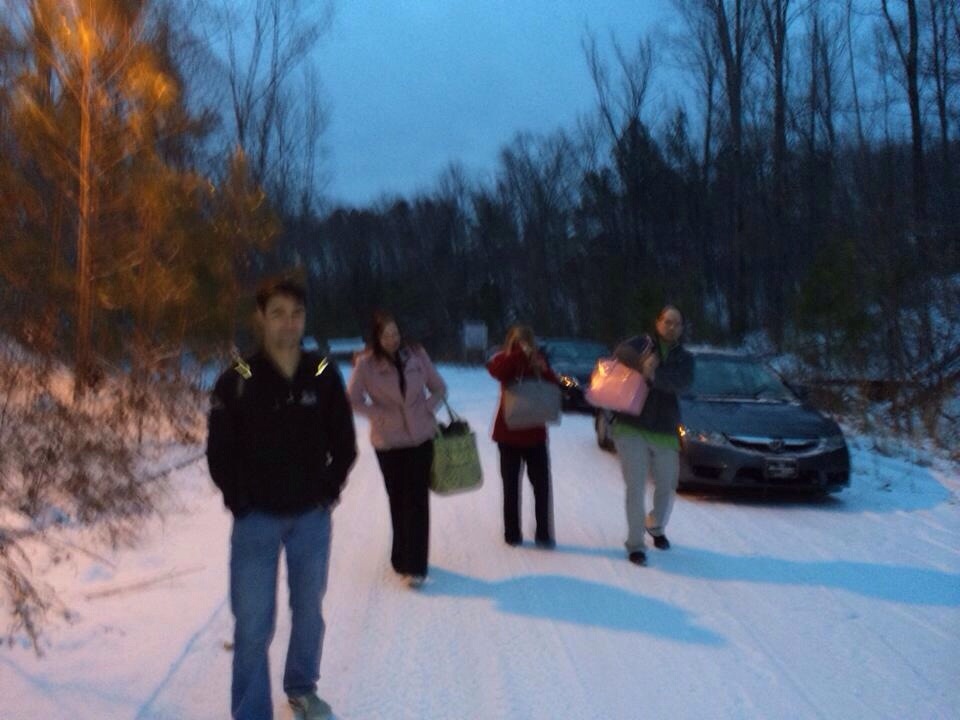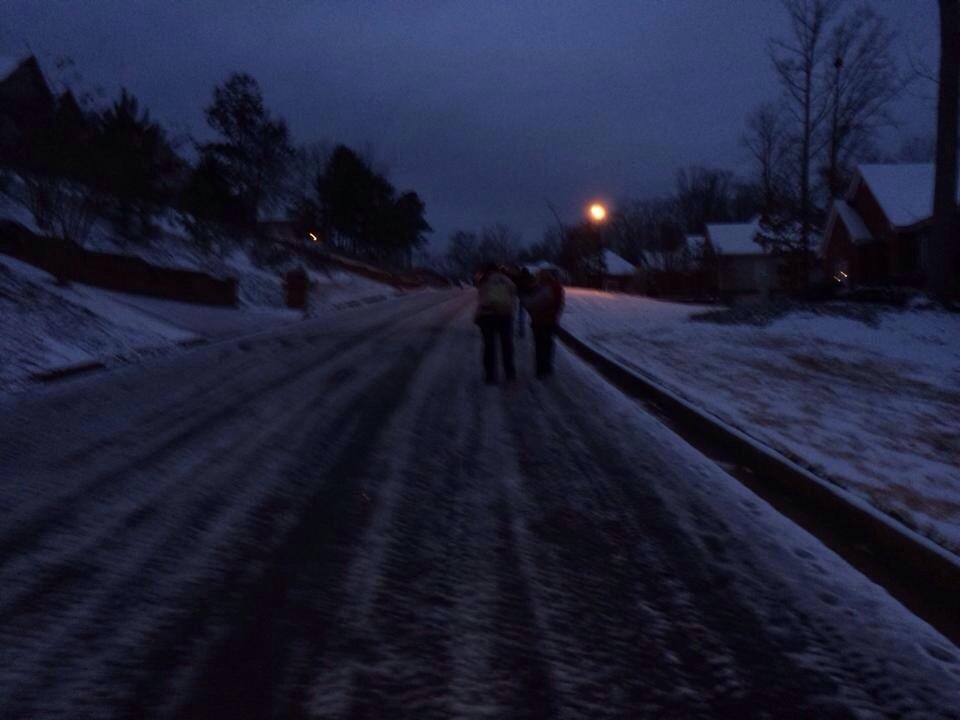 Honestly, I am just glad to be somewhere safe and warm with food and water. There are so many people stranded and having to sleep in their cars over night. There were so many accidents and people who were hurt from the weather.
Today they are attempting to get my nephew from his day care. So many kids had to spend the night at their respective schools because of this.
My poor dogs are at home in their crates. No food. No water. 🙁 I don't know when we will be able to get to them.
The weather was predicted to be "a light dusting with no travel issues." Well, we measured 3 inches at my office yesterday. It might not sound like much, but the south IS NOT prepared to handle this kind of weather. No plow trucks, so salt or sand trucks. Nothing. And no one can really drive on ice safely regardless. So before people start making fun of the situation because they don't understand, realize this shit is serious. Snow and ice down south is no joke.
My thoughts are with everyone who is still stranded. I just can't imagine. I am thankful I didn't have to sleep in a car or at my office last night like so many people did.