As I am approaching my 32nd birthday, it got me thinking about all the things I wish I would have known or done in my twenties. To be honest, the twenties are a weird time in life. You are still trying to figure out who you are, what your purpose is, how to live in the real world, you aren't a child but you don't quite feel like an adult either. (This is beginning to feel oddly like a Britney Spears song.)
I was terrified of turning 30. I am not really sure why? Perhaps because I spent the majority of my life thinking that 30 was old. Or that maybe 30 was when the fun was over? Either way, I couldn't have been more wrong. Any 30 something I know will tell you that your 30's are way better than your 20's. Surprising, right?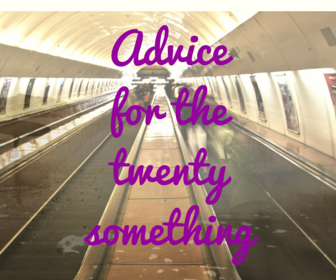 –Don't be so afraid of turning another year older!!! I dreaded my 25th birthday. I felt like there really wasn't any more birthdays to look forward too after that. But you know what? Life is a gift. There are way too many people that don't get to see that next year. Don't be afraid of it, embrace it!!!!
–Stop worrying that you don't have everything figured out yet! When we were in high school, they started making us plan out our future. We needed to know what we wanted to be when we grew up, all that shit. But you know what? Life doesn't work out like you planned. You can't possibly know what the future holds for you, so stop trying to obsess over it. All it does is cause anxiety and isn't allowing you to fully enjoy the now.
–Start your health and exercise routines now. Sure, your metabolism may not have been where it was when it was 18, but you figure it really isn't that bad. You do these stupid crash diets to look good for that event next Friday night or that pool party this weekend but then you fall back in your old ways, you stop for fast food more often than you should and you aren't consistent with work outs. Let me tell you something, especially you ladies….when you look in the mirror when your 30 and you see that gravity is starting to take Course on your arms, your face, your chest, just everywhere….you are going to wish you would have worked harder in your 20's so that you didn't have to play catch up in your 30's. It isn't easy my friends. Not even a little.
–Take care of your skin!!!! I can't tell you how much I hate the fact that I went to the tanning bed and worried about having some color when I was in college. Sure it was only a few years, but I have some sun spots that nothing in a bottle will lighten or get rid of now. It isn't worth it!!!! I have seen some of my classmates and they are looking a little rough these days. Leather skin is not in.
–Along the lines of taking care of your skin, be sure that you are removing your make up every night. Sure you might have gone out and had a few drinky drinkies tonight and you really just want to crash in your bed. But if you do that too often without removing your make up, your face will start to tell the story! I was pretty good about having a skin care routine in my 20's and I am so thankful for it now!!!! And don't forget to moisturize, no matter how oily your skin is and you think you don't need it. You do. Just trust me, ok?
–Be the best friend that you can be to anyone, but don't be a doormat. I was that doormat. And when I lost the one friend I thought I would have been friends with forever, my world came crashing down on me. It hurt so bad to be thrown away like I was nothing when I finally had stood up for myself and tried to let her know that she wasn't going to walk all over me anymore. To this day I still get sad about it, but I look back and realize that I had given so much and got little in return. Friends come and go from our lives, and that is just the hard truth. It hurts no matter the age or how long you were friends but no one deserves to be used.
–Work on keeping a relationship with your family. Sure, life can get busy sometimes and everyone has their own schedule to attend to. But you know what? Family is everything. You are going to wish you spent some more time shopping with your mom or grabbing a drink with your dad. Those memories are priceless.
–Start adding to your retirement or 401K plan now. Anything that you can add is better than nothing! I didn't think I could afford to do that in my twenties and now I hate that I have to make up for it.
–Stay true to yourself. Never try to act like something you are not because you think people will like you better. Living a double life like that is exhausting and helps no one. Own who you are.
What is a piece of advice that you would give to a twenty something….or me!